As we head into the last quarter of 2022, Xeneta experts are seeing a massive rise in the number of blanked sailings for the first two weeks of October, particularly on Asia - US East/West Coasts proving that demand is weakening and carriers expect things to get worse before 2023.
Felixstowe & Liverpool began a two-week strike on Sept 27, which will likely worsen the congestion across Northern Europe while congestion is slowly easing in North America over the past two weeks.
Looking forward, IMO 2023 is just around the corner! The IMO (International Maritime Organization) will introduce what is now known as "IMO 2023" to reduce ocean shipping's carbon emissions further. The new round of vessel efficiency and carbon intensity regulations that will apply to existing ships aim to reduce the carbon intensity of all ships by 40% by 2030 (compared to 2008 levels).
Learn what Xeneta experts have to say about the state of the ocean and air freight market amidst current market developments. But first, a bit of good news from the last month!
We are beyond thrilled to announce our $80 million funding led by Apax Digital with the participation of Luxor Capital (Lugard Road Capital).
We're super duper excited about this incredible new milestone. This isn't any ordinary raise for us. We are continuing to build something that really matters. We've built a data platform to provide intelligence into what was once very opaque shipping and air cargo market stuck in dated processes and strategies.
What's most important for us is influencing this ever-changing world and helping our customers be the best they can be.

We are grateful to everyone who contributed to Xeneta over the years and helped us get to this point. We also want to give a very special "THANK YOU" to our early adopter customers who saw the power of our data before we'd necessarily found out the true value of the market insights it drives. Read more.
And, we have more!
Xeneta's chief marketing officer, Katherine Barrios, was named a winner of the third annual women in 'The Supply Chain Award.'
As Xeneta's CMO, Kathy leads the company's marketing and customer success teams. She joined the company in 2015 with nearly 20 years of experience in B2B tech product marketing and management, demand generation, enterprise sales, and PR/communication experience from various software industries.

She has positioned Xeneta as a recognized and credible leader in the ocean and air freight industry and transitioned the company from a start-up to a scale-up through three funding rounds.

"I am honored to be recognized for this award," said Katherine."Before I began working with Xeneta, the industry wasn't as diverse as it is now. Together with my team and the rest of the company, we have been breaking that mold and have significantly grown Xeneta's female employee base. We are proud of that for what it represents in the supply chain and freight tech industry. Xeneta's trusted reputation in logistics continues to grow." Read the full story here.
Now, let's move on to the recent freight market developments to help you prepare for 2022 Q4.
Peak Season Fails To Materialize, Blank Sailings Leap | Splash247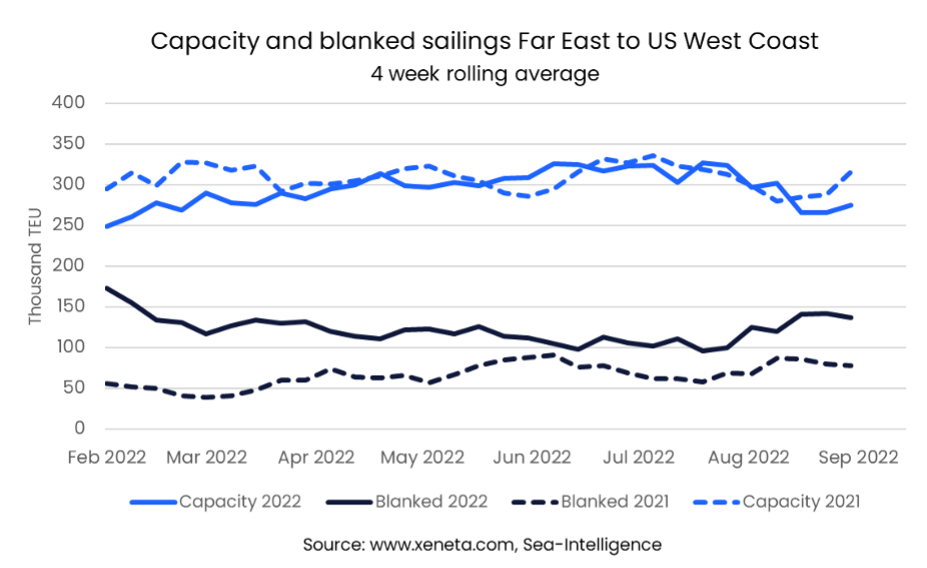 Blank sailings fail to shore up the deteriorating situation for carriers on most of the main container trade lanes. The peak season has been curtailed.
Carriers are fighting to shore up falling spot rates from Asia to US West Coast, blanking some 1.5m TEU of capacity over the last 12 weeks. However, rates have collapsed by 46.3% over the same period, Xeneta data shows, averaging $4,150 per feu as of Tuesday. "This is the highest number of blanked sailings on this key trade since January and February, at a time when the industry would normally have anticipated very strong demand," commented Peter Sand, Xeneta's chief analyst, adding: "It's an aggressive strategic play by carriers, but it's clearly not paying dividends."
Another Week of Tumbling Spot Rates – Here Come The 'Carrot Danglers' | The Loadstar
According to Xeneta data, some 1.5m TEU of capacity has been withdrawn from the route over the past 12 weeks, but softening demand and an acceleration in the coastal shift to US east coast ports have been unable to slow the rate-erosion.
This week saw the final call at Los Angeles of Matson's China-California Express (CCX) premium service, which the US domestic and transpacific carrier had expected to "continue into 2023".
In the opinion of Xeneta's chief analyst, Peter Sand, the collapse of rates on the spot market "is bound to impact on the long-term contracted agreements in the near to mid-term."
New York is now the nation's busiest port in a historic tipping point for U.S.-bound trade | CNBC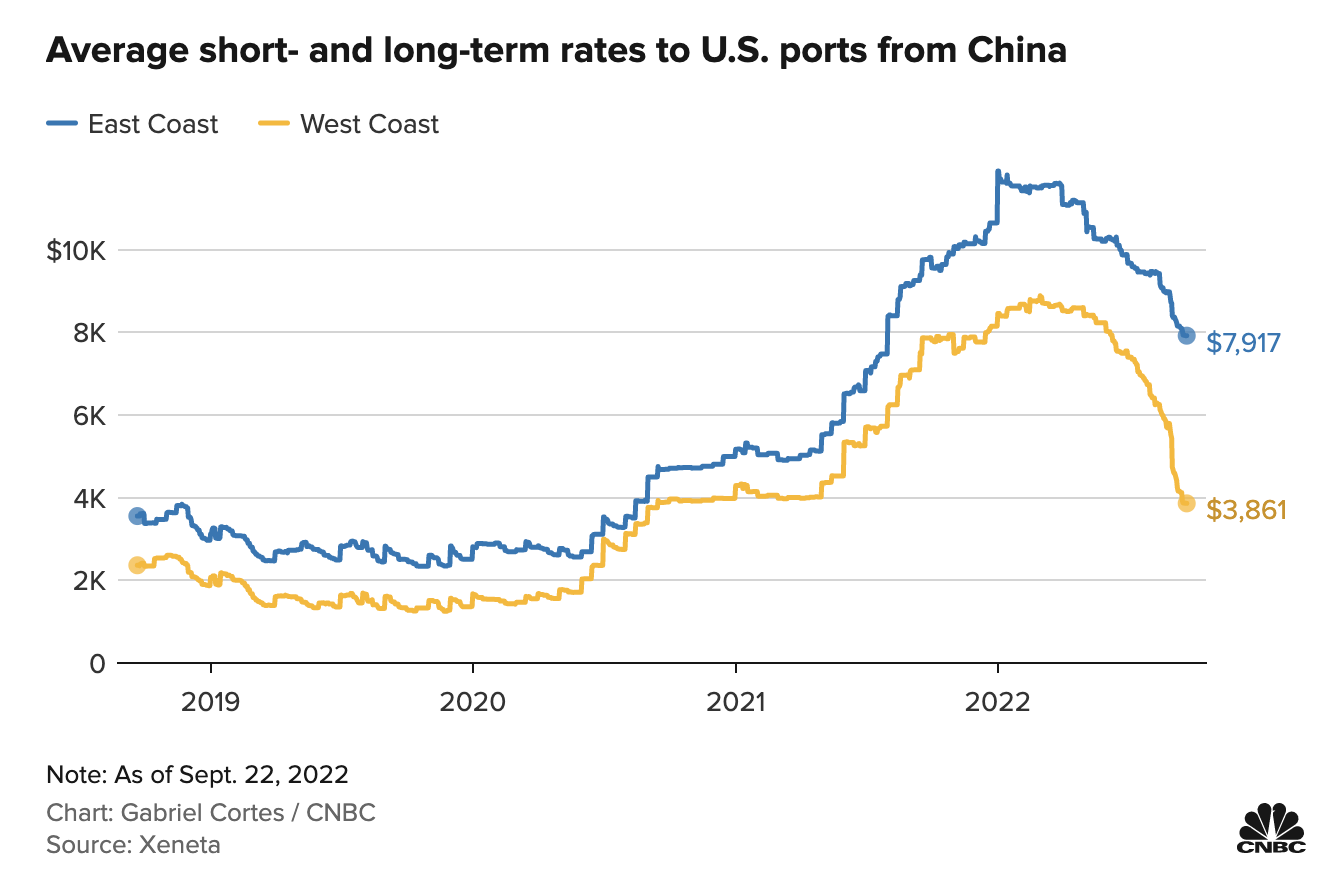 The flow of trade away from the West Coast has decreased the demand for vessel space, leading Far East to West Coast maritime freight prices to fall.
"When taking out the inflation in retail sales, U.S. retail sales were flat from last month, so demand has not fallen sharply," said Peter Sand, chief shipping analyst for Xeneta. "Shippers are still bringing in a lot of containers, on the East Coast and West Coast and Gulf Coast as well."
Xeneta has tracked a new record divergence between spot rates from the Far East to the coasts. "That is a sign of congestion all but cleared on the West Coast, with volumes coming in being manageable for ports and terminals," Sand said. That has caused rates to fall faster on the transpacific route than for East Coast-bound cargo.
Logistics prices are one of the key inflationary triggers the Federal Reserve has no control over. "Congestion on the US East Coast is keeping rates elevated, in combination with added disruption to that coast coming from troubles in North Europe," he added, referring to recent labor strikes by port workers in the U.K. that have stressed Europe's port network. Sand said that shippers are still hesitant to return re-routed cargo to the U.S. West coast.
Grounded Planes, Routes Trimmed: Has The Bottom Dropped Out Of The Air Cargo Market?
According to Xeneta, the airfreight market contracted by 5% year-on-year in August and 4% compared to pre-pandemic levels. The consequence of this was a downward floating of shipping rates globally, which has been a trend since late March.
Global rates peaked at 156% above 2019 levels in January and are currently down to +113%. That's still high, but just not as high. The good news is that the decline in cargo rates is starting to slow. As illustrated by Xeneta's graph below, August has seen a plateau in rates between Europe and North America, leveling off below those seen in 2020 and 2021 but still much higher than 2019's typical rates. Read more.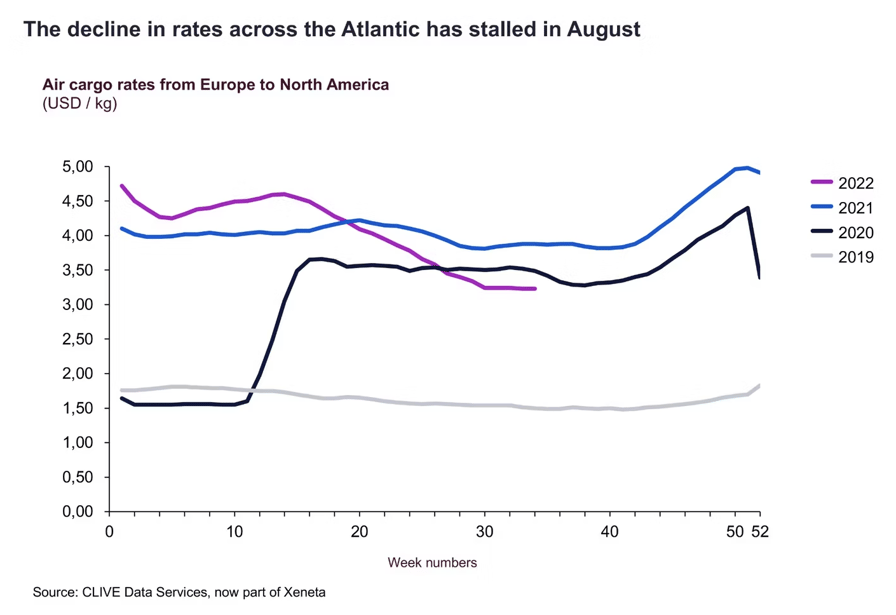 Vessel Shortage Makes Soaring Shipping Costs A New Energy Threat | Economic Times



Ships are carrying liquefied natural gas, diesel and crude to Europe from further.
"What we've seen in shipping this year has been remarkable as a result of the war in Ukraine," said Peter Sand, chief analyst at Xeneta, a freight market analytics platform. Read the full story here.
The Next Energy Threat Is From Surging Costs for Shipping | Bloomberg
As companies book vessels for winter earlier than usual, energy majors are refusing to release LNG ships as they typically do at the end of summer.
Petroleum tankers obtained at cheaper freight rates are being kept on hire -- sometimes burning extra fuel to shuttle between Singapore and Malaysia for the sole purpose of retaining the vessels, according to traders and shipbrokers. Meanwhile, traders are filling up ships at sea with natural gas and petroleum fuels, tying up more vessels to ensure supplies in the tight market.
"What we've seen in shipping this year has been remarkable as a result of the war in Ukraine," said Peter Sand, chief analyst at Xeneta, a freight market analytics platform.
Xeneta Shipping Index (XSI®), September 2022
The latest data from the Xeneta Shipping Index (XSI®) reveals long-term contracted rates fell by 1.1% in September. This is the first drop since January and one of the only three declines in the past 21 months.

However, Xeneta experts expect it won't be the last time as market fundamentals suggest that the "halcyon days" of ever-increasing rates for carriers may draw to a close. Read the full report here.

Note: Xeneta's XSI® is compiled from the latest crowd-sourced ocean freight rate data from leading shippers worldwide.
Xeneta Air Freight Rate Update, September'22 | Asia Pacific to Europe and Middle East Market Insights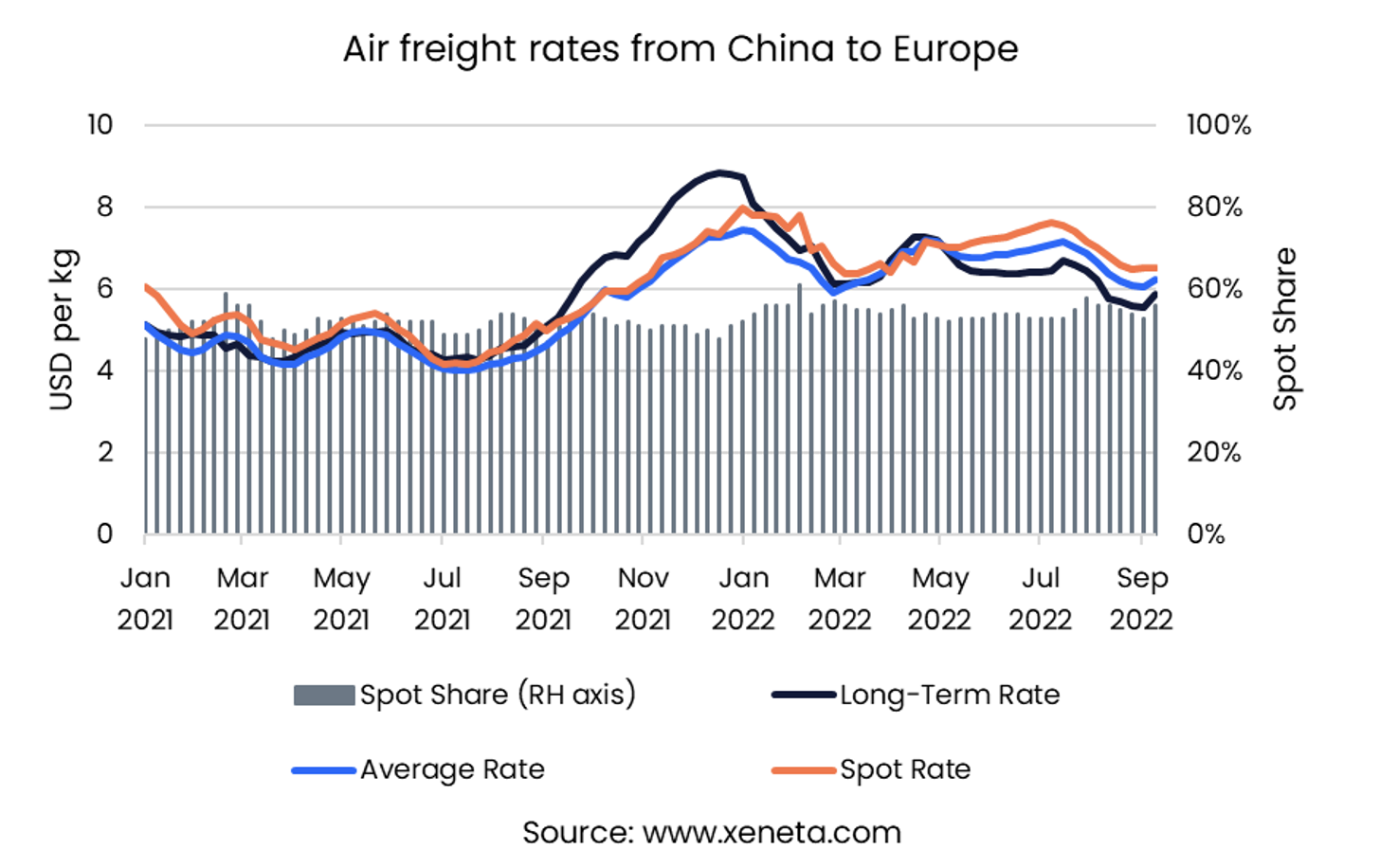 For individual high-volume corridors, the share of spot market business (between airlines and freight forwarders) is much higher than the average for the broader Asia Pacific to Europe and the Middle East market. For instance, from China to Europe, the share of the weight sold in the spot market represents roughly 56% of the market in mid-September.

Thanks to some pent-up air freight demand from frequent regional lockdowns, it is then not surprising to see that the air freight spot rate out of China remains higher than long-term rates throughout the summer period, while outbound Asia Pacific spot rates dropped below long-term rates.

Taking a closer look at the rate difference between the level at which freight forwarders procure from airlines and what they sell to shippers reveals an interesting change.

Since the beginning of 2022, freight forwarders' margins have increased. Xeneta data shows that the spread between freight forwarders 'sell' and 'buy' rates has widened. Read more.
Xeneta At Events | October 2022
Navigate | Zencargo Summit
Have you diversified your rate strategy? Join us for #Navigate on 6th October as Peter Sand from Xeneta will join a panel of experts to discuss the options available and how shippers should tailor their rate strategy to suit their business needs. What are you waiting for?
Digital Container Summit 2022 | Container-xchange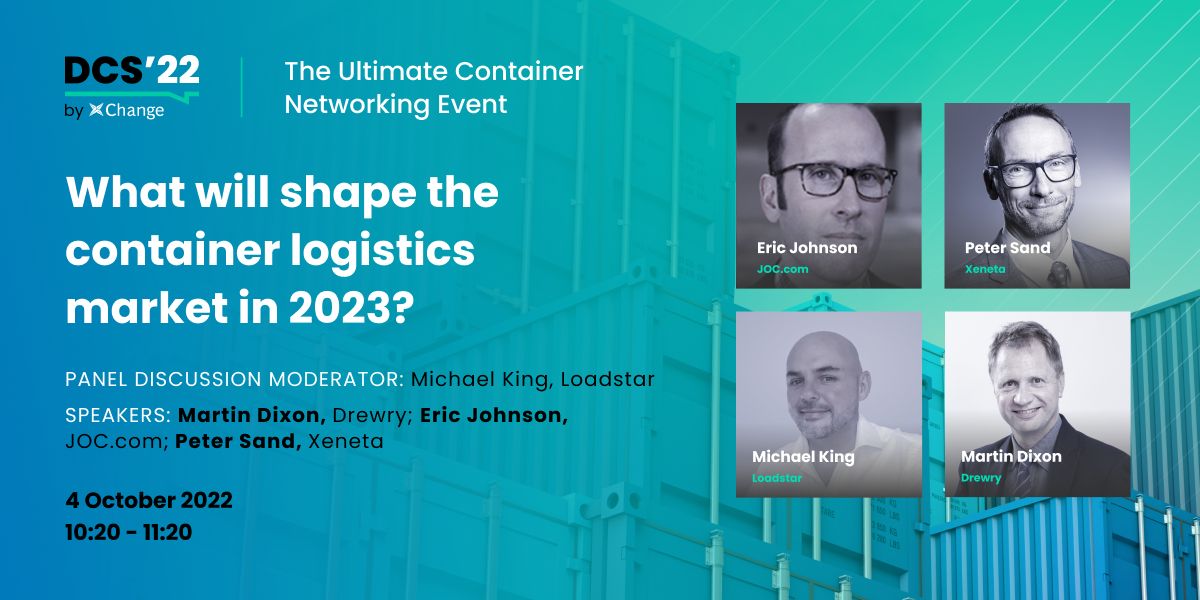 Build your network and tackle global disruptions head on
Join 400+ container logistics professionals online free of charge

Find and meet new business partners in personal 1-on-1 30-min long video meetings

Get practical takeaways on how to boost the resilience of your business and grow revenues from leading industry experts
Smart Maritime Network Copenhagen Conference | Understanding and Using Data for Greater Resilience in Shipping

Join Peter Sand, Xeneta's Chief Analyst at Smart Maritime Network, which is returning to Denmark on 4 October 2022 for the 4th annual SMN Copenhagen forum to learn about increasing efficiency and optimizing operations through data-driven decision making.
World Soda Ash Conference | Oct 11-13, 2022
The World Soda Ash Conference is the premier gathering of industry professionals creating a platform for insights and dialogues on the challenges and opportunities surrounding the global soda ash markets.

Join Emily Stausbøll, Market Analyst at Xeneta, along with Chemical Market Analytics experts and industry leaders, to gain the latest insight and deep analysis into the soda ash markets as you connect with your peers and industry professionals.
Are you armed with the right market insight to take into negotiations? | Xeneta State of the Ocean Freight Market
Charter rates are in freefall—carriers are trying to limit potential damage by holding off on new bookings as demand evaporates. How can shippers leverage this transition of power in negotiations?
Focusing on one of the key trade lanes out there where you can also see great coverage on the net platform from Japan, Korea, and main ports to China, you can see a flat development in the spot rates in the Xeneta platform. "Intra-Asian is the one market that beats the global trend right now and tends to state some sort of a comeback in terms of volumes right now," said Peter Sand, Xeneta Chief Analyst, while reviewing the container freight rate movements on this trade.
Watch the full webinar to hear Xeneta experts analyze the impacts current macroeconomic events are having on the ocean freight market and review container rate movements on main trade corridors.
Want To Get Your Hands On More Timely Insights?
Schedule a personalized demo of the Xeneta platform tailored to match your container shipping and air cargo procurement strategy.