According to the latest data from the Xeneta Shipping Index (XSI®), December 2022 recorded just 0.1% decline in long-term ocean freight rates, following a steep 5.7% month-on-month fall in November. However, the pace of decline is still lower than the drop in spot rates, which have been falling dramatically since last summer.
As per Xeneta's ocean and air freight market outlook for 2023, we could see spot rates on some of the main trades drop below pre-pandemic levels during the first half of 2023, as demand is weakest in the first couple of quarters.
With a lot of uncertainty still looming in the supply chain industry, learn what Xeneta experts have to say about the state of the ocean and air freight market.
Some ocean shipping rates collapsing, but real price relief is months away | Reuters
Prices in the most volatile segment of ocean shipping are collapsing, but top retailers like Walmart and Home Depot should not expect relief until the spring contract renegotiation season, industry experts said.
"There is a sense of payback-time in the market after the COVID years, where carriers have been in absolute control," said Peter Sand, chief analyst at air and ocean freight rate benchmarking platform Xeneta.
Carriers see losses on main routes due to collapsing spot rates | Shipping Watch
For the first time since profits flooded container markets last year, spot rates have plunged to levels causing several carriers to lose money on integral routes between China, US and Europe, estimates chief analyst Peter Sand from consultancy Xeneta. According to him, we might have to wait six months for rates to rise to viable levels, which may lead to a price war between carriers.

"We expect rates to stay below break-even levels for another six months to come. I will leave it to you to speculate whether it will lead to a price war or not, but it is sure to involve losses on the spot market," Sand says.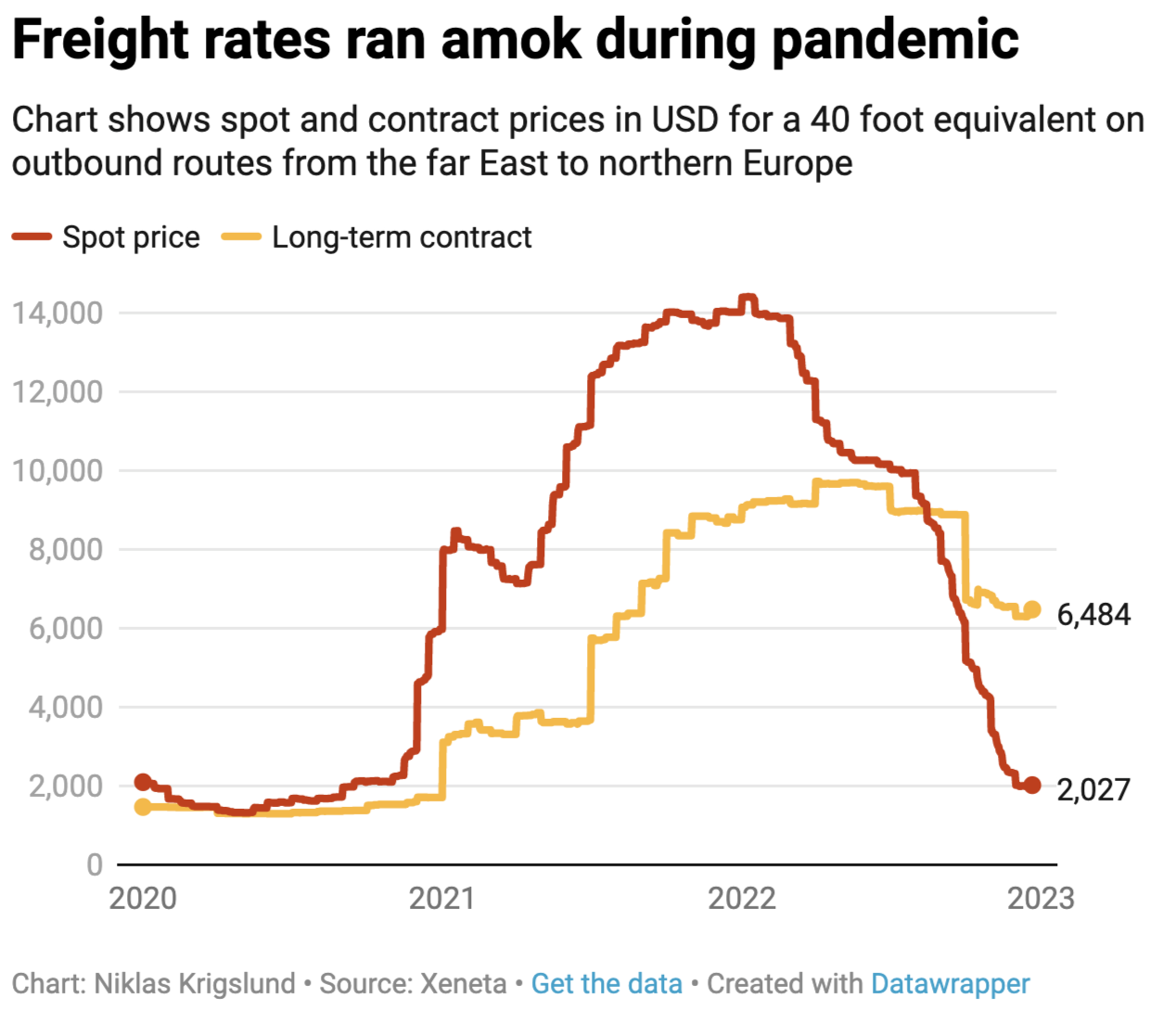 Container shipping's tricky 2023 outlook | Splash247
Liner shipping will make just 5% of 2022's mega profits, and up to 25% of the massive container order book will likely be postponed. These are the headline predictions in a unique survey carried out by Splash today looking at how the container sector navigates its way out of its greatest-ever boom.
For Peter Sand, chief analyst at freight rate platform Xeneta, 2023 looks certain to be the second year in a row of falling container volumes, and subsequently, the main characteristic of the market to look out for will be the idle fleet. This includes both hot and cold lay-ups in addition to blank sailings. Xeneta expects that 25% of the scheduled order book will be postponed, while no more than 10% is expected to be canceled – and that would probably be options not called rather than outright and expensive canceling.
Spot rates collapsed across major front- and backhaul routes through 2022, while long-term rates resisted the market storm
The first week of 2023 has given Oslo's Xeneta a chance to take a retrospective glance at rates data from 2022, with major front- and backhaul routes displaying stark disparities between spot and long-term rates developments.
Xeneta's data reveals a wholesale collapse in spot rates from 31 December 2021 to 31 December 2022, with the most dramatic declines taking place on the world's busiest fronthaul trades.
"The development across these leading inter-regional fronthaul trades was remarkable," says Peter Sand, Xeneta's Chief Analyst. "One thing is the collapse of the spot rates, but it's also very interesting to see how the fortunes switched between these and the long-term contracted rates.
"At the end of December 2021, long-term rates were, on average, USD 4 300 per FEU lower than spot rates. Fast forward a year, and spot prices have fallen off a cliff while the contracts have retained their value to such an extent they command an average premium of USD 4 450 per FEU. It's a complete reversal." Read more.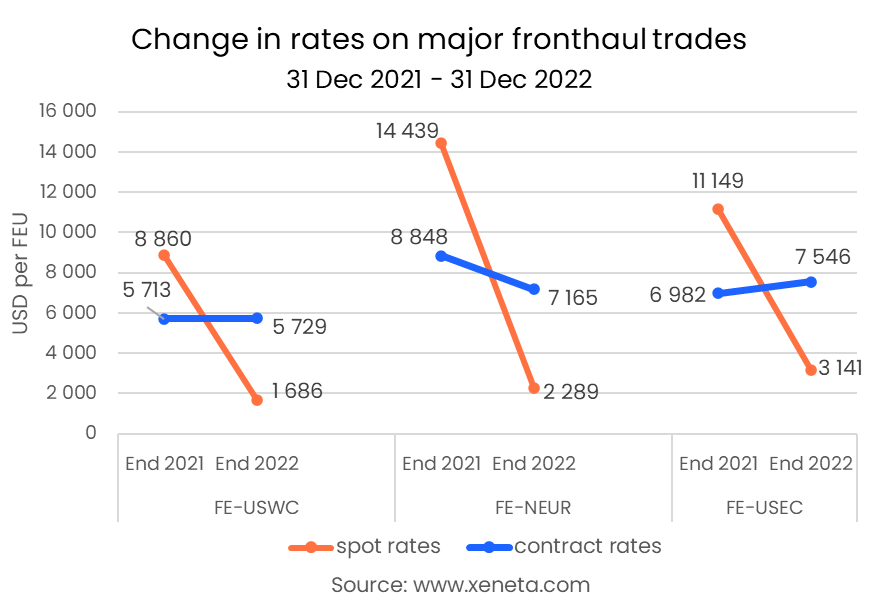 New CO2 rules could cripple feeder and reefer shortsea services | The Loadstar
The IMO's new CO2 reduction measures, including ETS (emissions trading system) and Carbon Intensity Indicator (CII), will likely put more pressure on the feeder industry and drive more-polluting road transport, say experts.
Many experts, including Xeneta chief analyst Peter Sand, anticipate this will trigger more scrapping in the smaller-size ranges and incentivize a switch to more-polluting road transport.
And he anticipates "a situation in which carriers move their feeder ships onto longer trades a few times a year to improve their score, adjusting their offerings and, potentially, stopping a certain number of port calls, especially in the ports where carriers know waiting times are consistently long." Read more.
Back to the future for container shipping | Business Times
Despite this negative trend, the Xeneta Shipping Index (XSI®) has stayed 70 percent up year on year, after a strong start to 2022, as port congestion and other disruptions clogged up supply chains and drove up costs. Xeneta's chief executive officer (CEO) Patrik Berglund cautioned that the narrative for the beginning of 2023 looks to be "very different". At first glance, this month's data appears to stall the negative curve, but this is a little misleading.
Firstly, this is due to fewer long-term contracts being signed at this time of year rather than new agreements coming in with the same rates. When we do see contracts being signed across all trades, we see them agreed at below the current average for all valid rates. So, this is really just the calm before the storm." Read more.
A glass half full for all air cargo stakeholders as 2022 bows out with less demand and lower rates
A turbulent 2022 for the global air cargo market ended in December with a 'win/win' outcome for airlines, forwarders and shippers as the chargeable weight fell 8% from a year ago, and the general airfreight spot rate registered its largest year-on-year decline of 35%, but overall average rates remained 75% above the pre-covid level, according to weekly market analysis by CLIVE Data Services, part of Xeneta. Read more.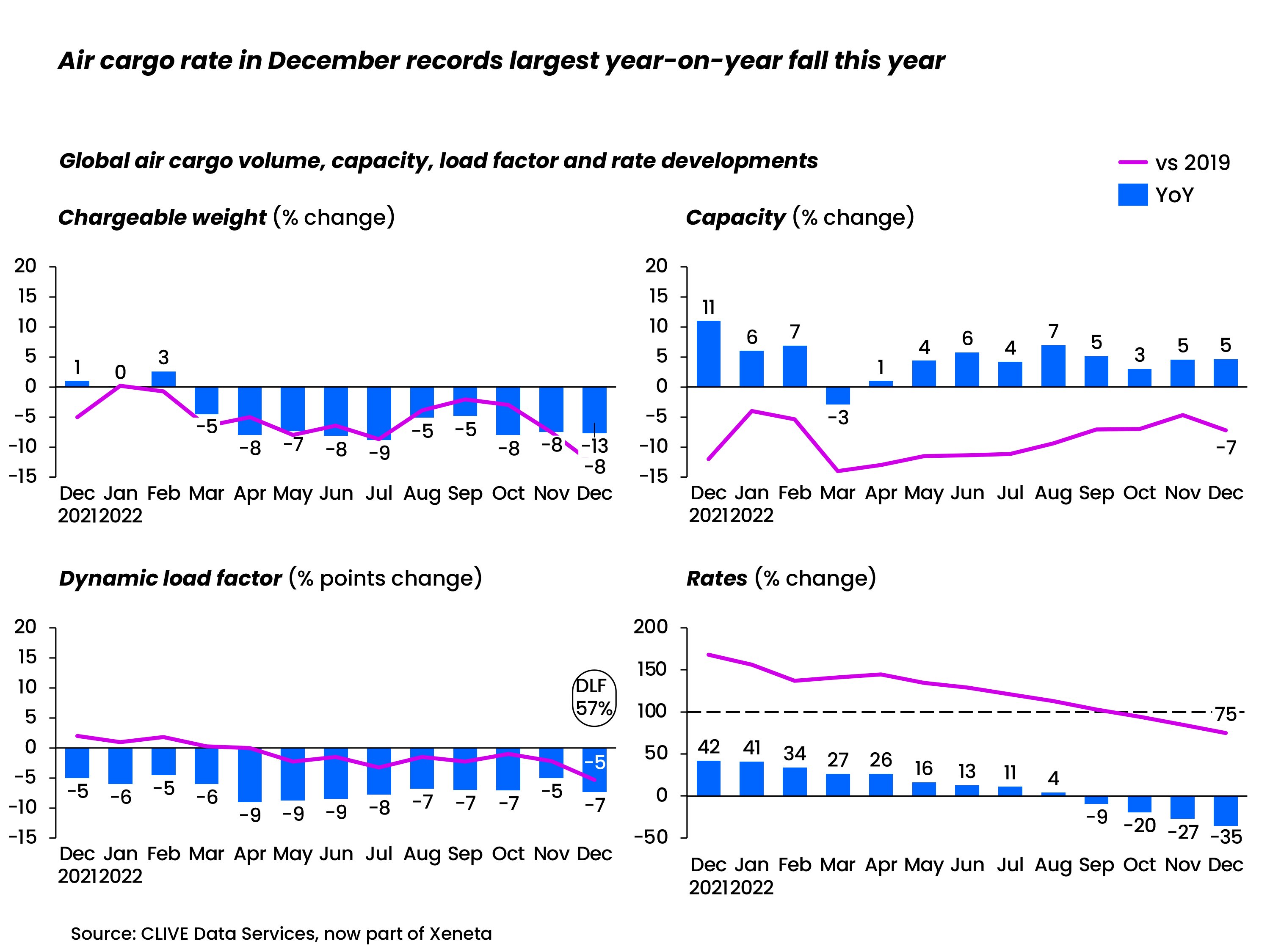 Airfreight rates in the doldrums as carriers look to set their BSA tariffs | The Loadstar
Asian forwarders are reporting sinking airfreight rates, just as airlines look to set out their BSA tariffs. Two standard-setting airlines have already set out their BSA rates ex-Asia, according to one source.
According to Xeneta's Clive, capacity in December recovered to 93% of the 2019 level, but the dynamic load factor was 7 percentage points lower, year on year, and the 8% drop in volumes was the tenth consecutive fall. However, while capacity might be back, rates on most routes are still not yet at pre-Covid levels.
"Based on the global environment now, airlines are still achieving rates 75% higher than pre-Covid," said Niall van de Wouw, Xeneta's chief airfreight officer. That indicates the glass is very much still half-full.
Rates end 2022 on a flat note but ahead of pre-Covid levels | Aircargonews
Xeneta-owned CLIVE Data Services expects rates to come under pressure in the coming months.
"It's clear it remains in a very unpredictable state given world events. We don't see demand recovering quickly because of what is happening around the world, but we do expect to see supply continuing to come back into the market," said Niall van de Wouw, chief airfreight officer at Xeneta.
"This, of course, will put further pressure on load factors and rates. So, we struggle to see where the tailwinds will come from, but looking at the broader perspective, we still see a very efficient air cargo market."
Xeneta forecasts fall in freight rates, volumes and demand as storm clouds gather for 2023 | Xeneta
An in-depth analysis of the latest real-time ocean and air freight rates, combined with expert trend forecasts, suggests that ocean cargo volumes could fall by up to 2.5%, rates will drop "significantly," and weak demand will force increased idling of vessels. The air freight market, analysts predict, will also face a turbulent twelve months.
Xeneta CEO Patrik Berglund says difficult times await stakeholders right across the ocean and air freight value chain.
He notes, "The cost-of-living crisis is eating into consumer spending power, leaving little appetite for imported, containerized goods. With no sign of a global panacea to remedy that, we'd expect ocean freight volumes to drop, possibly by around 2.5%. That said, if the economic situation deteriorates further, it could be even more." Read the full report here.
The Shipping Countdown: Top 7 factors that will impact the market in 2023 | Xeneta
In the latest episode of our Transportation Insights podcast, Xeneta experts debated the top seven factors to understand how the shippers, BCOs, carriers and freight forwarders will be affected in 2023. Listen to the full episode here.
Learn which factor/trend made it to the top of the list and has the potential to impact the direction of freight rates. Here are a few key takeaways from the discussion:
Will COVID continue causing chaos at a global level?
Where does the looming recession fall on the list of factors affecting 2023?
Will the contracts be in breach, or will they be renegotiated again?
Will we see more index-linked contracts coming up?
Will we see the spot and contract market rates at par anytime soon?
How will the energy crisis affect ocean and air freight next year?
Want to learn more?
Sign up today for our upcoming monthly State of the Market Webinar to stay on top of the latest market developments and learn how changing market conditions might affect your contract negotiations.