Congestion is rapidly declining on the US East Coast, but canceled sailings into North America are rising. On the other side of the world, volumes in Intra-Asia sharply increased after the reopening of Shanghai, but this rebound has now plateaued.
Spot rates nosediving, high levels of blanked sailings and a 20% drop in US ocean freight orders are among the trends we see already in October. Learn what Xeneta experts have to say about the state of the ocean and air freight market amidst current market developments.
HSBC brings forward its trough scenario for container shipping | Splash247
Banking major HSBC has brought forward its trough scenario for container shipping, given the extreme speed with which the sector's fortunes have declined in recent months.
"It took 146 days to get from $5,000 per feu to $9,000, whereas on the way down, it took 119 days for the $5,000 per feu mark to be breached," Xeneta stated in a new report.
Xeneta has recorded a global drop in container volumes of 1.4% in the year to date.
"The rest of the year seems unlikely to reverse this pattern of falling volumes, especially when considering the high demand at the end of 2021. In 2023, demand growth is not expected to be high enough to counter the effects of high fleet growth, leaving freight rates to continue to slide," Xeneta stated. Read more.
Air cargo spot rates keep falling with no sign of a peak season turnaround | Supply Chain Dive
Air freight spot rates fell 9% YoY in September as capacity growth continued to outpace demand, according to
latest
news release
from Clive Data Services, now part of Xeneta. The fall in rates will likely persist, even with the busy holiday shipping season approaching, said Niall van de Wouw, chief airfreight officer at Xeneta, in a statement. This is because COVID-19 restrictions continue to be lifted globally, introducing more flight capacity in the process.
"Shippers who have held their nerve and not shipped their peak season goods early by air are likely to find themselves in a stronger buying position," van de Wouw said.
Read more.
76% of Xeneta Customers Want to Procure Freight Using Index-Linked Container Contracts | Xeneta
During the customer webinar last week, hosts Peter Sand, Chief Analyst and Stanley Aizenstark, VP of XSI®-C and Indices at Xeneta, expanded on the Xeneta Shipping Index (XSI®) process and how this can be best utilized in the current state of the market. The webinar also revealed that 76% of customers recognize the value of ILCCs and want to procure capacity in the future using ILCCs.
While most customers polled don't currently take advantage of Xeneta's XSI® indexes or use ILCCs in negotiations, they are still relying on freight rate data in regular renegotiations, likely on the spot market. Read more.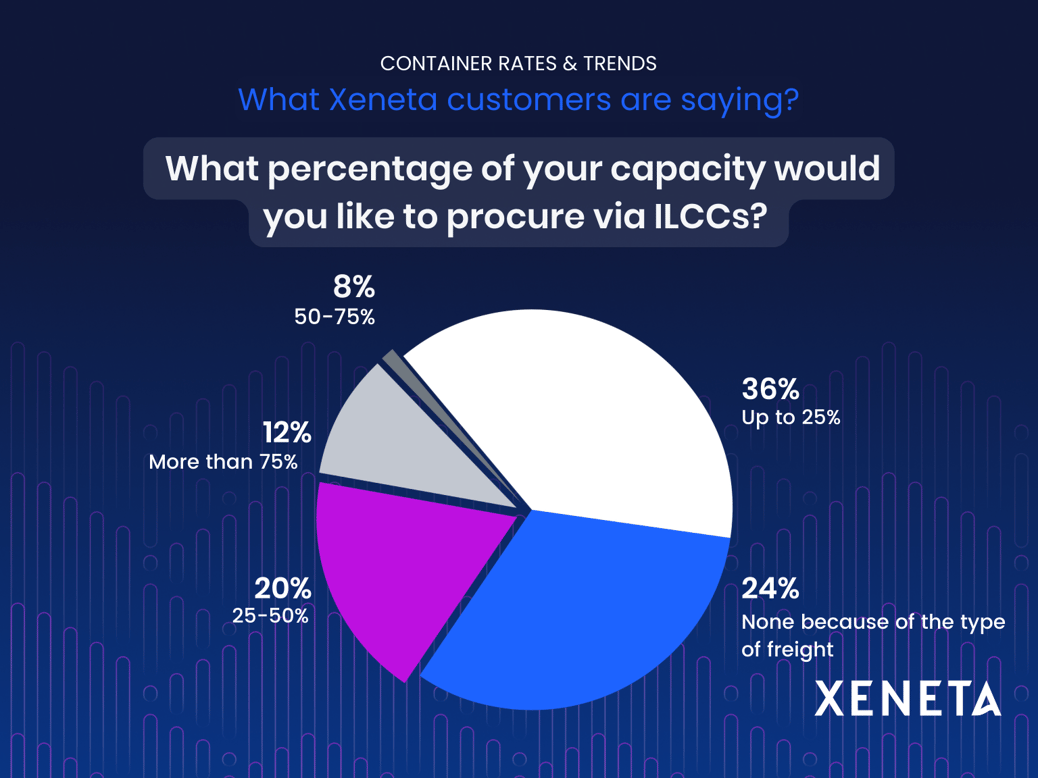 'Jumpy' airfreight market sees demand inch down and rates under pressure | The Loadstar
Capacity is creeping back, demand is inching down. Rates are still higher than pre-Covid – but the question now is, for how long?
There are, of course, regional differences, and the Golden Week holiday tends to nudge rates. But there have been some significant declines – Xeneta says East Asia to Europe is now 19% below January's level. The TAC Index shows China-Europe down 20% on the year, while China-US is down 42.3%.
The easing of quarantine restrictions in parts of Asia has led to increased passenger capacity, with global capacity now up 5% on last year and only 7% below 2019, according to Xeneta's Clive. And Clive's dynamic load factor fell seven percentage points YoY to 59%, only 2 points off September 2019. Read more.
How falling shipping rates have taken the market by surprise | CIPS
According to reports, carriers are trying to prop up rates by blank sailings – sailing with empty vessels. But despite this, ships are still leaving Asia with substantial spare capacity.
Peter Sand, the chief analyst at maritime data provider Xeneta, said: "It really is an eye-catching development.
"Shippers that have had their backs against the wall in negotiations for so long are seeing the market turn much quicker than many anticipated. They can now move three 40ft containers for the price they paid for just one only a few months ago." Read more.
Container shipping rates plunge by 40% but global macroeconomic scenario cast gloom over India's exporters | Economic Times
Market fundamentals suggest that the "halcyon days" of ever-increasing rates for carriers may be drawing to a close, says rate benchmarking and market analytics platform Xeneta.
In September, spot rates on many trades fell by their largest margin yet as lower global demand and easing global congestion saw shippers (exporters and importers) gain a decisive advantage, according to a September report by Oslo, Norway-based Xeneta A S, one of the world's top ocean and air freight rate benchmarking and market analytics platform. Read more.
Is This The Next Major Threat For Oil Demand? | Oilprice
According to shipping data provider Xeneta, the global Xeneta Shipping Index (XSI®) saw in September its first month-on-month fall since January 2022, falling by 1.1%.
"In September, spot rates on many trades fell by their largest margin yet as lower global demand and easing global congestion saw shippers gain a decisive advantage," Xeneta said in a report last week. Read more.
Air cargo peak season evaporates on low demand, higher capacity | FreightWaves
According to Xeneta, September cargo demand, based on shipment profiles, fell 5% from last year and was down 2% from the same month in 2019. The shipping downturn timed with a 5% recovery in cargo capacity, which is now only 7% below pre-pandemic levels as international airlines continue to restore service.
The combination of weaker demand and rising supply dropped the aircraft fill rate, or load factor, by 7 points to 59%. That is 2 points lower than recorded in 2019. Read more.

Want To Get Your Hands On More Timely Insights?
Schedule a personalized demo of the Xeneta platform tailored to match your container shipping and air cargo procurement strategy.