October 6, 2022 – Oslo, Norway – General air freight spot rates fell 9% year-over-year in September to below the 2021 level for the first time this year, as returning global cargo capacity continued to outpace air cargo volumes, according to the latest weekly market data from industry analysts, CLIVE Data Services, part of Xeneta.
Spot rates have been falling gradually since the beginning of this year, pointing to a deteriorating air cargo market. In September, general cargo spot rates continued to plunge below seasonal rates, although continuing regional capacity constraints from outbound East Asia showed more resistance in comparison to the ocean spot market. In September, ocean spot rates from East Asia to Europe fell 49% from the January level, while air freight spot rates were 19% lower. The market, however, will be strongly influenced by returning air cargo capacity.
Taking Japan as an example, routes to Europe have been impaired by the Ukraine war, causing a 12% reduction from Q1 to Q2. In June, Japan began easing part of its severe covid restrictions to welcome guided tourists, and since then, passenger aircraft belly capacity to Europe improved by 7% in Q3, recovering to 38% of the pre-pandemic Q3 2019 levels.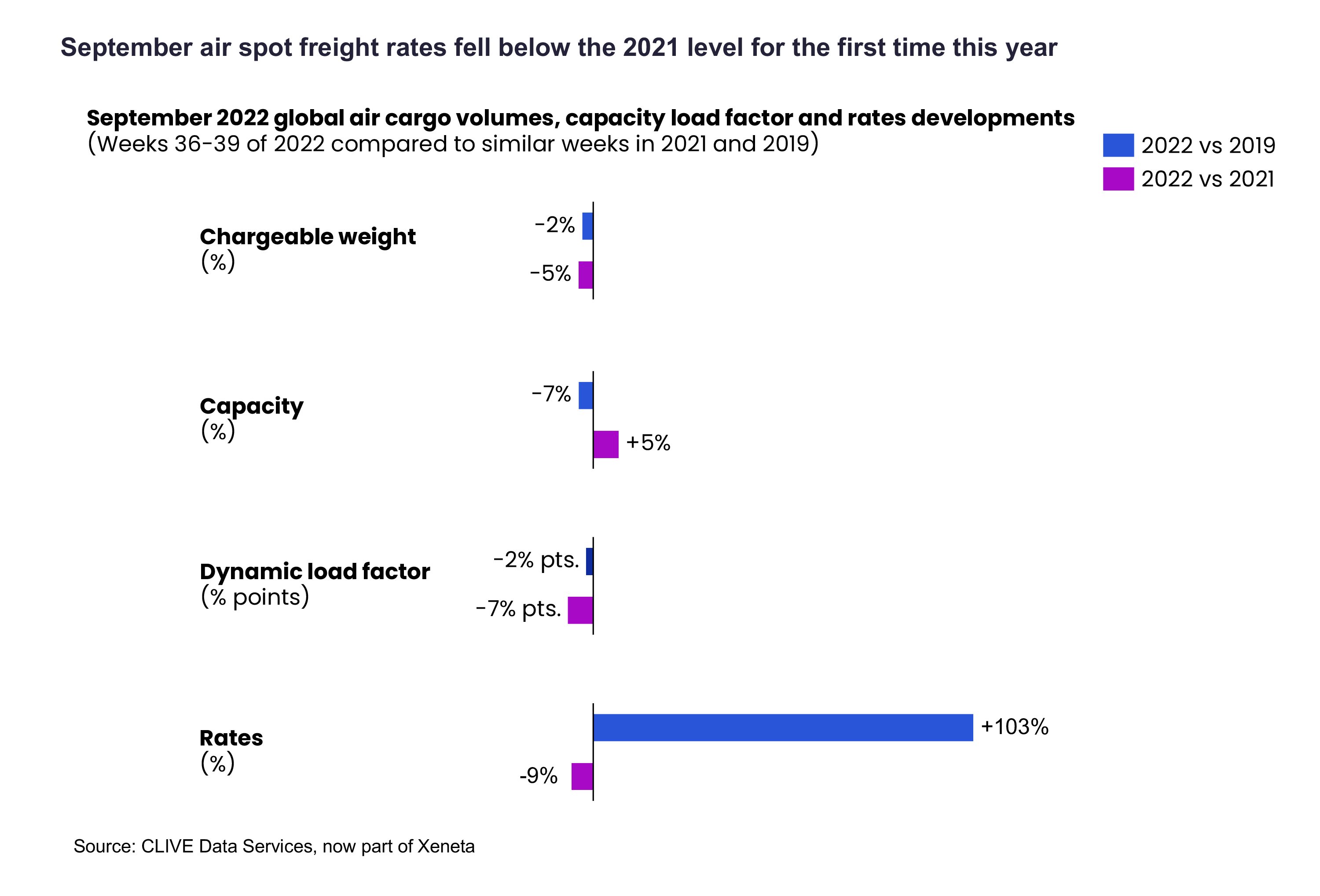 In accordance with this, Q3 air freight spot rates declined 28% compared to Q2. Looking ahead, the further removal of travel restrictions for individual tourists will further boost the capacity recovery from long-haul widebody flights.
Overall, global air cargo demand in September, measured in chargeable weight, remained a negative trend, falling 5% and 2% in the same months of 2021 and pre-pandemic 2019.
The overall decline in general air freight volumes came as airlines reintroduced passenger and cargo capacity from East Asia, most notably at the end of the month ex Hong Kong, Japan and Taiwan after their governments announced plans to lift coronavirus restrictions.
Global cargo capacity last month recovered by 5% versus September 2021 to now sit just 7% below the 2019 level, CLIVE reports.
Declining demand and increasing capacity had the expected impact on CLIVE's 'dynamic load factor analysis, which provides the best indicator of airline performance by measuring both the volume and weight perspectives of cargo flown and available capacity. It dropped 7% pts over the same month last year to 59% and was 2% pts adrift of the level recorded in September 2019.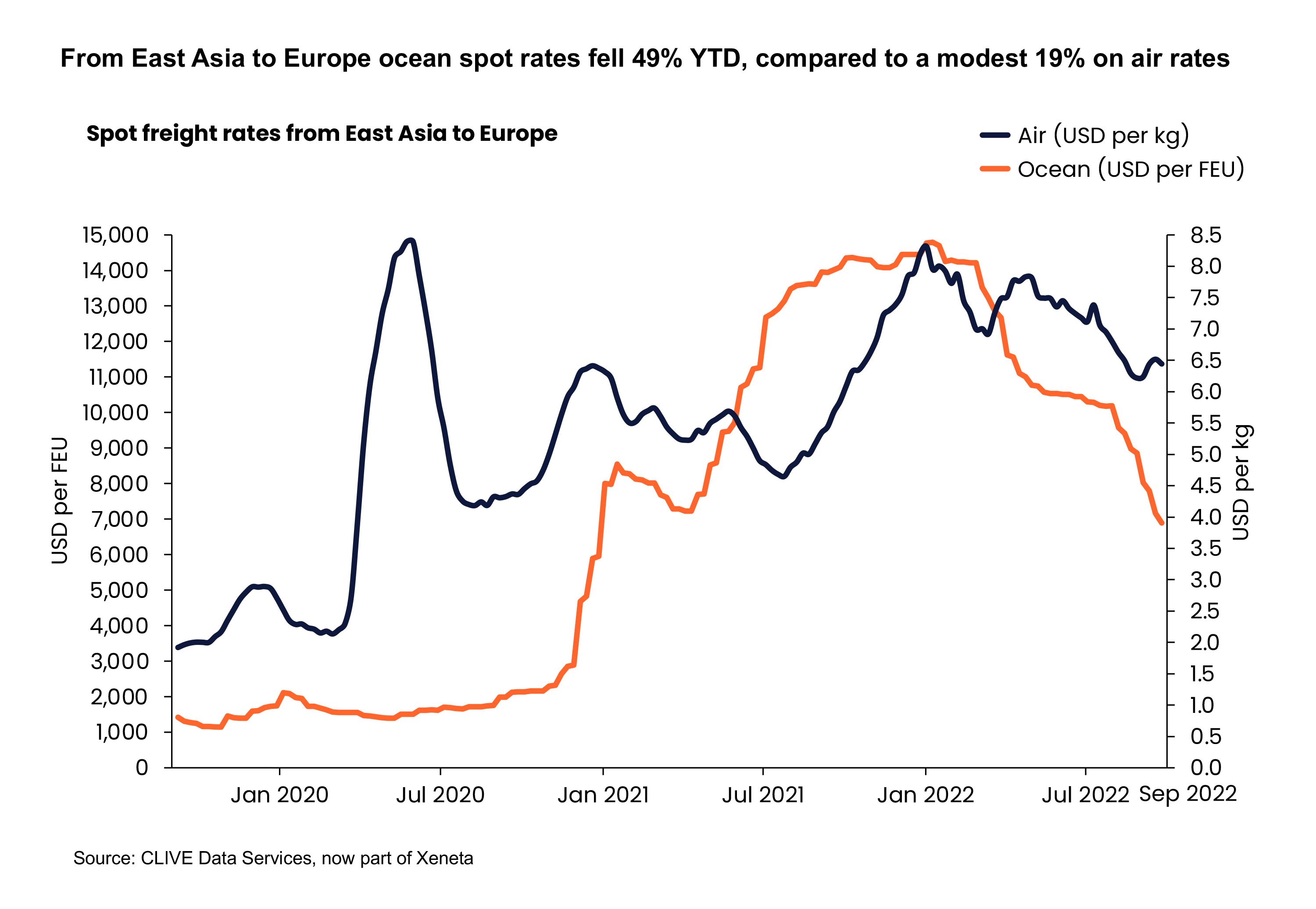 "What we see in a very 'jumpy' air cargo market which responds very quickly to global events, whether this is the escalation of the conflict in Ukraine, rising inflation, the pressure on Sterling, or the stronger US dollar. It's still early to judge how such events will be reflected in the air freight market over the rest of this year but we see no indications that demand will pick up from a macroeconomic perspective," said Niall van de Wouw, Chief Airfreight Officer at Xeneta.
"We also see the ocean market changing very rapidly, and we expect its reliability to go up, which will see certain volumes pushed to air cargo by necessity go back to the ocean. We see a flat air cargo market in terms of demand, but the fall in general air freight rates and load factor are likely to be exacerbated by the continuing return of capacity, even as we head towards a winter season when, traditionally, we would expect to see cargo space in the prime Europe and North America markets cut back. Shippers who have held their nerve and not shipped their peak season goods early by air are likely to find themselves in a stronger buying position," he added.
About Xeneta
Xeneta is the leading ocean and air freight rate benchmarking and market analytics platform transforming the shipping and supply chain industry. Xeneta's powerful reporting and analytics platform provides liner-shipping and air cargo stakeholders the data they need to understand current and historical market behavior – reporting live on market average and low/high movements for both short and long-term contracts. Xeneta's data is comprised of over 300 million contracted container shipping and air freight rates and covers over 160,000 global trade routes. Xeneta is a privately held company with headquarters in Oslo, Norway and regional offices in New Jersey, USA and Hamburg, Germany.
To learn more, please visit www.xeneta.com
About CLIVE Data Services
CLIVE Data services provides near real-time pricing, volume, capacity and load factor trends on the general air cargo market. It provides each Tuesday in-depth analyses for the previous week. CLIVE's 'Dynamic load factor' analysis refreshes the way air cargo capacity usage is traditionally measured to reflect modern day reality. CLIVE Data Services is a privately held company with headquarters in Amsterdam, The Netherlands.
In January 2022, CLIVE was acquired by Xeneta, the leading ocean and air freight rate benchmarking, market analytics platform and container shipping index, to provide the most timely and comprehensive insights into the global ocean and air freight markets.
To learn more, please visit www.xeneta.com