Lockdowns, extreme congestion, and sanctions are contributing to what may be a disastrous Q2 for ocean shipping. Things have gone from bad to worse for citizens and supply chains/logistics as the lockdown continues in Shanghai and sharply rising congestion on US East Coast keeps the long-term and spot rates at their current high level.
With the unpredictable global events currently creating havoc on the supply chains, learn what Xeneta experts have to say about the future of the ocean and air freight market.
Demand, Disruption And Deft Carrier Strategies Fuel New Highs For Long-Term Ocean Freight Rates | Hellenic Shipping News
Xeneta's XSI®, compiled from real-time data crowdsourced from leading global shippers, shows near universal long-term hikes across key trading corridors.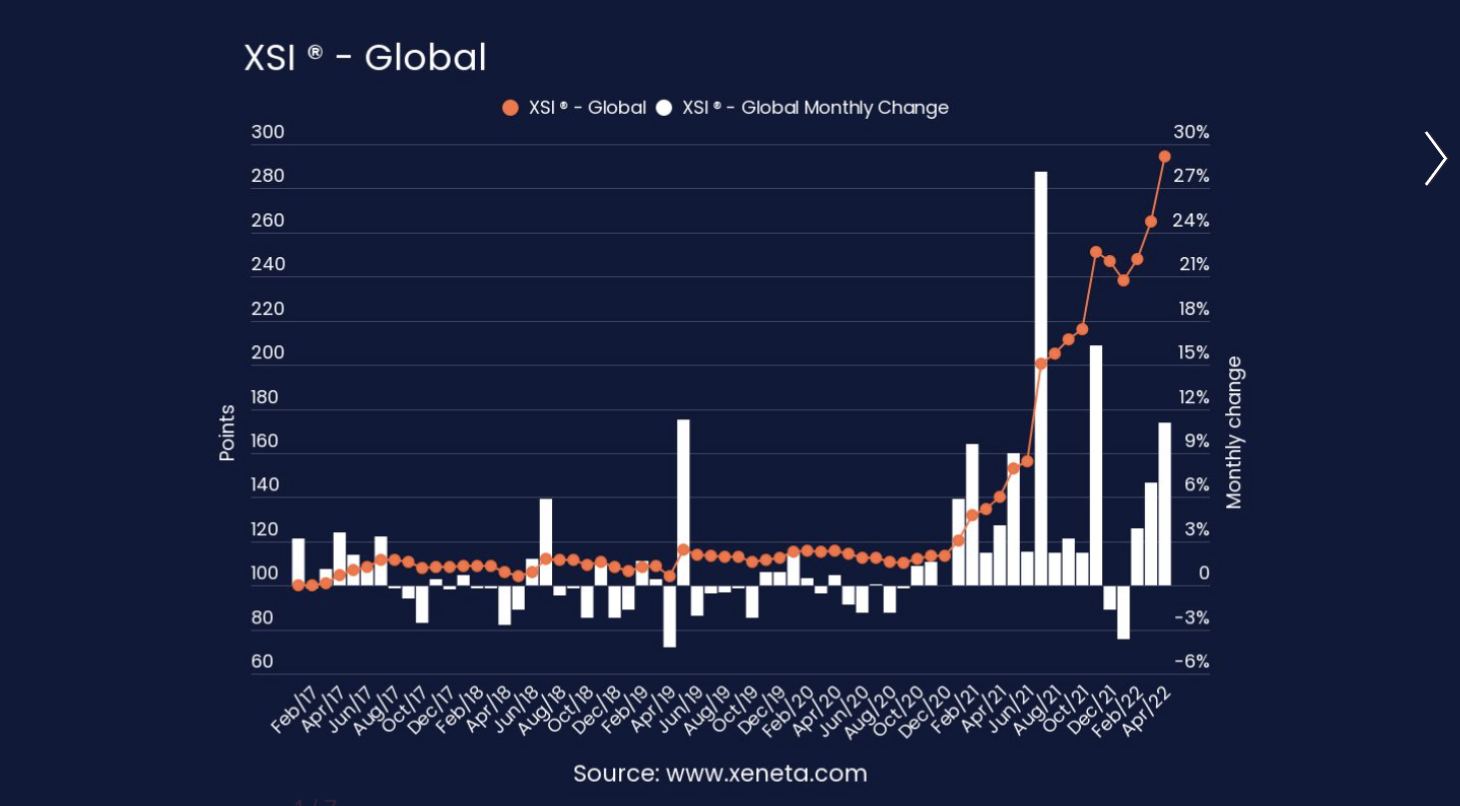 European developments led the charge in April, as the import benchmark surged 16.8% (up 107.3% year-on-year), while export rates climbed 20.3% over the month, now standing 102.8% up against April 2021. Far East moves were less pronounced, with imports edging up 0.8% (52.3% higher year-on-year) and exports jumping 9% – a staggering 127.7% year-on-year appreciation.
"China's zero-tolerance policy on COVID continues to disrupt supply chains, as demonstrated by the lockdown in Shanghai, the world's largest port," notes the Xeneta CEO, Patrik Berglund. "That is hitting exports, which could obviously free up capacity and put pressure on spot rates. However, proactive carriers are moving to protect their dominant positions, as we can see with the 2M alliance aiming to blank three Far East-North Europe sailings in May. They are not alone in this response to what is, in these times, a rare crack in otherwise solid market fundamentals."
Read more here.
Long-term And Spot Box Rates Equalize On US-Asia Backhaul | SeaTrade Maritime News
Xeneta Chief Analyst Peter Sand said that long term rates for the US East Coast to Asia were $350 per feu higher than the spot market in mid-march, but long-term rates had since fallen by $250 per feu while the spot market held steady. The long-term premium had therefore fallen to $90 per feu.
"The West Coast exports just under twice as many loaded containers to the Far East compared to the East Coast, with congestion and delays not leading US exporters to shift their coast of choice as has been happening with US importers," said Sand.
Read full story here.
Shanghai Lockdown Has Mainly Affected Regional Supply Chains | Shipping Watch
The weeks-long lockdown of Shanghai has first and foremost had an impact in Asia, though it is increasingly felt on a global scale as well, says Peter Sand, Chief Analyst at Xeneta. Major Chinese city Shanghai has now been locked down for five weeks due to outbreaks of Covid-19 and it may be long before containers are loaded onto ships at the same pace as previously.
"At best, it'll be a month or two before things are back to normal," predicts Peter.
Read more here.
Airfreight Rates Soften As Bellies Bounce Back On The Atlantic | The Loadstar
The start of May has seen a softening of the air freight market – with customers on long-term contracts paying more than the spot rate, as belly bounces back. For the first time post-pandemic, since the end of March capacity over the transatlantic is higher than pre-pandemic levels.
This extra capacity has led to the lowest dynamic load factors since the first half of January on western Europe to North America, albeit that it rose from 63% to 67% in the last week of April, according to Xeneta.
Read more here.
Disruption Continues To Hit Air Cargo As Volumes Drop Again In April | Air Cargo News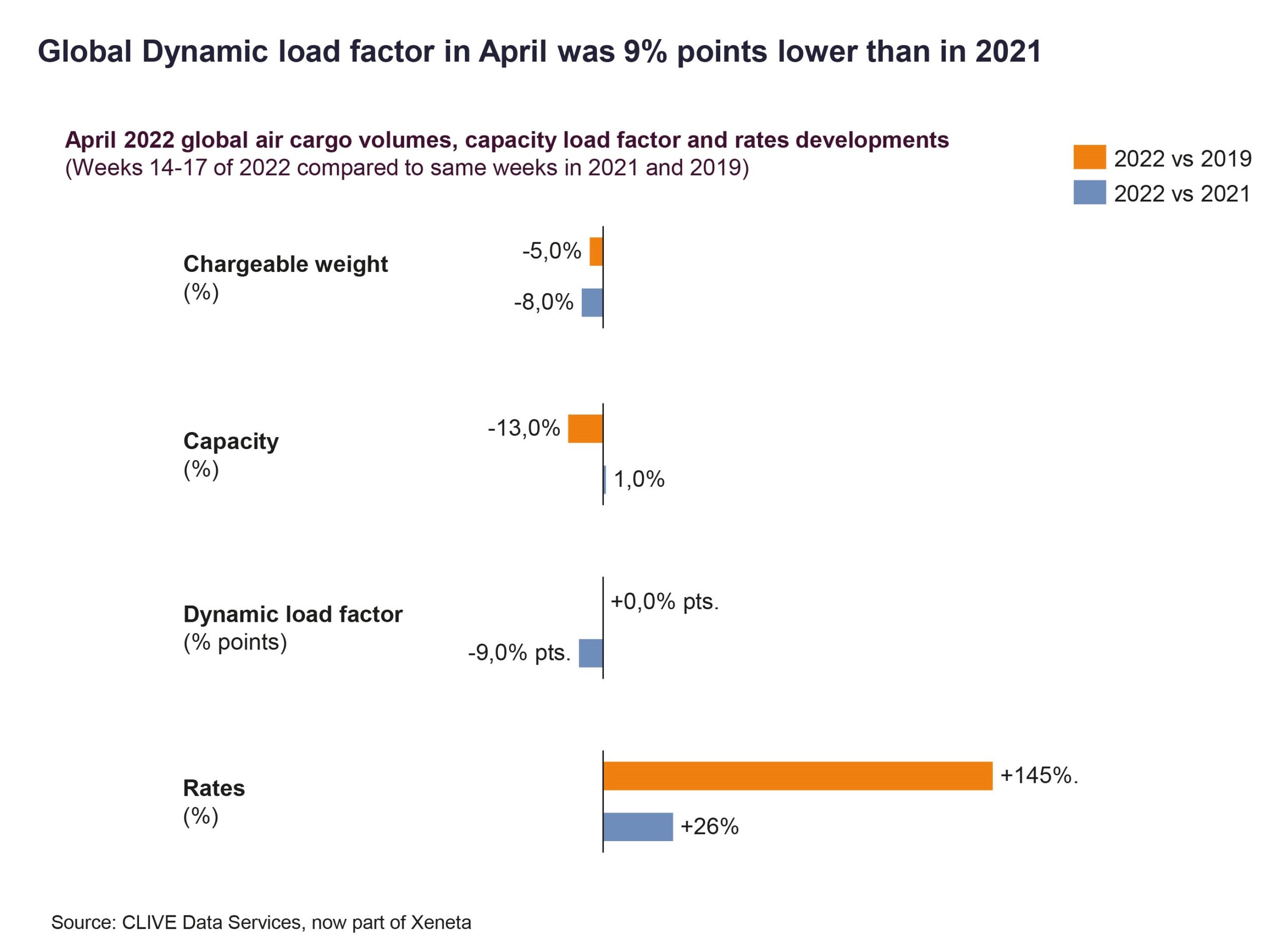 "The rationale behind lower load factors and higher rates is the bottleneck on the ground – which appears to be being caused now by not only the shortages of people handling cargo at airports around the world and the severe lack of truck drivers to move the goods but also by a wider shortage of people for lower-paid logistics jobs. We are now seeing this larger theme impacting the entire supply chain," said Niall van de Wouw, Chief Airfreight Officer at Xeneta.
Read full story here.
Xeneta Appoints Bridget Shea As Board Member | Yahoo News
Seasoned technology executive to steer freight data and analytics firm Xeneta toward continued and sustainable growth. "Bridget is a highly accomplished tech leader with an extensive track record of success that makes her the perfect fit for our board of directors," said Xeneta CEO Patrik Berglund. "We are thrilled to welcome a seasoned professional who has spent a significant amount of time delivering results for high-growth companies. Her expertise will be invaluable to our board."
Full story available here.
Want To Learn More?
Schedule a personalized demo of the Xeneta platform tailored to match your container shipping and air cargo procurement strategy.