On the face of it, the reefer spot freight rate from North Europe to China has been stable during the Covid years.
After the initial climb from a pre-pandemic average of USD 2,185 for 40" reefer in 2019 to a peak of USD 5,400 in April 2020, the rates have hovered around USD 5,000 per unit for large parts of 2021 and 2022
.
Recently Xeneta data alerted that change may soon be coming around for this trade, too, despite the buoyancy it has experienced due to
widely
disrupted supply chains
. This disruption has also turned the norm for transportation costs on its head.
Reefer container freight rates usually come at a solid premium to dry containers, making it attractive for carriers to
prioritize
them
.
This is especially true when they go on dry container back-hauls, for example, from North Europe to China and the Far East
.
By early October, spot rates fell below the USD 5,000 mark, and rates kept sliding during November. The ride got even bumpier as December arrived. Currently, spot rates sit 11% lower than the November average at USD 4,300 per 40" reefer.
But why should change come around now?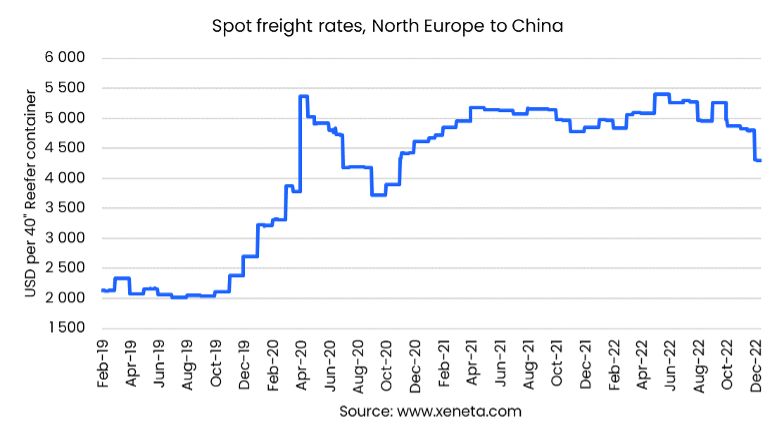 As the snarling global supply chains are now unwinding and there is a significant and consistent drop in reefer volumes going into China, we can expect change around the corner
.
From Q2-2021 onwards, volumes have decreased to a much lower level than in the peak year of 2020 (304k TEU).
In Q1-2021, demand was on par with Q1-2020.
But evaporating demand in the
subsequent
three quarters of the year resulted in a drop of 19.5% for 2021 compared to 2020
.
In 2022, one-fourth of the reefer cargo that went from North Europe to China a year earlier is now lost as well. Accumulated demand fell by 36% in 4m-2022 y-o-y (Jan-April). Since then, a new balance has
been found
, and October turned out to be the first month of y-o-y growth since March 2021.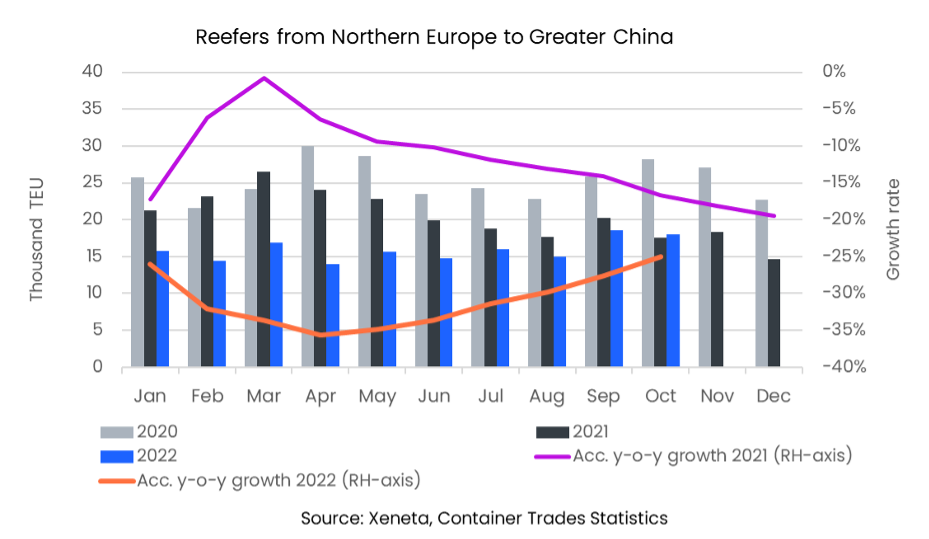 China delivering the drama
Whereas Chinese imports are
sharply
down, reefer imports from North Europe to North Asia and Southeast Asia have held up
.
After growing 8.7% in 2021 y-o-y, volumes now sit another 6.4% higher for 10M-2022 y-o-y into North Asia and a tad lower for Southeast Asia at minus 1.8%
.
Rates for these trades follow the China-bound trade, which means they are falling too in December but to a lesser extent
.
Note:
The 'Weekly Container Rates Update' blog analysis is derived directly from the Xeneta platform. In some instances, it may diverge from the public rates available on the XSI ®-C (Xeneta Shipping Index by Compass, xsi.xeneta.com. Both indices are based on the same Xeneta data set and data quality procedures; however, they differ in their aggregation methodologies.
Want to learn more?
Sign up today for our upcoming monthly State of the Market Webinar to stay on top of the latest market developments and learn how changing market conditions might affect your contract negotiations.
PS: Missed the LIVE session? Sign up to get the full webinar recording.