This is How We Do It
We streamline market intelligence and create freight rate data standards allowing the industry to improve its performance.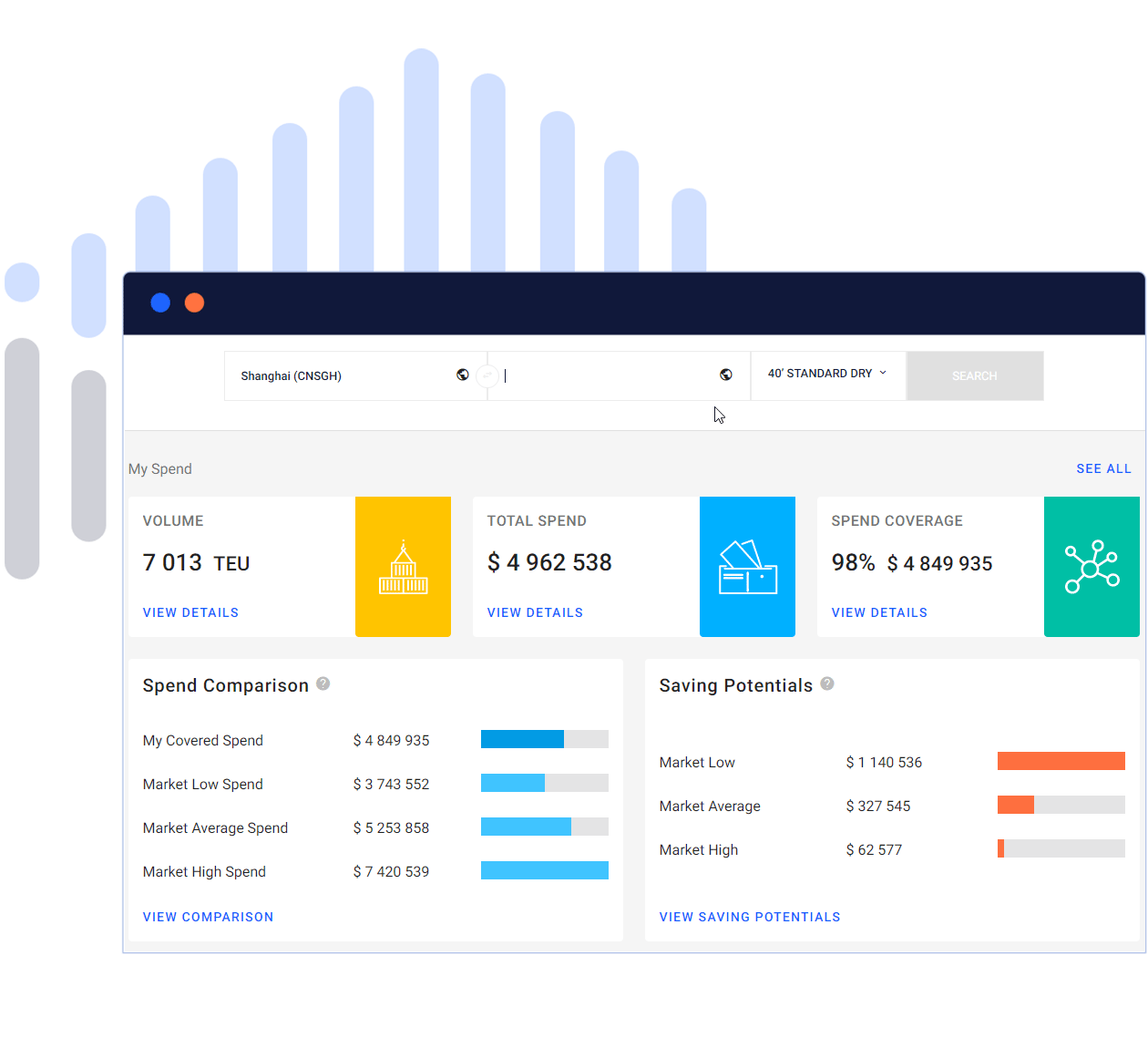 Methodology, Data and Security
Definition & Cost Calculation
Our Data
Freight Rate Data Collection
The data collected from Xeneta's broad userbase ranges from short-term to long-term rate contracts. The freight rates provided may come in various forms — some users have multiple rate updates per month, others have monthly, quarterly, annual or even two-year fixed agreements.
Minimum Data Requirements
Xeneta gathers millions of rates per month. Before releasing any market information, a minimum of 5 rates per route, per day, per equipment type is required. This defines the basic foundation upon which Xeneta builds stronger benchmarks as additional rates are sourced. Mature trade routes (covered by extensive data collection) are made up of several hundred valid rates per day — making our index reliable and accurate.
Xeneta Geo-Hierarchy Offers Global Data Coverage
The Xeneta Geo-Hierarchy is developed based on common market practices. Ocean freight rates contracted to and from specific areas and ports correlate strongly on price. We use the millions of price points in our database to validate the price correlation and can, as such, offer global data coverage.
In our Geo-Hierarchy approach, we have grouped ports together based on price — not proximity — following the way the industry prices the different connections. Xeneta shows accurate pricing for exact port-to-port connections because the rate data is aggregated based on ports with similar pricing. The areas where ocean freight rate correlation is strongest is in North Europe and the Far East. Xeneta builds these areas up by Main Ports and Sub Ports, while the remaining areas are built up by geographical regions.
Sampling
By sampling from a broad set of companies, Xeneta collects data within a statistical sample to capture tendencies in the statistical population. Utilizing sampling requires a wide selection of sources, which is the basis of Xeneta's services. The methodology is carefully chosen for quality assurance.
Data Aggregation
Xeneta provides users with key statistical measurements of the market prices sourced. In this way, we can provide easy-to-understand information while at the same time ensuring the anonymity of our users' data.
Our key benchmarking metrics are Market Average, Market High, and Market Low — together giving insight into different parts of the market. The Market Average represents the arithmetic mean of all prices for a trade lane valid on a particular day. The Market Low represents the prices at the 2.5 percentile of the market, and the Market High represents the prices at the 97.5 percentile of the market.
Neutrality
Neutrality
No company-specific rates or supplier names are disclosed to Xeneta users or published to the broader market. Through data aggregation, Xeneta secures anonymity and neutrality for all involved stakeholders. Xeneta is committed to remaining a neutral party in the freight industry — meaning that no carriers, freight forwarders or NVOCCs can, or will, have an ownership stake in Xeneta.
Antitrust & Legality
Antitrust
The sharing of information facilitated by Xeneta is in accordance with EU/EEA competition law. The market information supplied by Xeneta to shippers, freight forwarders and container ship operators, does not enable market operators to reduce competition between them.
On the contrary, Xeneta provides transparency with respect to current and past prices that enables the operators, in particular customers, to understand the market price level and adapt more efficiently to the market — hence having a pro-competitive effect. The information made available by Xeneta is backward-looking, aggregated, anonymized and accessible for customers and suppliers. The type of information exchanged, and the characteristics of the markets for liner shipping, does not allow the operators to foresee strategic behavior of competitors, and does therefore not lead to collusive openings.
Definition & Cost Calculation
Definition
Definition of 'Sea Freight Rates' in Xeneta: The sea freight rates imported to the system are defined as the total ocean freight cost (port-to-port), including Bunker Adjustment Factor (BAF), Currency Adjustment Factor (CAF), Canal surcharges and all other relevant surcharges within Xeneta's port-to-port definition.
Terminal handling charges — at the origin ports (OTHC) and destination ports (DTHC) — are applied based on the Xeneta THC methodology. Freight rate data for 20' Dry, 20' Reefer, 20' Tank, 40' Dry, 40' HC, and 40' Reefer HC containers accumulate in the database — and the presentation of the data is segmented on these six container types. Data pertinent to special equipment such as Flat Rack, Platform, or Open Top is excluded from the database.
Calculations
Xeneta sources and collates rates on a port-to-port basis where the total container cost is built up according to the following structuring of surcharges.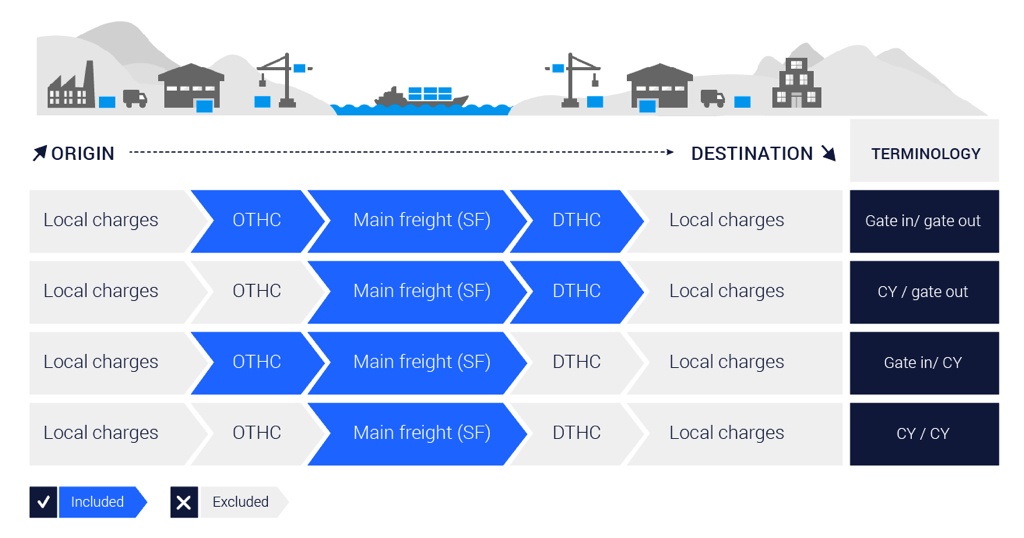 Terminal Handling Charges
The terminal handling charges (THC) are included or excluded in the total ocean freight reported by the index – according to the following guidelines:

Data Security
General
Definition of 'Sea Freight Rates' in Xeneta: The sea freight rates imported to the system are defined as the total ocean freight cost (port-to-port), including Bunker Adjustment Factor (BAF), Currency Adjustment Factor (CAF), Canal surcharges and all other relevant surcharges within Xeneta's port-to-port definition.
Xeneta does not store mission-critical data from our customers:
Only basic data for user accounts is stored by Xeneta — we do not store any private information
We do not store any sensitive customer data — only past and current Requests for Quotations (RFQs) and contracted prices are stored within our system
Xeneta's user account control, infrastructure access, and data encryption follows industry standards.
Data in transit is encrypted using TLS v1.2 with modern ciphers
An independent third party performs monthly vulnerability scans and we correct any detected vulnerabilities
An independent third party performs penetration tests on the system to verify its security
Password policy is industry-standard as verified by an independent third-party
Internal access to customer data is on a need-to-know basis
Disaster Recovery
Xeneta aims to provide service reliability and we have a number of disaster recovery and
infrastructure redundancies in place.
Our uptime service-level agreement (SLA) is 99% as measured per month
All parts of our infrastructure have redundancies
Part of our infrastructure is hosted on Amazon Web Services (AWS) to increase reliability
We deploy in multiple AWS Availability Zones to mitigate disaster risk
AWS provides us with automated backups of our databases
AWS provides us with off-site backups
Physical access to the data centers is tightly controlled by Amazon
The $10M dollar difference in negotiations
Unlock accurate, real-time data that boosts your bottom line. Make informed decisions and watch your shipping business grow with Xeneta.