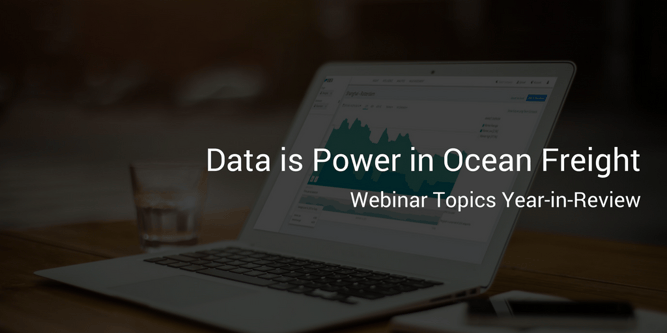 "Data is knowledge and that needs to be the foundation for every decision made in this market, for the shipper, freight forwarder and carrier." – Xeneta CEO Patrik Berglund
Throughout 2016, by utilizing 17+ million contracted rates from Xeneta's platform, we hosted quarterly webinars that provided vital ocean freight market insight into each quarter as well as a look ahead. Check out a brief overview from each webinar and a link to download it for more information.
Q1 | A Rough Start to 2016


2015 ended with a thud for the ocean freight market. Throughout the first three months of 2016, rates continued to decline. As an example, Patrik highlighted a trade lane, Far East to Northern Europe, in which both short term rates and long term rates including the market average and market low plunged 67% and 81% respectively. Learn more
Q2 | Improving Conditions
Having reached the low point in March, short term rates for Far East to North European ports increased 99% from a market average price for a 40 foot container of $552 in March to $1,102 by May 31. Looking at future long-term contracted rates Xeneta expected a rise to $1,014 in early July, and for it to hold steady at $1,015 through to September. This is an anticipated increase of 7% from the end of May.
"Should shippers take advantage of long-term agreements now and lock in rates while they're still low?" Patrik noted, "On the face of it, you'd say 'yes'. But there are potentially serious risks involved such as short shipping. In addition, Patrik concluded that the fluctuations in the market, and the risks they pose to both container carriers and their customers, are adding to the instability of a sector that is currently defined by a fight for survival. Learn more
Q3 | The Collapse of Hanjin
The recent collapse of Hanjin laid the foundations for a trading period like no other. Short-term rates on the world's No. 1 trade route—Far East Asia to North American main ports jumped literally overnight as a result of the Hanjin collapse. This enabled significant rate hikes, with the market average price for 40-foot containers climbing by 47% through the quarter, starting at $1,240 and ending the quarter at $1,826.
Just as quickly the rates jumped, they soon begin to decline thanks to the ongoing issue of overcapacity albeit a bit more balanced. Short-term rates on the East Asia to North Europe trade lane actually fell by 24% during the quarter. Learn more


Related Reading
Hanjin Blues | A Different Ocean Freight Market Now

Is the Hanjin Grinch Going to Steal Christmas?

Xeneta Says: Market Rocked By Unpredictability But Ocean Freight Prices Climbing
2016 | Year in the Review
The final webinar of the year was a "fireside chat" with our CEO, Patrik Berglund and COO, Thomas Sørbø who gave their perspectives on 2016 and their thoughts on 2017. The expectation is that rates will end 2016 higher than at the end of 2015. For 2017, the ocean freight market will be faced with challenging economic conditions and although the rate level will likely be higher in 2017 versus 2016, rates will continue to fluctuate. Learn more

WEBINAR | Register for Q4 2016
Make sure to register for our webinar on January 15th where we will look at back at Q4 2016 rates and also give more information on contract negotiations. Register now.