Team
Xeneta for Analysts
With 350M+ real-time data points at your disposal, market analysts can proactively support their logistics and commercial teams.
One source of market truth
Speed, accuracy and granularity are at the heart of what analyst teams need — and that's exactly what Xeneta provides.
Use the world's largest source of real-time market data to provide team members with an accurate view of your position in the market—advising on the best way forward to support margin, tender, and budgetary needs.
Reject outdated data
Feel confident knowing y
our analysis
is precise,
as it reflects the live market your team
is
procuring
in
.
Proactivity and speed
Having a
constant pulse on market
developments
helps
your team create a competitive,
accurate
procurement & sales strategy
.
Depth of understanding
With
$
60
B
+ in freight spend and 350
M
+ rates
within the platform
,
you can filter down to see
data
that closely
re
presents
your
business
and
make decisions everyone
trusts
.
The value Xeneta brings to Analyst teams
Using Xeneta, Market and Data Analysts can get a wide but granular view of the market in a streamlined, efficient way. As a neutral data source that boasts 160k+ port pairs and 40k+ airport pairs, the use of Xeneta allows analysts to sanity check themselves against both the market and suppliers.
The analytics and trends that analysts pull from Xeneta give them a core way to support their wider team at speed. Margin-making decisions need data to back them up and that's what Xeneta provides.
Build your stack
Relevant Data for Analysts
A 3D view of your position in the market
Upload your rates to see how they compare against the real-time market by region, port pair, contract length, and carrier. 
Being able to plot your own data against the market contextualizes your position and highlights where you're on the right track and where it's time to pivot.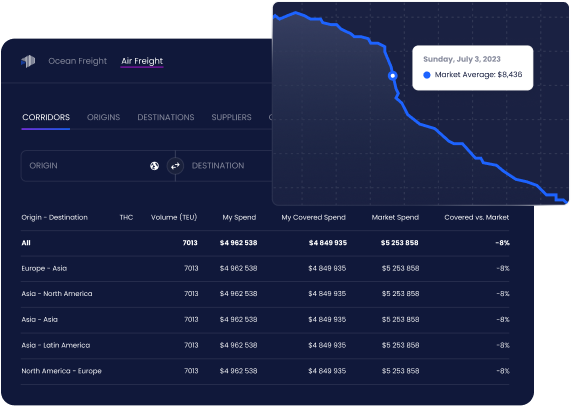 Let data show your potential
Get high-level and granular views of your potential for growth through Spend Comparison. This feature highlights the volume of your rates that align with different market segments, including market high and mid-high.
Support your tender, procurement, and sales teams with this intelligence so they can refine their targets and create accurate freight budgets.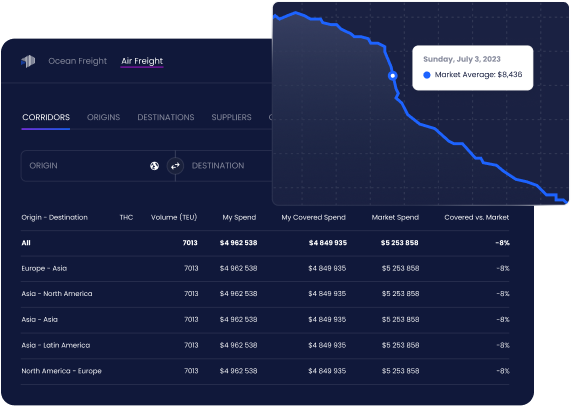 Analyze the data that matters to you
Xeneta's filters and categorization lets you assess the data that's most relevant to you. Filter by container weight, contract length, origin, destination, supplier and more, to ensure your market analysis has the right level of granularity and reflects your business.
Level up with the data and graph export so that your time spent pulling reports is streamlined and productive.
From Our Users:
"What I've seen [in the CEI] allows me to give green carriers credit for tender. I think Xeneta can have a positive impact on the world with this data—the conversations with stakeholders about the data will lift this forward."
Xeneta Customer
CEI Early Adopter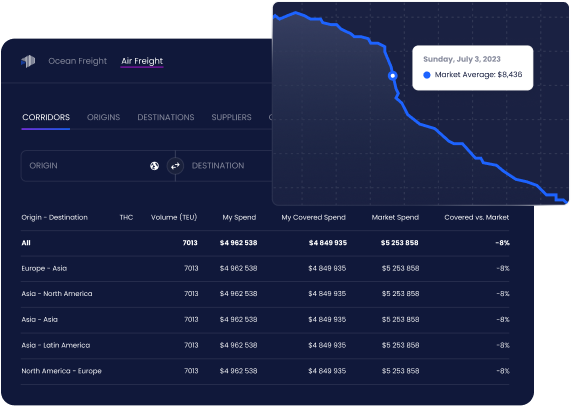 One central system
With the Xeneta API, you can extract ocean and air freight data when, where, and how you need it by integrating with the business systems you already use.
Linking the API to your internal systems and Power BI saves you time and enables you to create in-depth market analyses in your own way. Get the data you want quickly and efficiently, without disrupting your focus.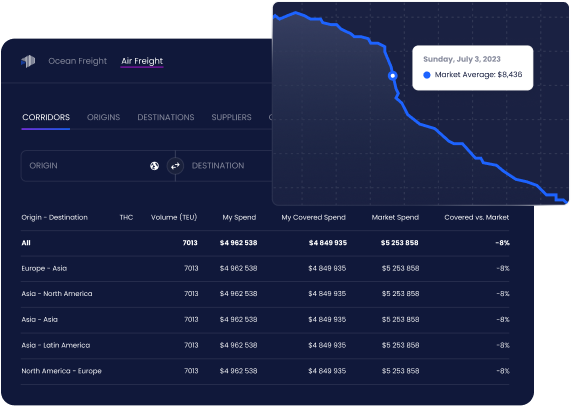 The $10M dollar difference in negotiations
Unlock accurate, real-time data that boosts your bottom line. Make informed decisions and watch your shipping business grow with Xeneta.