Team
Xeneta for Sales & Commercial
Make proactive decisions and gain a competitive edge as you use 350mil+ real-time rates to support your growth and margin goals
Your

powerhouse

team

needs data
When you prioritize customer retention, market expansion, and revenue goals, integrating market data into your operations may be at the bottom of your to-do list, but it's the secret weapon that makes the biggest difference to your bottom line.
Pulling insight from market analytics such as Carrier Spread and the Tender Benchmark Tool, you can be proactive in your expansion strategy and set growth targets that align with the current market.
Jump on opportunity
Granular
market data
strengthen
s
your
position
and
helps you
recognize potential
areas
Build trust
Lead internal and external discussions with
neutral
data
to
show
customers
your commitment to buying & selling freight based on facts
Never fall behind
Gain full sight of the market with real-time rates and lead your customers forwar
d
—
re
tain
business and make yourself sticky with more than just low rates
The value Xeneta brings to Sales teams
Xeneta gives sales teams a distinct advantage in a market where everyone believes that they know best. By allowing them to act on a combination of internal knowledge and external data, room for misdirection is minimized, while potential for margin growth is at its greatest.
Solidify your company as one that values trust, fairness, and relationship building while being ruthless in reaching and exceeding your targets. 350M+ freight rates don't constrict you, they give you a path forward.
Build your stack
Relevant Data for Sales
The Google of ocean and air freight
Use Xeneta's search functionality to get an instant, real-time freight rate for your chosen contract length and origin and destination pair. 
Or, favorite the lanes you operate on most to bypass this and respond to queries at record speed.
With 160k+ port pairs and 40k+ airport pairs to choose from in Xeneta, you can also search for lanes you don't have internal intelligence on. This allows you to move with confidence and expertize, even at times when you have gaps.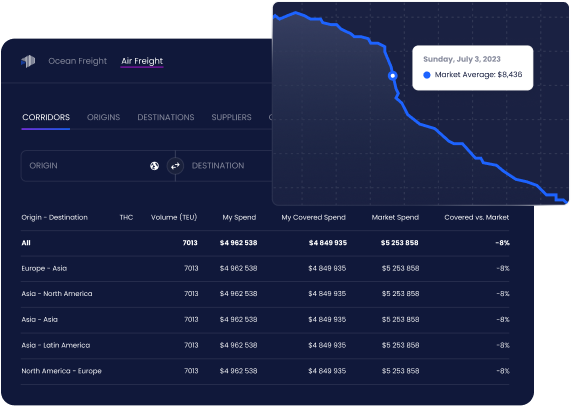 Value beyond the numbers
Not only does Xeneta provide real-time freight rates, customers rely on Xeneta for market analysis and industry reports.
With our weekly Top of Mind updates and reports, commercial teams have an instant talking point to kick conversations off and show their market knowledge. Bring context to your conversations and show why rates are trending the way they are.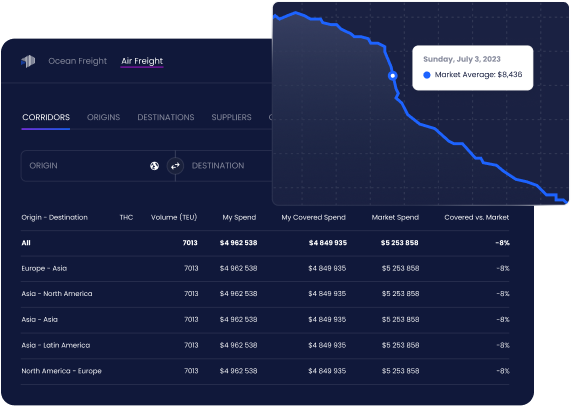 Data for yesterday, today, and tomorrow
With 10+ years of historical rate data, the Benchmarks Graph helps sales teams contextualize today's rates against previous market conditions. As a visual representation of the market's volatility, your rates are easier to justify — freight rates aren't linear and market disruptions can't be ignored.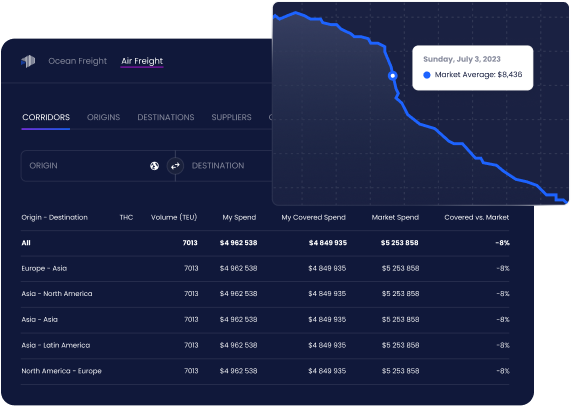 Get cargo where it needs to

be, when

it needs to be there
Your customer's top priority is getting their goods to the right location, on time, at a fair price. Control as much of this as you can with Schedule Reliability allows you to manage those expectations by identifying the most reliable and time-efficient alliance.
Those carriers may not be the cheapest, but the extra layer of transparency makes your rates more palatable and shows you're also considering the secondary needs of your customers.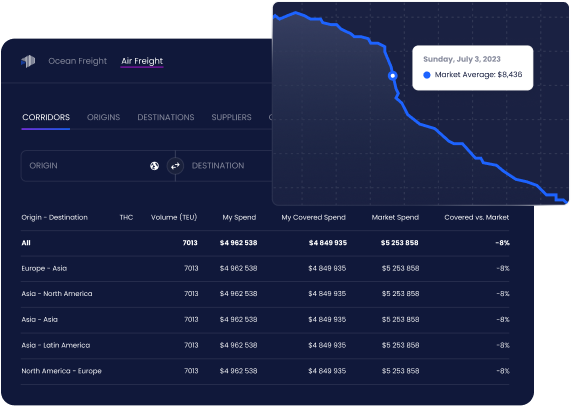 The $10M dollar difference in negotiations
Unlock accurate, real-time data that boosts your bottom line. Make informed decisions and watch your shipping business grow with Xeneta.