TEAM
Xeneta for Procurement
Use market data to make sure your team is efficient, agile, and being challenged to procure ocean and air freight at competitive prices.
Procurement is at the heart of every supply chain
Without data at your procurement team's disposal, chances are they're negotiating blind. There's only so much internal knowledge can provide, and your people and margins should be given the best chance to hit and exceed your targets. How can you do this? Analyzing 400M+ freight rates is an essential way to start.
Monitor supply & demand
Use
real-time market
data to
identify
the
rate
trends
currently
impact
ing
your
freight spend
and find the
right
time to
procure
or
tender
Negotiate smarter
Drive
your negotiations
with
facts, not opinions,
by
enter
ing
discussions with suppliers knowing the true market
average
Enable excellence
Equip
your team
with the
intel they need
to
know when to
accept and when
push to get
a better
deal
The value Xeneta brings to Procurement teams
Xeneta gives procurement teams across the ocean and air freight markets a chance to level the playing field with their suppliers.
Should you be looking at short or long-term contracts? Is the route you always choose the most cost-effective? Where do you have the potential to negotiate a lower rate?
Xeneta's crowdsourced market data, representing $60B+ in freight spend, answers all these questions and more.
Build your stack
Relevant data for Procurement
What type of contract should you invest in?
Available in our ocean and air solutions, the Trends Graph shows how freight rates are developing across the short and long-term markets. Compare these trends to your actual rates to spot where you're performing well, where you should consider renegotiating and which contract length may be best suited.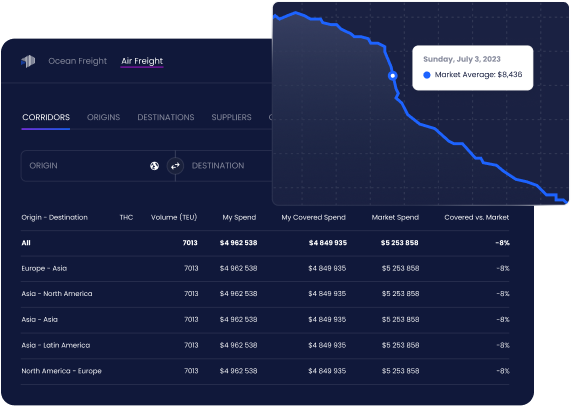 Challenge your suppliers
Use Capacity & Blanked Sailings data to identify the most cost-effective and time-efficient routes and suppliers. 
Bring transparency into all your negotiations. If a trade lane has high capacity, why are you paying a premium price? You need to understand the nuances that make up your rates.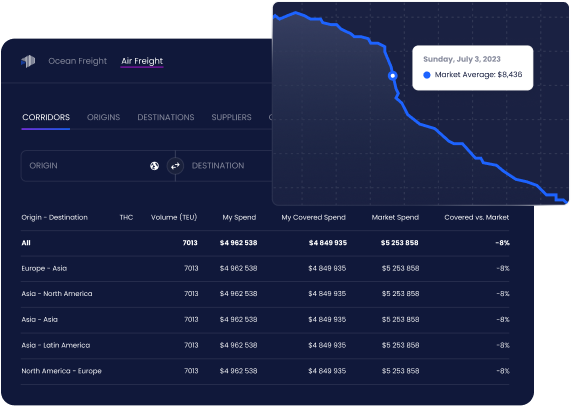 Where are you overspending?
When you upload your rates into Xeneta, you get an overall view of your spend performance, including Spend Coverage by carrier and Savings Potential by lane. 
Savings Potential provides an instant view into which lanes are farthest away from market average (aka a high opportunity for renegotiation). By seeing the differences between your rates and the real-time and historical market rates, you can prioritize how you procure and proactively find the most cost-efficient, time-effective lanes.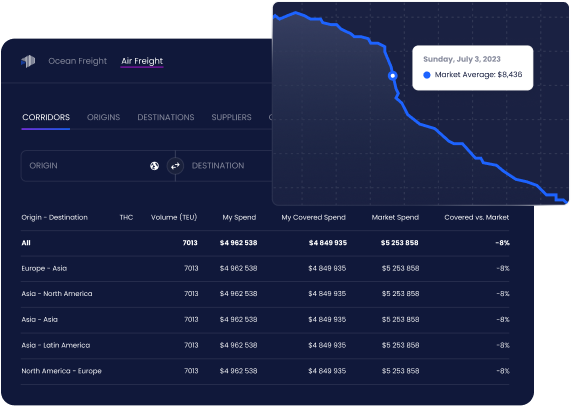 Analyze hundreds of lanes in seconds
Procurement teams use the Tender Benchmark Tool to eliminate lengthy manual processes and benchmark their bids at a multi-lane level with speed and accuracy.
With the speed and breadth of data that the Tender Benchmark Tool produces, teams can focus on narrowing their vendor selection and making a decision in just a few rounds, not five or six.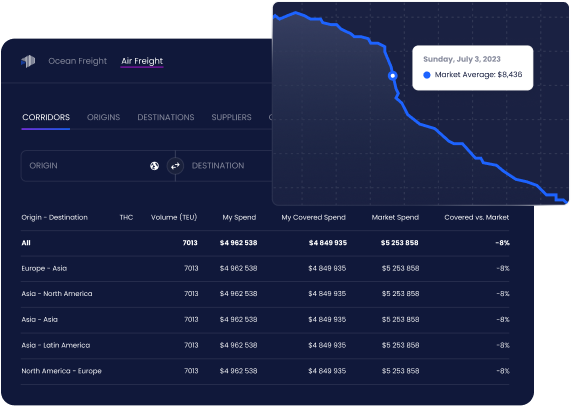 The $10M dollar difference in negotiations
Unlock accurate, real-time data that boosts your bottom line. Make informed decisions and watch your shipping business grow with Xeneta.