Market and technology changes combined with innovation and new entrants are changing the freight forwarding market as we know it. A survey, conducted by The Elite-League and Logistics Trends & Insights LLC, indicate the need for traditional freight forwarders to adapt or perish.
Indeed, findings indicate the definition of a forwarder is changing as the lines blur between it and a 3PL. Differentiation is important and forwarders are introducing new services, trade lanes and implementing technology solutions to improve customer service, visibility and/or operational efficiencies. Mergers & acquisitions are still expected and also seen as a way towards growth in a market that seems to be bleeding more red than green.
Tight Margins and Declining Sea Freight Rates
In fact, for many forwarders (although they are the ones profiting in this climate when compared to carriers), tight margins are the most critical pain point followed by an uncertain environment and overcapacity and declining sea freight rates according to the survey.
A tough market for sure and when one is faced with new entrants, it may make it even tougher for these forwarders who have been around for over 50 years to stay ahead and relevant.
See Infographic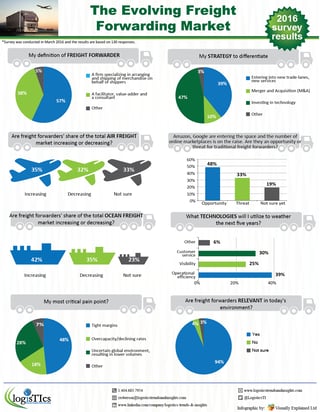 Click image to enlarge.
Potentially challenging forwarders are the likes of Amazon and online freight marketplaces but according to the survey, forwarders actually see these new entrants as opportunities.
What Role Will Traditional Freight Forwarders Play?
An interesting forwarding market is indeed emerging and it begs the question, is the traditional freight forwarder still relevant? Survey respondents were most emphatic with 94% indicating that yes they are still relevant but, their roles are changing and perhaps, according to one respondent, forwarders have a role to play in "regional and local logistics loops where market access is difficult". In regards to the international air and ocean markets, however, this same respondent noted, "I see their edge in addressing common international routes decreasing."
To request a free copy of the white paper, please click here.