December 7, 2022 – Oslo, Norway – Freight forwarders are taking a 'wait and see' approach before making long-term air cargo capacity commitments as airlines saw demand drop 2% month-over-month in November as general airfreight volumes dipped for a ninth consecutive month, dashing hopes of a late peak season boost, according to the latest monthly market report by CLIVE Data Services, part of Xeneta.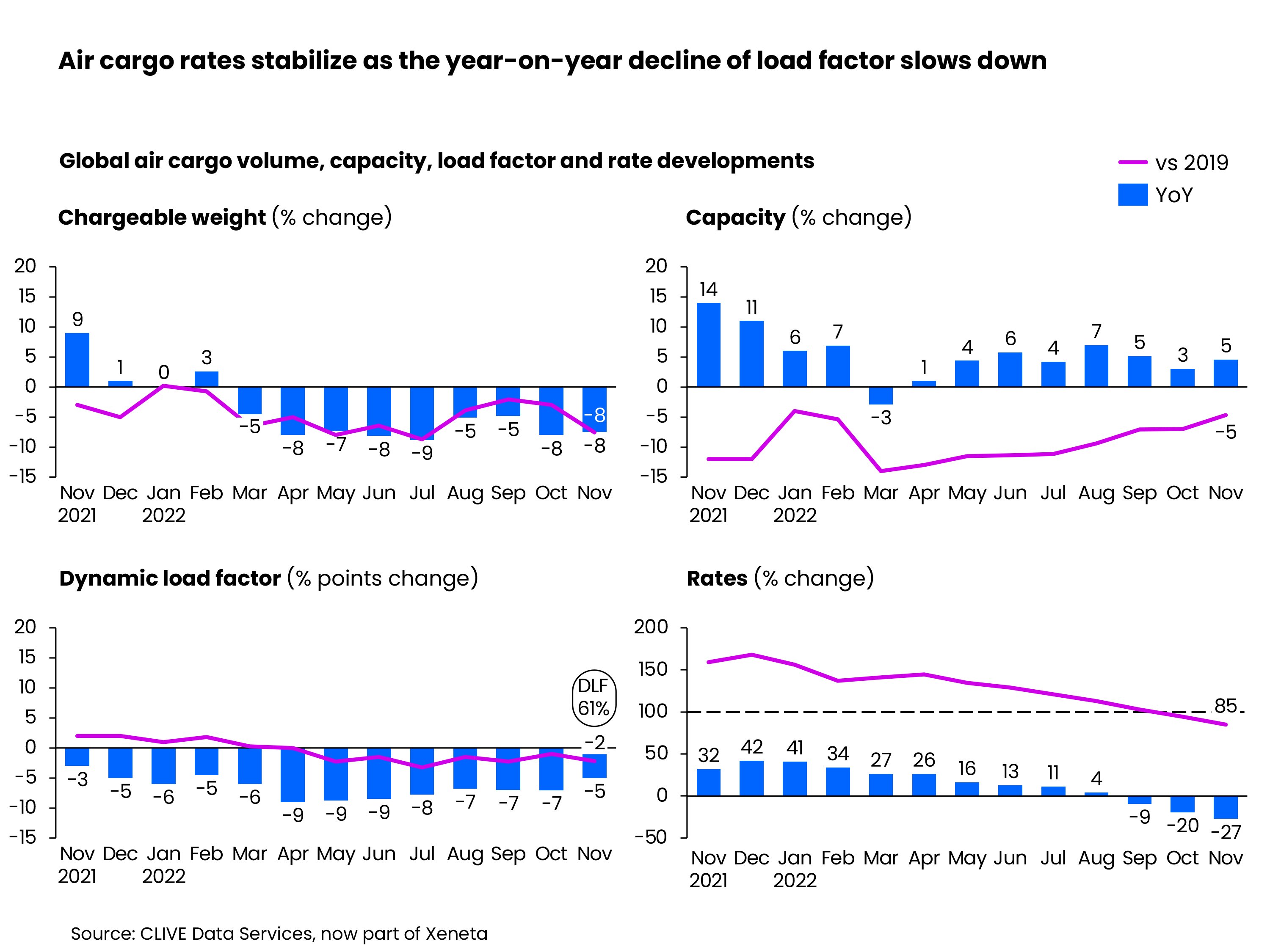 Chargeable weight in November was -8% versus the same month of 2021, although the 1% reduction in global
air cargo capacity, as airlines adapted to winter schedules, contributed to a stable 'dynamic load factor' of 61%, on a par with the previous month, based on the volume and weight perspectives of cargo flown and capacity available. Load factor, however, continued to sit well below last year's extraordinary peak season. For instance, Europe to North America load factor in the week leading up to the Thanksgiving holiday sat at 74% this year, down 12% from the same week last year.
Amidst so much market uncertainty, industry parties are increasingly choosing shorter-term deals as they wait to see how business trends unfold in the coming months. Distribution of contract rates for shippers shows commitments of over three-month contracts hardly exist in Q4 this year.
"What we are seeing is a lot of uncertainty still. After such a big drop of -8% in air cargo demand in October, we saw a little stability return in November, so the market is not worsening; it's just very hard to read longer-term. This is reflected in the rise in short-term contracts, with forwarders unwilling to commit to long-term deals.
Shippers should see some benefit from this in terms of their air and ocean budgets, and falling rates may provide one glimmer of hope for cash-strapped consumers that potentially lower shipping costs in 2023 and will make some goods more affordable. There are still so many influencing factors to consider, including the depreciation of the US dollar and its impact on trade," said Niall van de Wouw, Chief Airfreight Officer at Xeneta.
At Xeneta's latest Customer Summit for ocean carriers, airlines, forwarders and shippers, there was a clear consensus among delegates that consumers will spend less on goods in 2023 than they did in 2022, he said, indicating a slow start to next year, said van de Wouw added.
In comparison to last year, the global average rate for general air cargo declined for a third consecutive month in November, falling to a level last seen in October 2020. However, average rates remained 85% above the pre-Covid level despite air cargo spot rates falling across the top three volume corridors in November.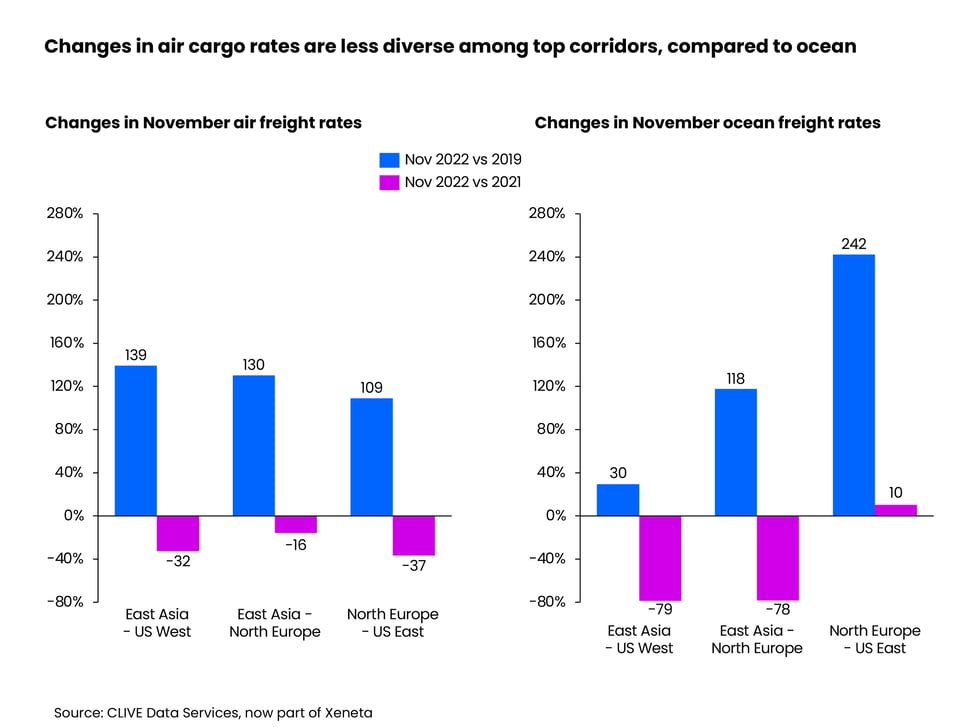 The average November air cargo spot rate on the transpacific corridor of USD 5.82 per kg was down 32% in comparison to last year, but still 139% above the 2019 level. On the same corridor, ocean freight rates fell even more sharply, a decline of 79% over the same month last year, recovering close to the pre-Covid period (only 30% above the 2019 level), which will likely trigger further modal shift from air cargo to ocean as the sea freight market chaos eases.
On the East Asia to North Europe corridor, November's average air cargo spot rate was USD 5.86 per kg. Impacted by the persistent war in Ukraine, this represented a 16% year- over-year decline. Again, the ocean market witnessed a far greater fall as container freight rates fell 78% over the last year.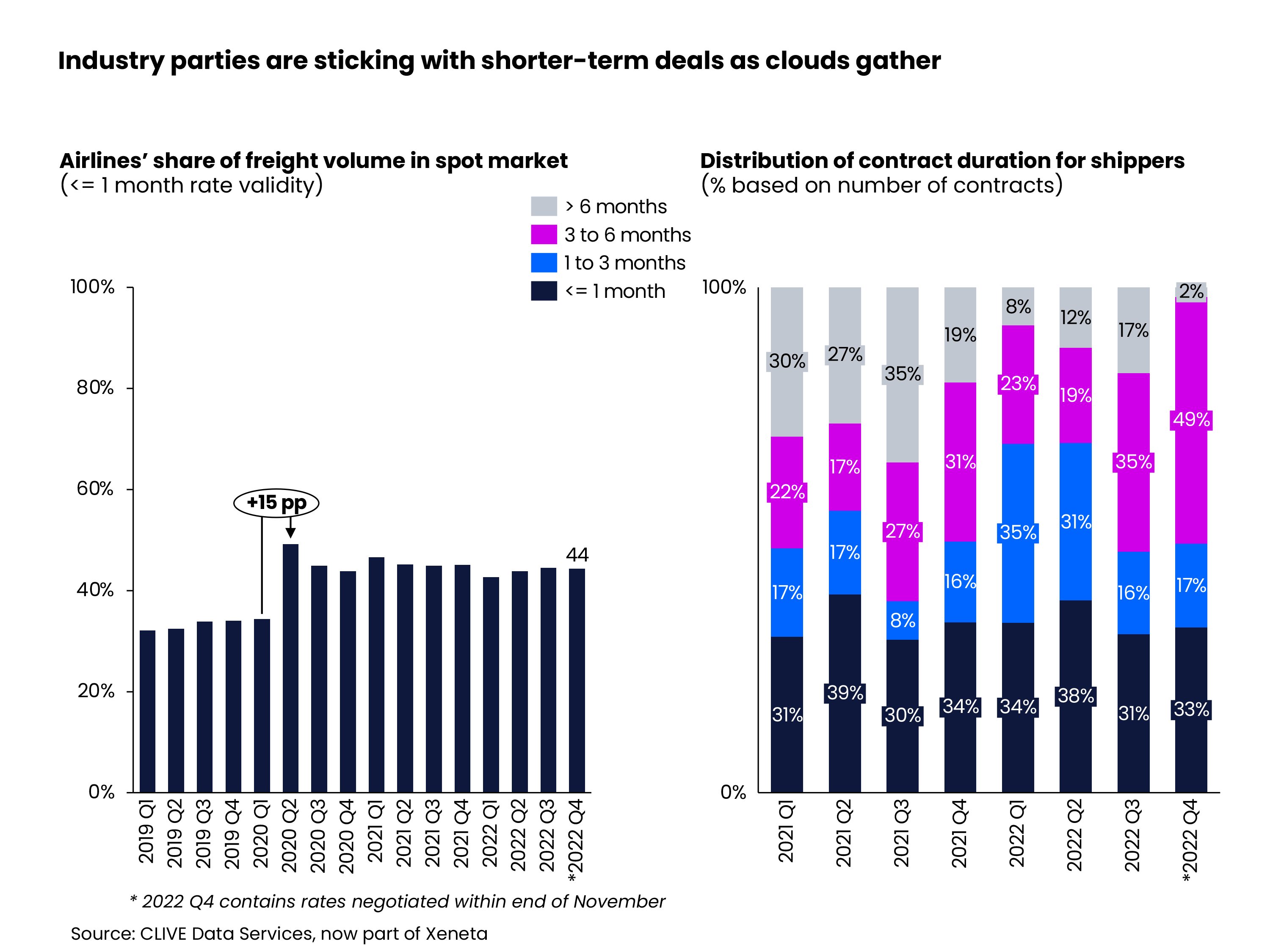 Lastly, the air cargo spot rate from North Europe to US East stood at USD 3.23 per kg in November, down 37% from last year's level. In contrast, ocean freight rates climbed 10% from the same period of 2021, nearly 3.5 times the 2019 level, making this the only routing among the top three volume corridors where the air cargo market remains somewhat competitive.
About Xeneta
Xeneta is the leading ocean and air freight rate benchmarking and market analytics platform transforming the shipping and logistics industry. Xeneta's powerful reporting and analytics platform provides liner-shipping stakeholders the data they need to understand current and historical market behavior – reporting live on market average and low/high movements for both short and long-term contracts. Xeneta's data is comprised of over 300 million contracted container and air freight rates and covers over 160,000 global trade routes. Xeneta is a privately held company with headquarters in Oslo, Norway and regional offices in New York and Hamburg. To learn more, please visit www.xeneta.com
About CLIVE Data Services
CLIVE Data services provides near-real time pricing, volume, capacity and load factor trends on the general air cargo market. It provides each Tuesday in-depth analyses for the previous week. CLIVE's 'Dynamic load factor' analysis refreshes the way air cargo capacity usage is traditionally measured to reflect modern day reality. CLIVE Data Services is a privately held company with headquarters in Amsterdam, The Netherlands.
In January 2022, CLIVE was acquired by Xeneta, the leading ocean and air freight rate benchmarking, market analytics platform and container shipping index, to provide the most timely and comprehensive insights into the global ocean and air freight markets. To learn more please visit www.xeneta.com