The ongoing lockdown in Shanghai continues to create major challenges, regionally and overseas, as we see a sharp increase in delivery delays and carriers removing regular departures from Asia to Europe. Additionally, over the past many months, shippers have increasingly chosen to switch their imports from the US West Coast - plagued by congestion and the looming threat of USD West Coast labor talks, from 12 May 2022, which may cause additional supply chain disruption.
With the unpredictable global events currently creating havoc on the supply chains, learn what Xeneta experts have to say about the future of the ocean and air freight market.
U.S. Importers Turn To Prayer & The President Ahead of West Coast Port Labor Talks | Reuters
When the pandemic-fueled surge in cargo overwhelmed the Los Angeles/Long Beach ports, importers rerouted goods - spreading backups other U.S. ocean cargo gateways like Houston, Charleston and New York.
That shift contributed to a year-over-year West Coast market share loss of 4.6% to ports on the Eastern Seaboard and Gulf Coast in January and February, according to data from Xeneta and Container Trades Statistics.
Read full report here.
The Shipper, The Analysts, The Economist & Big Blue - What Next For Global Trade?
On this latest episode of The Loadstar podcast, Peter Sand - Chief Analyst at Xeneta, shared insights on:
How major East–West spot and contract rates from Asia into Europe and the US have been evolving over the past two months of these lockdowns and war in Europe?

Lockdowns in China are not just impacting export trades. Manufacturers are finding it hard to receive inputs from elsewhere. Are we seeing any sign of this on the intra-Asia trade?

On the US WC labor talk issue: Are carriers switching capacity to avoid congestion? Is it about avoiding any port productivity issues around the PMA/ILWU dockworker negotiations?

We're seeing GDP downgrades and inflation around the world. How do you view this element of the ocean equation right now?
Listen to full episode here.
No Lockdown Let Up In China As Damaging Economic Data Rolls In | Splash
Shanghai officials have claimed, once again, that they are overcoming the worst of the covid crisis, six weeks after the China's largest city went into lockdown
Looking at the numbers, Peter Sand, told Splash: "This confirms what we already know even if real data on this is hard to get by. China manufacturing is hit hard by the rolling covid lockdown in main hubs, be it Shenzhen or more recently and significantly Shanghai."
Read full story here.
Xeneta Newsroom - May 12, 2022
Watch the latest episode of our weekly LinkedIn LIVE series where Xeneta's Chief Analyst and market expert, Peter Sand talked discussed supply chain disruptions caused by Shanghai and wider Chinese lockdowns as well as ongoing Port Labor Talks.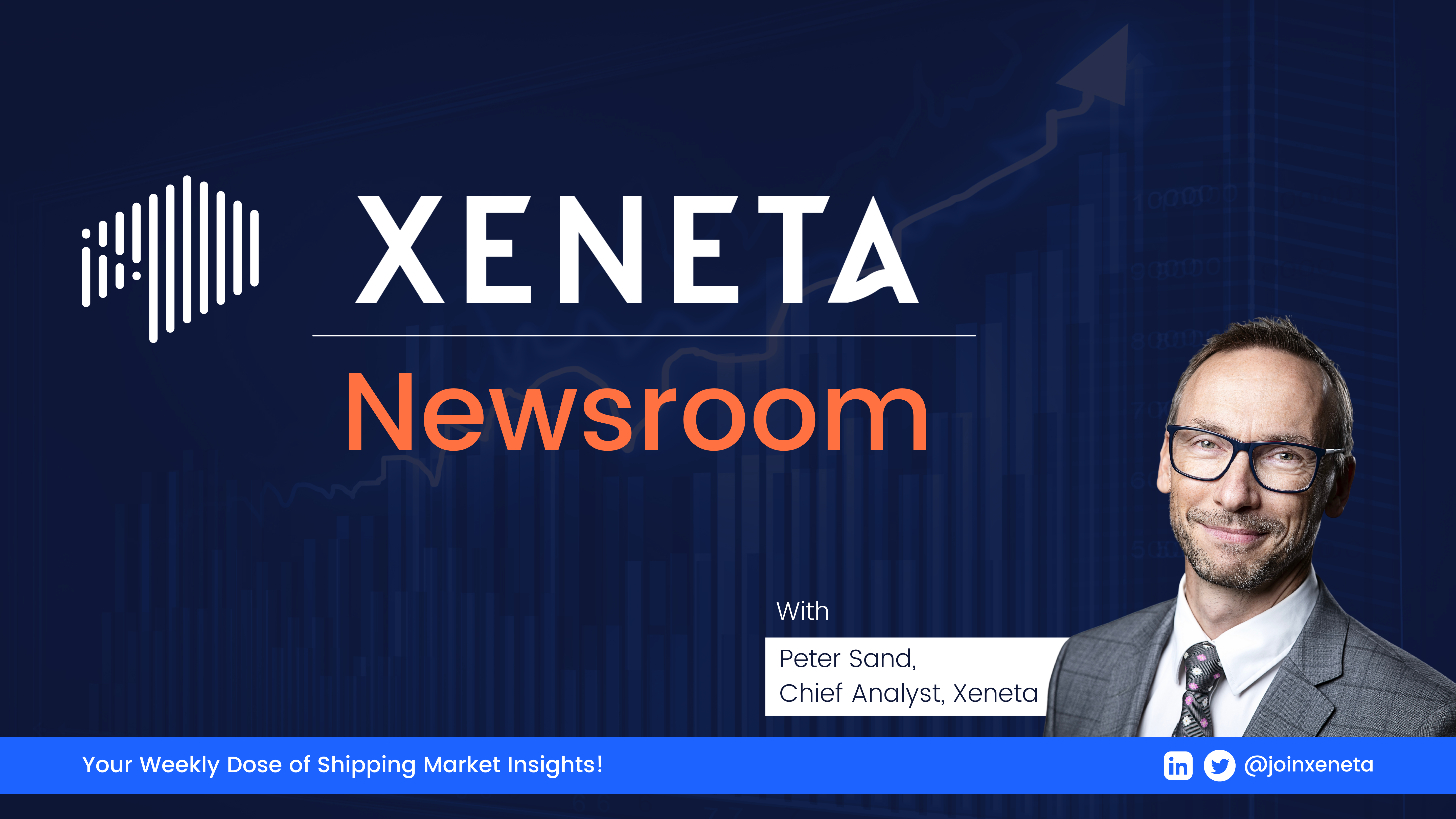 In case you missed the LIVE event, you can still enjoy the recorded session here.
Why Chinese Manufacturers Continued To Dictate Air Cargo's Fortunes | Air Cargo Eye
In the last month – and in addition to China's lockdowns – the Ukraine war, the paucity of long-haul road haulage drivers, ground handling staff shortages, along with elongated dwell times at global seaports, all continued to agitate airfreight volumes, according to the analysis conducted by CLIVE Data Services, now part of analytics benchmarking platform Xeneta.
Niall van de Wouw, founder of CLIVE and chief airfreight officer at Xeneta, confirms: "The rationale behind lower load factors and higher rates are the bottlenecks on the ground – which now appear to be caused not only by the shortages of people handling cargo at airports around the world and the severe lack of truck drivers to move the goods but also by a wider shortage of people for lower-paid logistics jobs. We are now seeing this larger theme impacting the entire supply chain."
Full update available here.
Transforming The Shipping And Logistics Industry: Patrik Berglund, CEO and Co-founder of Xeneta, on BizTV
Want To Learn More?
Schedule a personalized demo of the Xeneta platform tailored to match your container shipping and air cargo procurement strategy.