Many expect the peak of the spot market to be over, with rates softening across many trade lanes. This gradual easing may be partially due to shippers opting for shorter, quarterly contracts rather than annual, but it is important to remember that there may be a service trade-off for those chasing lower rates.

Additionally, congestion on the West Coast is up again as port inefficiencies worsen. Experts suggest that this could be used as a bargaining chip for workers during the ongoing labor negotiations. With these recent events impacting the ocean freight market and, potentially, future negotiations with your suppliers, learn what Xeneta experts have to say about the future of the ocean and air freight market.
Air France-KLM Agrees On Cargo Deal With French Shipping Firm CMA CGM | Reuters
Surging profits for ocean shipping, linked to high freight rates since the COVID-19 pandemic, have allowed CMA CGM and other shippers to invest in other forms of transport to add resilience to global supply chains and protect against a downturn.
"All ocean container carriers are minting money these years and seek to put them all smartly into pushing their services offerings wider, to include more modal, like air, and to get into full transport," said Peter Sand, chief analyst at the air and ocean freight rate benchmarking platform Xeneta.
Read more here.
Blockbuster Container Shipping Results Collide With Sinking Sentiment | Freightwaves
In a recent webinar, Xeneta reported that Asia-East Coast spot rates are already below contract rates. Xeneta's data also shows that the spot-to-contract rate gap in the Asia-West Coast trade narrowed dramatically between mid-March and mid-May.
Read full update here.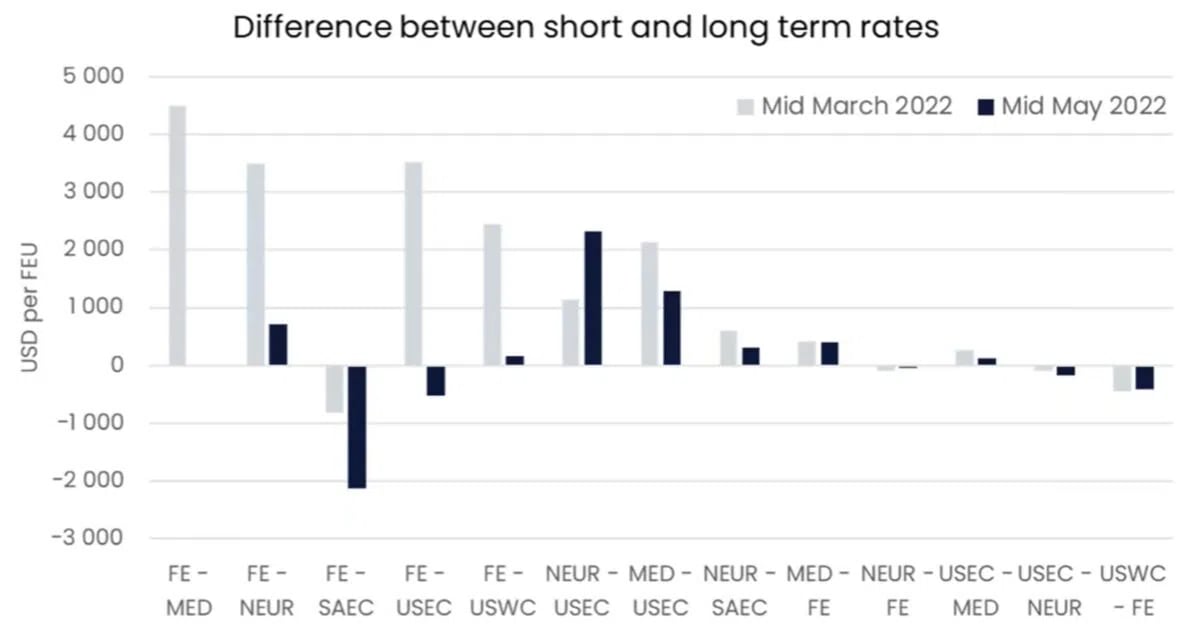 SCFI snaps losing Streak | Splash
Peter Sand, chief analyst at container platform Xeneta, told Splash, "In the coming months, we will see just how much demand has been pent up. A lot or just a little bit. Only for sure we know that intra-Asian supply chains – container shipping's pipelines – have been hard hit."
Sand advised shippers to keep a track on global rate benchmarks rather than focusing too closely on the SCFI.
He also had a warning for shippers, telling Splash: "Without doubt, carriers will be prone to introduce surcharges with many new names if cargoes are rushed out of Shanghai when the reopening allows for it."
Read more here.
Container Rates, Volumes And Capacity All Show The Shift Towards The East Coast As Per Xeneta May'22

Customer Report

Over the past many months, shippers have increasingly chosen to switch their imports from the US West Coast, plagued by congestion, delays and transport as well as the looming threat of US West Coast labor talks which started on 12 May.

These could still go smoothly, but they also have the potential to cause additional supply chain disruption as several contentious issues need resolving, including the question of automation.

Read key insights from the latest Xeneta report (customer-only) covering US trade.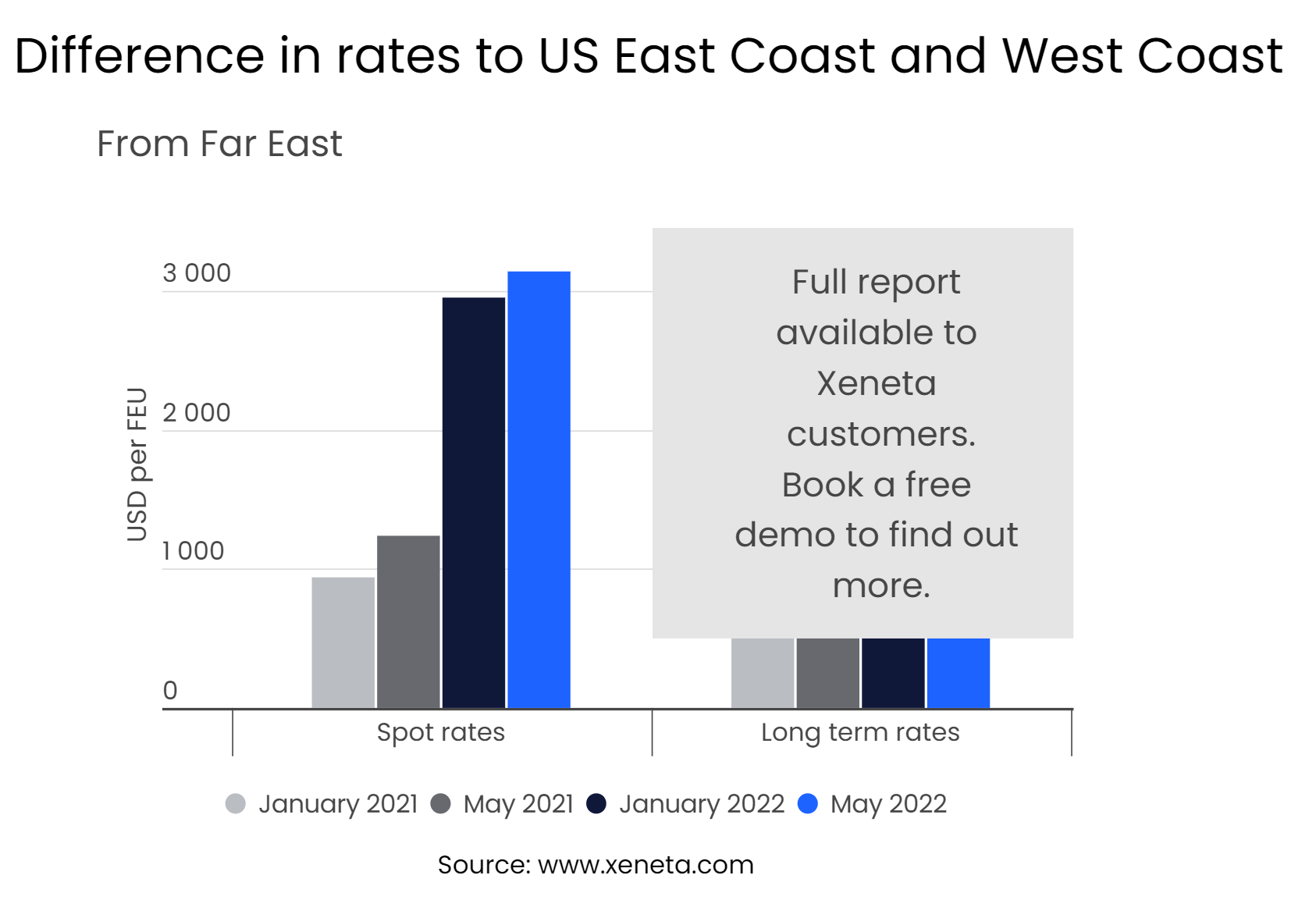 Xeneta State of The Market, Ocean Freight - May 2022
The ongoing lockdown in Shanghai continues to create major challenges, regionally and overseas, as we see a sharp increase in delivery delays and carriers removing regular departures from Asia – Europe. Additionally, without any signs of relief on US port congestion, one can expect short- and long-term ocean freight rates to remain at high levels.


Want To Learn More?
Schedule a personalized demo of the Xeneta platform tailored to match your container shipping and air cargo procurement strategy.