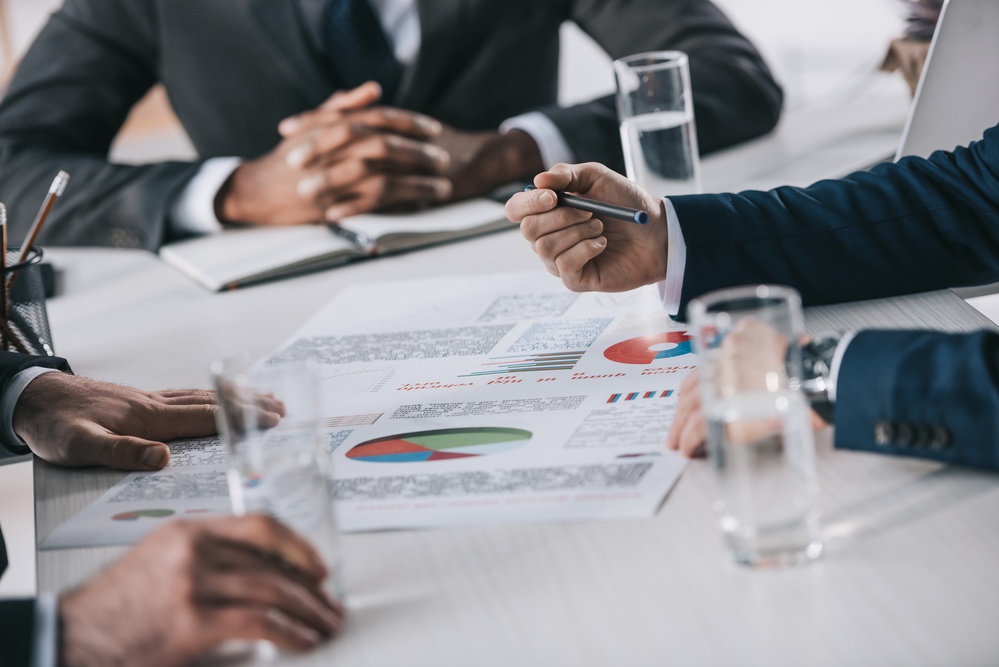 In the complex area of supply chain management, shippers may be under the impression that each individual element within the chain determines the price set by sellers. However, in this two-part blog series we look at what predominately determines rates and what challenges both shippers and the market face in determining a "fair" price for long-term contracts.
The Status Quo
FOB, CIF, GRI, PSS, BAF, CAF, EBS, transit times, payment terms, demurrage clauses and a whole lot more. In the ocean freight market there's no shortage of acronyms and individual specifications. However, the outcome is always the same, the transportation of a steel container measuring 20ft or 40ft from point A to point B.
With a market full of abbreviations and acronyms, and an endless list of origin/destination O/D pairs, it's no wonder pricing can seem like a daunting task to all but the most experienced negotiator. Those selling freight are able to use this seemingly extensive combination of requirements to their advantage, arguing each has its part in determining price. By increasing the number of unique combinations and thereby limiting the number of comparable O/D pairs amongst peers, rate transparency declines to the detriment of the shipper.
Is this how sellers really determine their price?
In reality, pricing is predominantly a manual task, with basic spreadsheets not fit for calculating these complex combinations across thousands of O/D pairs whilse also accounting for current market conditions. Is it, therefore, with the current processes, feasible to account for all these factors in an accurate and timely manner?
What Really Drives Price
Timing, volume and carrier need (supply/demand). Basic economics state that as demand outstrips supply, the price for a commodity will rise and vice versa. The ocean freight market is no exception.
Although it is argued that the ocean freight market is complex, the underlying product on the main trades is very much a commodity, which can be defined as a good or product that is readily interchangeable for those of a similar value. This accurately describes major O/D pairs, with rates offered by one seller regularly being transported via a different provider through alliances and slot shares, in other words, the product is interchangeable.
While a seller of freight might argue the product isn't a commodity and that specific O/D pairs and requirements derive the price, it is the underlying market fundamentals that primarily determine its value.
This is no more apparent than in the major Asia-North Europe trade.
Fig 1: Far East Main to North Europe Main ($ FEU)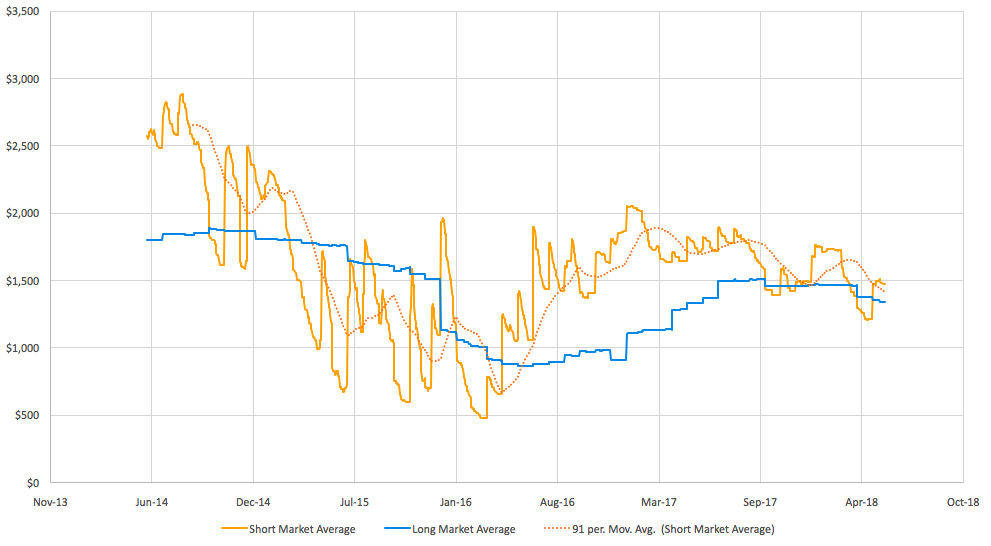 (Source: Xeneta)
Note: Fig 1 shows the market average short-term rate, alongside the market average long-term rate (12-month contracts). A 91-day (3-month) moving average allows us to see more easily the short-term market trend.
Fig 2: Far East Main to North Europe Main ($ FEU)
(Source: Xeneta)
Note: The relationship between the two contract lengths is even more prominent if you track the monthly average short-term rate via a 12-month moving average, against the long-term market rate.
Both Fig 1 and Fig 2 highlight the relationship between short-term and long-term contracts. Although there is a delay between changes when the former impacts the latter, it is clear that there is a relationship between the two. If contractual rates were indeed determined by all the individual factors previously mentioned, then there would be little relationship between short-term and long-term rates.
Further evidence for this argument can be gleaned from analyzing long-term rates across a variety of sectors.
Fig 3: Far East Main – North Europe Main ($FEU by Sector/long-term market)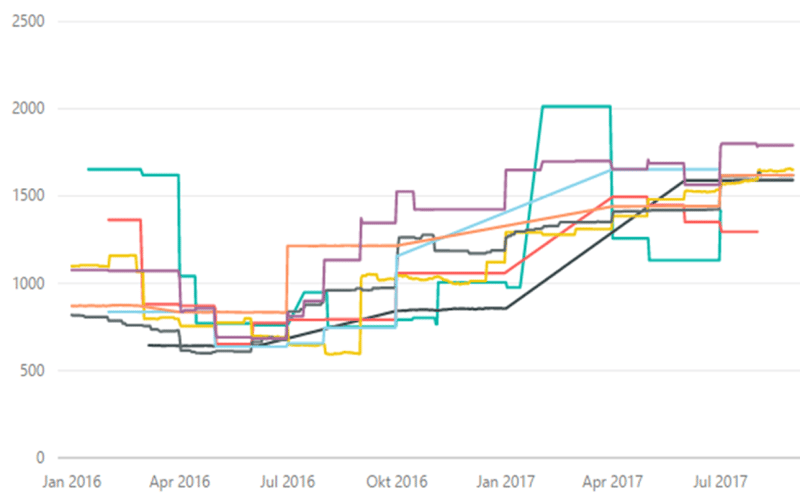 (Source: Xeneta)
Note: There is no pricing consistency between sectors. As a result, you cannot determine which sectors are "cheap" and which are "expensive". While an individual carrier or representative may argue the commodity does influence the price, this simply doesn't hold true on a market-wide level. This is particularly the case once you take into account the supply/demand dynamics, which have a greater impact on rates. As Fig 3 demonstrates, on the whole, rates are set independently of the sector and commodity.
Fig 3 highlights that the industry sector has little or no influence on the long-term contract rates. If the opposite were true, then we would expect a much more consistent relationship between sectors.
As such, the evidence indicates that current supply and demand dynamics at any point in time play a vital role in deciding the price of both short and long-term contracts. This means timing can be crucial in determining what price you pay, adding weight to the argument that it makes little sense to tie yourself to setting contracts at a predetermined point of time each year.
Let's consider how this information can be used in a real scenario.
For example, how many of your peers have comparable routes, volumes and contract requirements that were negotiated at a similar time? Should these alone be used for benchmarking?
Taking these factors into account significantly narrows the opportunity for market comparison. In the example below, there are just three comparable contracts for a particular O/D pair, providing a very narrow level of visibility if taken in isolation.
Fig 4: China Main - North Europe Main (Long term contracts – FEU)

(Source: Xeneta)
Ask yourself the following:
Why only consider like-for-like contracts when analysis of the wider market can provide greater insight and benefits?
By taking a more holistic view, shippers can gain greater insight into the market as a whole, as well as historic or future rate trends. The more information a shipper has, the more informed they can be regarding a "fair" price, rather than relying on a limited data set that may bear little resemblance to wider market developments.
For example, the following chart now includes future rates, providing an insight into the market as a whole and how it is developing in the near future.
It also highlights that timing is crucial. Between Dec-16 and Mar-17 the market moved favourably for carriers, resulting in long-term contracts being negotiated substantially higher than just 3 months earlier.
Fig 5: Far East Main to North Europe Main ($ FEU)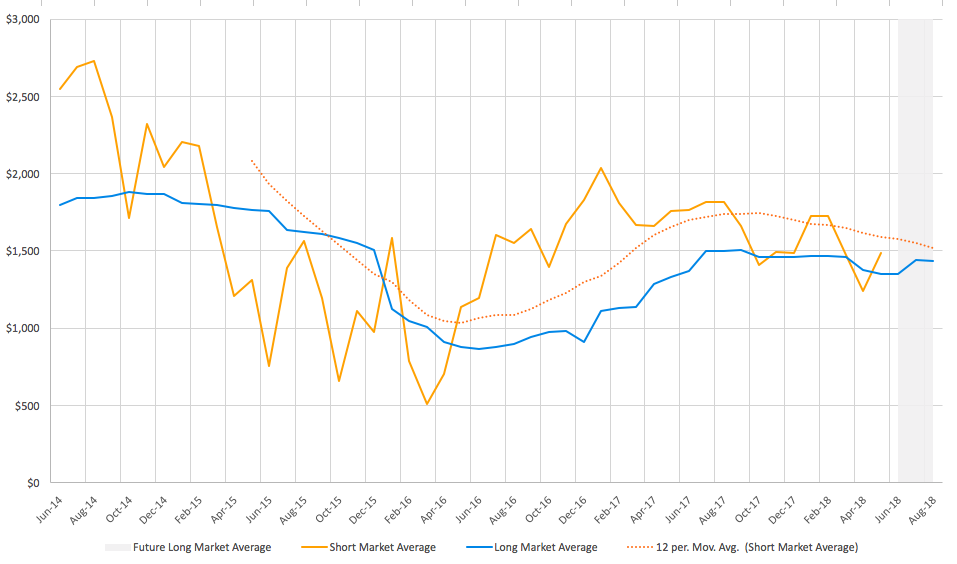 (Source: Xeneta)
Note: In Dec-16 the average long-term rate stood at $910 FEU. By Mar-17 this figure had risen to $1,133, representing an increase of 24.5%. The change in market fundamentals (supply/demand) along with your volume, will ultimately have a greater impact to your contracted rate compared to other pricing influences.
This holistic data can be used, alongside an understanding of how you have performed against the market historically, to build a more accurate picture of how you might expect your negotiations to play out.
For example, ask yourself:
How have you historically compared to the market?

What are the current and future market conditions impacting rates?

Are future average rate developments moving in line with what you are experiencing when negotiating?
These are the areas that need understanding and will have a greater impact on price rather than specific contract requirements or individual O/D pairs.
The market changed in 2011 when Maersk Line ordered its first Triple-E vessels, creating commoditized trades where the lowest slot cost wins. With rates on key trade routes on a long-term downward trend and with a market that is more transparent than ever, it becomes increasingly difficult for sellers of freight to apply a margin to their product offering. It is therefore, understandable why the market tries to make price discovery as difficult as possible for shippers.
However, with transparency increasing, shippers are increasingly able to combat this by analyzing the market like never before, leading to more informed decision making.
Next time we will consider some of the reasons behind the market's complex pricing structure and both the challenges and possible solutions for buyers and sellers.