Brace yourself for a whirlwind of chaotic news in the ocean and air freight market in the past two weeks! Chinese military drills around Taiwan have forced ships to avoid Taiwanese ports and the Taiwan Strait creating longer journeys and congestion at nearby ports and disrupting key trading routes. Experts suggest global shippers should expect volatility ahead of the peak season with port congestion and longer container wait times, but patience is required.

Learn more what Xeneta experts have to say about the state of the ocean and air freight market amidst these recent events.
China's military drills near Taiwan disrupt key shipping lanes | Reuters
Analysts said that China's military exercises in the waters around Taiwan have prompted some ships to navigate around the Taiwan Strait and give the island a wide berth, disrupting key trading routes for cargo and commodities sailing around the world.
"As ships are utilized for by-passing the tensions and not for expediting trade, it's a move in the wrong direction - meaning more hardship for supply chains," said Peter Sand, chief analyst at ocean freight platform Xeneta.
Read more here.
Taiwan: How much disruption are Chinese military drills causing in one of the world's busiest shipping lanes? | SKY News
Chinese military drills have forced vessels in one of the busiest shipping regions to change course. But experts say that, despite some delays, the impact is likely to be minimal.
"What is different with these drills is that they are happening in such a concentrated and heavily used area. Typically, you would not conduct drills in the middle of a very busy shipping lane," said Emily Stausbøll, shipping analyst at shipping services company Xeneta.
Full update available here.
Long-term rates propel liners towards historic highs | Splash247
Declining spot rates on Asia to US west coast and east coast ocean freight trades have converged with historically strong long-term rates, presenting "business opportunities" for both carriers and shippers, a new report from freight rate platform Xeneta suggested today.
According to Xeneta, spot rates to the east coast have now fallen by 26.9% or more than $3,400 per feu this year, while those from Asia to the east coast have slumped by one-third or $3,200.
Long-term rates, on the other hand, have "sky-rocketed", the Xeneta report stated. 2022 has seen long-term contracted prices soar by 103.5% for east coast trades and 96.9% for the west coast.
It's a development that offers "new strategic openings" for ocean carriers and their customers, according to Peter Sand, chief analyst at Xeneta.
"We're noticing a similar pattern across a number of key global trade corridors," Sand said. "The spread between the long- and short-term rates is diminishing and, in some cases, turning negative. This is of interest to both sides in the ocean freight value chain."
Full commentary available here.
Shipping prices are just another snag in the supply chain. Here's how 'benchmarking' platforms are helping companies cut costs | Business Insider
Supply volatility isn't the only headache retailers have to contend with today. For instance, ocean-shipping prices between China and the US quadrupled from their pre-pandemic rate at the peak of freight-capacity demand late last year, according to data compiled by freight-rate benchmarking platform Xeneta. Today, Xeneta reports, it's settled at roughly three times the value of what it was two years ago — still an outrageously high number.
"This is where visibility into rates is crucial. When you talk of transparency within the maritime freight market, it is about understanding who pays what and under which conditions," Patrick Berglund, the CEO and co-founder of Xeneta, told Insider.
Full commentary available here.
Air cargo demand drops again in July as dark clouds gather | Aircargo News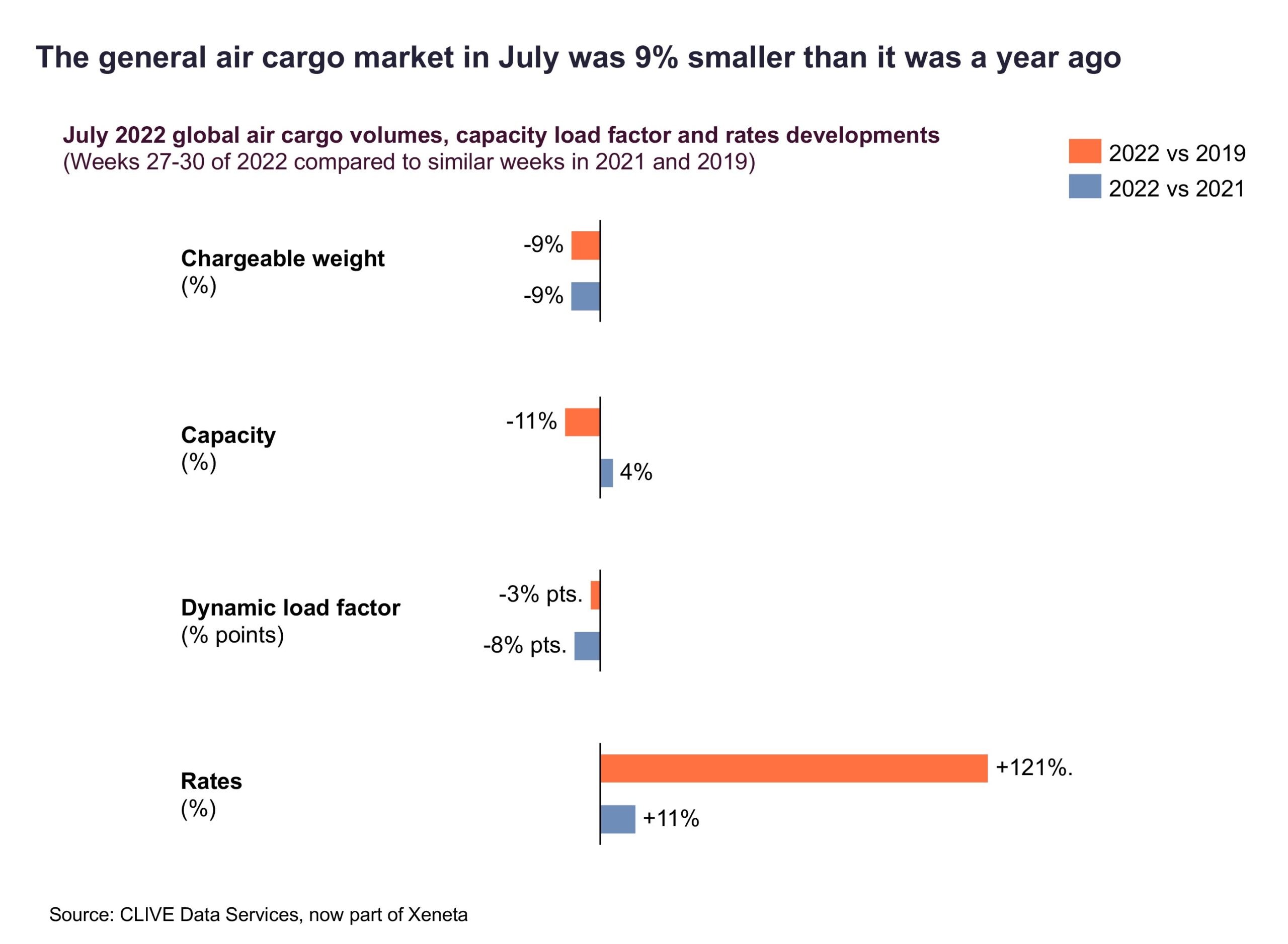 Air cargo demand fell for the fifth month in a row in July as the industry continues to face a "multitude of disruptions," according to CLIVE Data Services, now part of Xeneta.
Xeneta chief airfreight officer Niall van de Wouw said that the demand declines as the industry is hit by many disruptions outside of its control, such as the war in Ukraine and the cost of living crisis, which is increasingly affecting household budgets.
Meanwhile, airlines and airports continue to suffer severe operational challenges due to significant shortages of ground staff. There are many dark clouds hanging over the air cargo industry given the state of the world right now, said van de Wouw.
Read more here.
As East Coast ports take more share of China trade, expect more bottlenecks for supply chain | CNBC
In the past three months, vessel capacity between the Far East and the U.S. East Coast has risen by 18.9% year on year, according to ocean and air freight research firm Xeneta.
"As more vessels and cargo heads east, there's been an 11.9% increase in volumes so far this year, with a 7.3% year-on-year increase in May alone," said Peter Sand, chief shipping for Xeneta. "This pressurizes capacity, and there's a price to pay in terms of reliability. So, in a way, the East Coast becomes a victim of its own success and the West has the breathing space to recover somewhat."
Listen to the full update here by CNBC's Lori Ann LaRocco.
Peak shipping season ahead of the holidays is about to begin for a volatile supply chain | CNBC
Port congestion and longer container wait times are resulting in higher ocean shipping spot rates on some trade routes, and price increases which ultimately flow through to the consumer.
"Global shippers should be prepared for volatility in the coming quarters," said Peter Sand, chief shipping analyst at ocean and air freight research firm Xeneta. "I think patience is required, not only in terms of understanding how market dynamics constantly develop, but certainly also to realize that no two markets are alike."
Read full update here.
A look behind the eye-watering Maersk results | Seatrade Maritime
Maersk confirmed a host of box sector trends in its latest earnings report, marking 18 months of organic revenue growth above 30%.
The firm's results back analysis from Xeneta late in July, which claimed spot rates were weakening and contract rates were well up on-year and on pre-pandemic levels. What may prove crucial for Maersk and the sector is Xeneta's forecast that a slowing in contract rate increases points to an imminent peak.
As Xeneta CEO Patrik Berglund commented in late July: "The signs are clear there is a 'shift' in sentiment as some fundamentals evolve… It's going to be an interesting few months ahead."
Read more here.
Identifying reliable data in the supply chain | Freight to the Point by Zencargo
Zencargo works with Xeneta to achieve the latest insights on up-to-date market and rate data. In a recent episode of the 'Freight to the Point' podcast, Peter Sand, Chief Analyst at Xeneta, joined Helena Wood to talk about the value of accurate data and some of their predictions for the rate market over the coming months.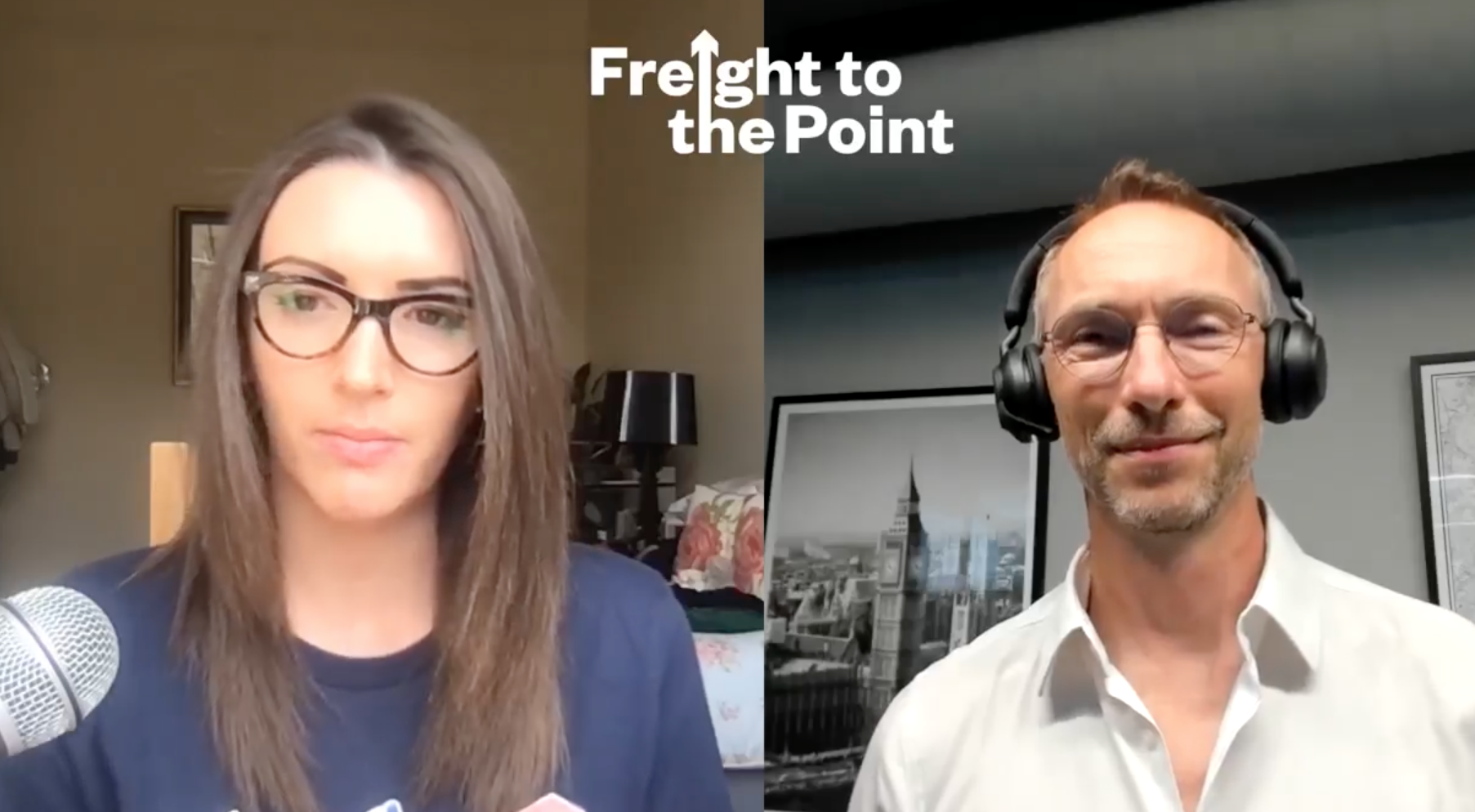 Key talking points:
What data questions should shippers be asking to get the best deals on the market?

Which data points should businesses be looking at?

How businesses should be looking at both their internal data and the market data?
Listen to the full episode here.
Record July Puts Port of Savannah on Pace for 6 Million TEUs | GCaptain
The Port of Savannah continues to see "unprecedented" cargo volumes as it continues to pick up diverted capacity from the U.S. West Coast. As Xeneta's Peter Sand noted in an ocean freight market update last week, some U.S. East Coast ports have become a victim of their own success as ocean freight capacity and volumes continue to shift from the U.S. West Coast to the East Coast, driving congestion in places like Savannah and New York. Current numbers from the GPA show 39 ships waiting at anchor, up from zero in February and single digits in May.
Read full update here.
International Supply Chain Logistics | FreightWaves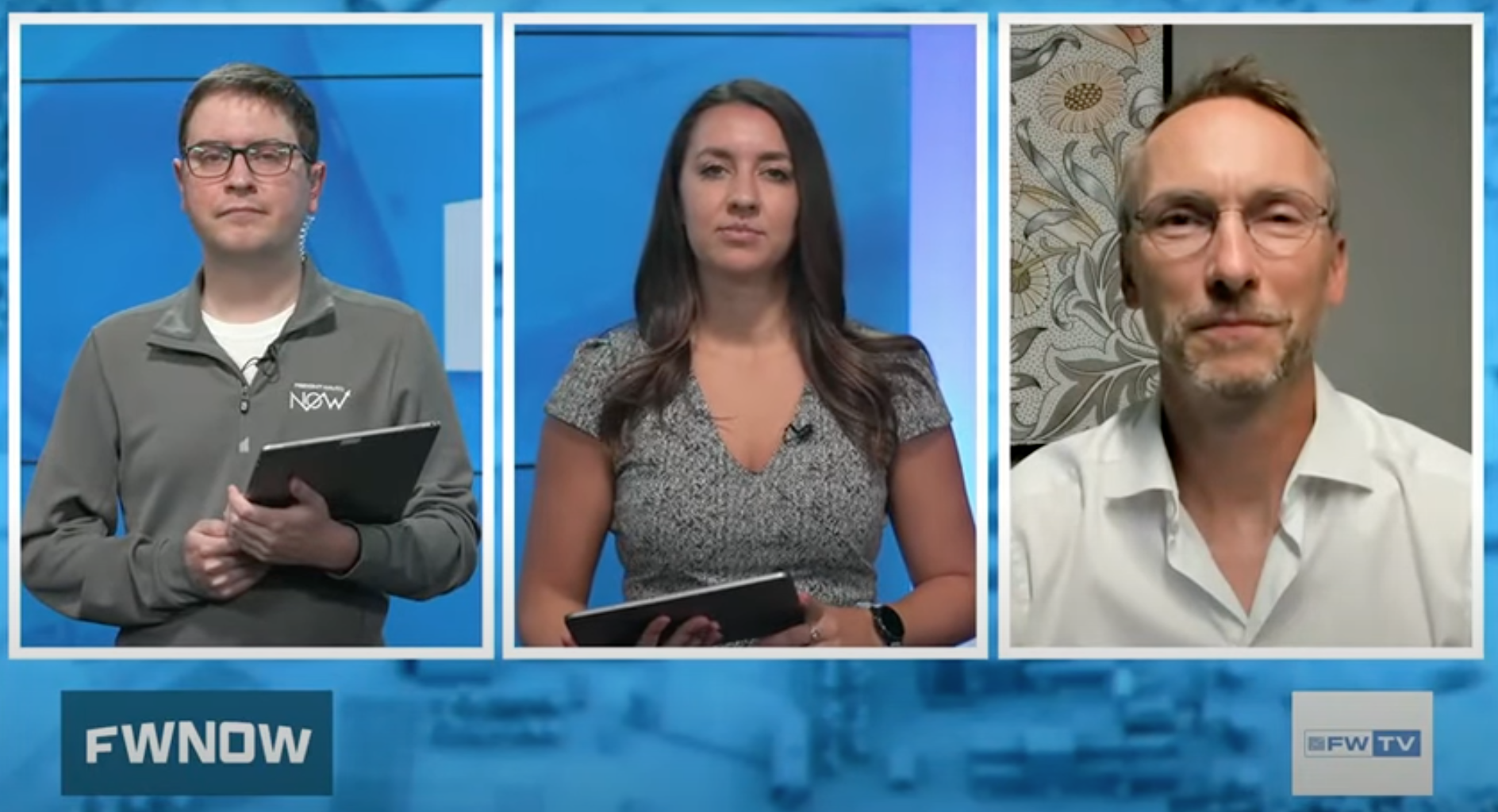 In a recent conversation with FreightWavesTV, Xeneta Chief Analyst Peter Sand shared that freight rates in the spot and contract market are trending down on most trades, despite record-high congestion on US East Coast and US Gulf Coast.
Watch full interview here.
Asia–US East Coast spot rates hit 2022 low as shippers slow ordering | JOC
Spot container shipping rates into the US East Coast from Asia are at their lowest level of 2022. Three forwarders say they're seeing booking demand growth slow even after importers shifted cargo away from the West Coast to New York and New Jersey and Savannah.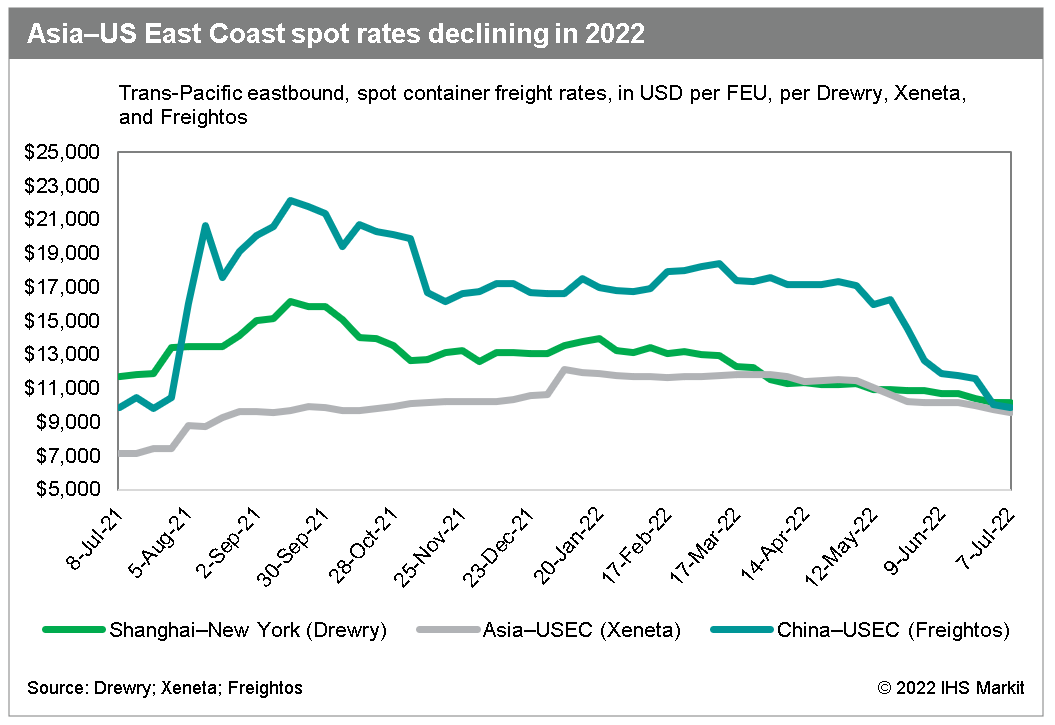 The average short-term rate for ocean freight, excluding surcharges, from Shanghai to New York–New Jersey dropped to $9,378 per FEU for the first half of July after peaking at $12,155 per FEU in early January, according to rate benchmarking platform Xeneta.
Full update available here.
Want To Get Your Hands On More Timely Insights?
Schedule a personalized demo of the Xeneta platform tailored to match your container shipping and air cargo procurement strategy.