Due to a drop in the stock market and European demand sliding, there is a massive media focus on a looming recession that is having an impact on shipping. Additionally, with trouble brewing again in Shanghai due to widespread lockdowns over the past weekend, trucking still faces major challenges in China and Europe.
Spot rates across many trade lanes have decreased massively since the start of 2022, some up to 30-45%. In contrast, long-term rates remain at record-high levels, leaving many shippers with contract rates above what they would be able to get on the spot market.
Learn what Xeneta experts have to say about the future of the ocean and air freight market amidst these recent events that can potentially impact your future negotiations with your suppliers.
Old is gold: sky-high cost of ageing ships sounds inflation SOS | Reuters
Shipping companies are transforming rust buckets into gold mines in a modern-day alchemy that could fuel already rampant inflation for years to come. The disruption to world trade caused by pandemic lockdowns and a shortage of new cargo vessels has pushed freight rates for ageing container ships to record highs.
Cashing in on the boom, shipping firms are locking in long-term leases lasting three to four years, which means consumers could carry on paying the price for the surge in costs until hundreds of new ships on order come into service.
If ports and supply chains were operating as they were before the pandemic, an influx of new vessels could pummel shipping prices, said Peter Sand, chief analyst at Xeneta, a freight rate platform.
"It holds the potential of flooring the spot market rates. Especially now that inflation is biting globally."
Read more here.
Wan Hai targets chilled shipments from Philadelphia as it boosts USEC service | The Loadstar
Wan Hai Lines will become the first liner operator to have a direct connection between Asia and the US East Coast port of Philadelphia. From 8 July, the port will be added to the Taiwanese carrier's Asia-USEC service, as Wan Hai seeks to become more competitive as a transpacific operator.
Xeneta's Peter Sand told The Loadstar: "Wan Hai including Philaport makes most sense to reefer shippers as the port itself is fairly small, with a monthly throughput of 50,000-60,000 teu. Philadelphia is second only to New York/New Jersey in reefer business on the US east coast.
"Offering a port call in Philadelphia may also circumvent larger port congestion – at least, momentarily – as congestion moves around."
Primarily an intra-Asia carrier, Wan Hai launched solo Pacific routes in 2020 with services to the US west coast before beginning service to the east coast last year.
Full update available here.
Xeneta customers predict increase in freight rates after Shanghai reopening | shippingwatch.com
Xeneta customers forecast higher freight rates after Shanghai's reopening. Other ports are having issues with large bottlenecks as well, states Kuehne + Nagel EVP.
The already high freight rates will increase further with the reopening of the major Chinese city, Shanghai. Such is the prediction by the majority of customers surveyed by analyst firm Xeneta. 69% of customers expect that accumulation of goods will force rates upward as the crucial world trade hub fully opens up again after its Covid-related lockdown.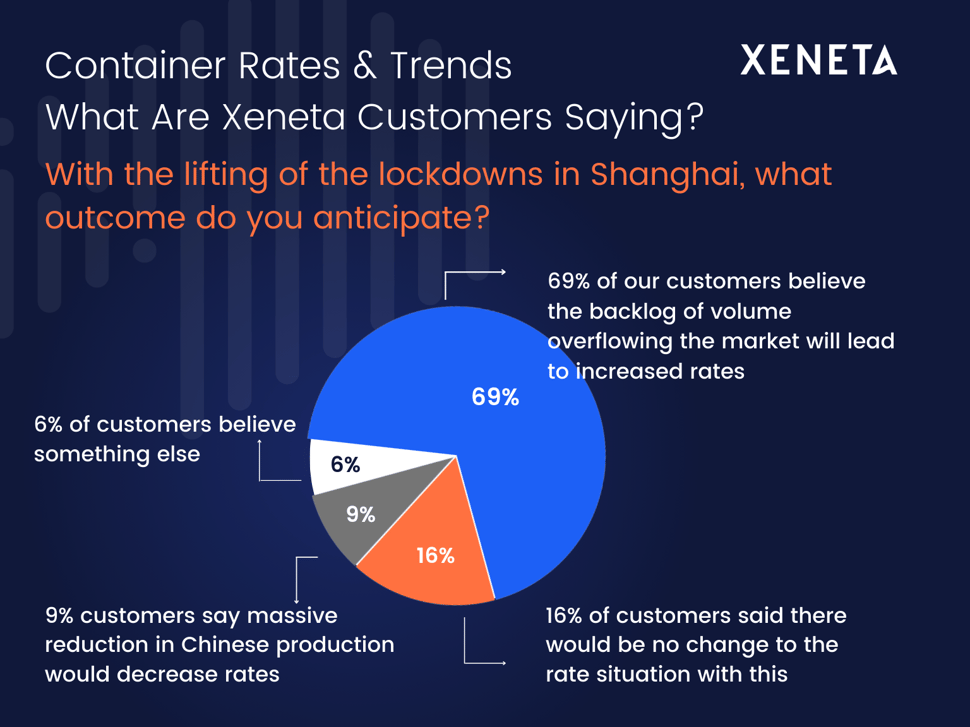 Biden signs Ocean Reform Act; WSC says invest in landside logistics |

Africa Aviation News
"Recent weeks have seen several attempts to demonize ocean carriers by deploying 'us versus them' rhetoric," says the World Shipping Council in response to Biden signing the OSRA2022. "That is not only inaccurate but dangerous, as it undermines the ability to understand and work towards solving the root causes of America's supply chain problems. Ocean carriers are the longest link in the global supply chain that delivers vital supplies to American businesses, governments and consumers. The supply chain is not foreign; it is global.
As many as 69 percent of customers of Xeneta, a leading ocean and air freight rate benchmarking and market intelligence platform, think the backlog of volume overflowing the market (with the lifting of lockdowns in Shanghai) will increase rates. While 16 percent said there would be no change to the rate situation with this, nine percent of customers said the massive reduction in Chinese production would decrease rates.
Full update available here.
Ground bottlenecks causing higher air cargo rates | Aircargo News
High rates in the air cargo industry are caused by bottlenecks in ground handling capacity rather than aircraft capacity constraints.
This is according to Niall van de Wouw, co-founder of CLIVE Data Services and now chief airfreight officer at Xeneta, who explained in a TIACA Economics4Cargo airfreight update on June 16 that these bottlenecks are caused by shortages of cargo handling staff and truck drivers.
"As a result of that, it's still quite difficult to get your goods from A to B by air." Shortages, bottlenecks and uncertainty are keeping "rates at a high elevated level", he said.
He said Covid regulations could further impact on staffing shortages. "Therefore bottlenecks are being created in the supply chain and rates not declining as fast as one would expect purely based on the load itself."
Full update available here.
News From The Xeneta Blog: Air Freight Special
Our weekly rate update last week was for cargo for people shipping goods out of Japan, going into Europe and US. For going into Europe, the immediate aftermath of the closure of Russian airspace for many airlines prompted a lift in freight rates, from below $6 per kilo to up $8 per kilo, as per Xeneta data.
The demand for goods being transported into the US, even though rising, is much more steady. We still have a lot of lagging belly capacity for intercontinental flights from Asia to North America, from Asia to northern Europe, etc.
Read full update HERE.

State of the global supply chain as China eases Covid lockdowns | CNBC
The CNBC Supply Chain Heat Map for China, with Xeneta as one of its data sources, is showing several hot spots slowing down trade flow in recent days.
China's "zero Covid" measures on trucking and cross-city transport limitations continue to slow down manufacturing and logistics. The decrease in completed manufactured goods is reflected in the decrease in exports leaving Shanghai bound for the United States. The city is not expected to fully reopen until mid-to-late June.
Full update available here.
How Can Carriers Opt For Better Ways To Spend Money? | Xeneta Newsroom
Watch the latest episode of our weekly LinkedIn LIVE series where we deliver timely shipping market insights. This weekly expert commentary from Xeneta's Chief Analyst and market expert, Peter Sand provides specific market updates so that you can anticipate any upcoming changes or disruptions and react faster to the ever-changing market conditions.
In case you missed the latest episode, you can still enjoy the recorded session HERE.
Long-term contracted ocean freight rates set 'staggering' new records | Splash247
The unprecedented hike, revealed in the latest Xeneta Shipping Index (XSI) public indices for the contract market, means that long-term rates are now 150.6% up year-on-year. In 2022 alone, costs have climbed by 55%.
"This is a staggering development," commented Xeneta CEO Patrik Berglund. "Just last month we were looking at an 11% rise and questioning how such continued gains were possible. Now we see a monthly increase of almost a third blowing the previous XSI records out the water.
"The breath-taking gains reflect the sharp increase of the average of all valid long-term contracts, as older contracts, with lower rates, expire and are replaced by newer agreements with much higher rates. It's certainly a challenging time to be a shipper."
Read more here.
The Doorstep: How much will the global supply chain crisis cost | Carnegie Council
Inflation and a bear market are dominating headlines. Efforts to curb costs and boost markets, like the Ocean Shipping Reform Act—which President Biden is set to sign—should help.
Xeneta Chief Analyst Peter Sand returns to speak with Doorstep co-hosts Nick Gvosdev and Tatiana Serafin about what else can be done in the face of unexpected obstacles to global trade like China's slide back into lockdowns and the fourth month of the war in Ukraine. What trade-offs will U.S. consumers have to make in the short and long-term?
Watch full interview here.
Want to learn more?
Sign up now to join Peter Sand, Chief Analyst at Xeneta, and Jan Hoffmann, Head Trade Logistics Branch at UNCTAD, during our latest state of the ocean freight market webinar on June 21 where they will discuss the impact of selected global events on the ocean freight rates.