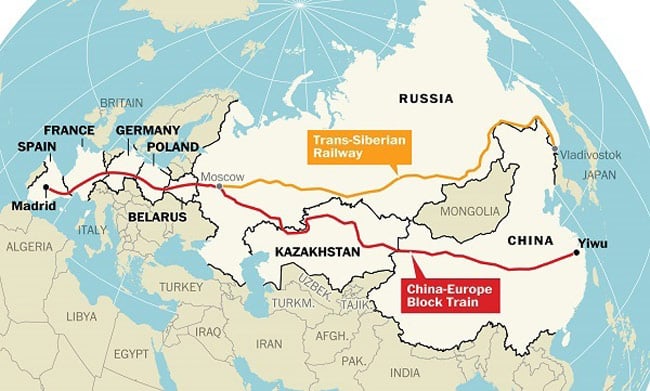 map source: http://energypost.eu...nge-face-world/
Less than ten years ago, the idea of rail cargo between China and the EU was…bar talk; at best. However in 2016, according to The Economist, in excess of 500,000 tonnes shipped by rail from a variety of Chinese rail hubs into an equally large variety of EU destinations as far west as Dublin. Should ocean carriers be worried?

There are different thoughts on this.
No. They should not be worried:
Chinese government subsidies to build additional rail-freight capacity will end in 2020, and no follow-on private sector companies have indicated interest to finance any continued expansion.
Maersk CEO Soren Skou told The Economist that while trains may take away some future growth from ships, it would not affect not their existing business
Yes. They should be worried:
Kazakhstan's national rail company, KTZ, says by 2020 it will have capacity for 1.7m containers annually to pass through the country between Europe and China
A complete modernization of the existing main three rail routes from China to Europe would provide capacity of 3 million TEU's- similar to today's ocean shipping, rates will be used to attract cargo, which would come at the expense of ocean and air.
The cargo shipped is hi-value cargo such as computers, frozen foods, alcohol, auto parts, and pharmaceuticals, most of which are currently ocean cargos; if these higher-rates cargos leave, the ocean carriers will have mega ships carrying low-priced cargos such as copper scraps – and remember China recently banned most other scrap items, which is already freeing-up east-bound capacity.
[Article Continues Below]
Related Reading
Survival Guide | Ocean Freight Rate Negotiations
[INFOGRAPHIC] Top 10 Tips: How to Negotiate with Your Carriers
Facts to Consider
There are two main routes between China and the EU. The Yuxinou Railway links the southwestern Chinese city of Chongqing with Duisburg, Germany. It passes through Kazakhstan, Russia, Belarus and Poland before arriving Duisburg
The Yuxinou train is operated by Trans Eurasia Logistics, a joint venture between DeutscheBahn and Russian Railways. Chongqing is the hub, collecting cargo from Chengu, Xian, Lanzhou, and Urümqi. Chongqing-Duisberg transit takes only 13-16 days, as compared to the approx. 36 days (assuming no slow-steaming) ocean transit.
Most goods transported on this route are from the IT companies in Chongqing such as Foxconn who supplies Hewlett-Packard, Acer, and Apple. While statistics from China are difficult to obtain, in 2012, the initial year of operation, the Yuxinou Railway moved 21,000 tons cargo worth US $ 1.15 billion. Cargo included 3.06 million laptops and 564,000 liquid crystal display screens. Hewlett Packard is regarded as the pioneer of the very first China-Europe freight train, sending laptops and LCD monitors from Chongqing to Duisburg in 2011.
[Article continues below]
Another rail line is the Yiwu - Madrid Railway, running from Yiwu to Madrid with a 21-day transit. It is one of several routes used by long distance freight trains on the "New Eurasian Land Bridge," connecting China, Kazakhstan, Russia, Belarus, Poland, Germany, France, Spain, the UK, and Ireland.
Growth in the China-Europe rail freight market has been rapid and increasing, with Dublin now the 16th European city now served by direct trains from China, joining destinations in Germany, Poland, the Netherlands, Belgium, Italy and Spain on a transcontinental network of more than 40 routes.
The speed of the service makes it particularly attractive to these suppliers in order to meet strict sale windows. This is especially important to manufacturers in western China, and carriers and forwarders such as DHL, Geodis, Haltrans, Essers and Wagonborg have responded to this demand. With the Chengdu-Warsaw now taking 10 ½ days, ocean carriers may find much of their higher-value cargo disappearing permanently as shippers look to improve cash flow and tighten supply chain schedules with these quicker rail shipments.
Yet there are problems that should be addressed. The Poland route suffers from massive congestion as there is only one rail line available. Inside Russia and the 'stan's, the containers need to be unloaded-reloaded due to gauge differences between the countries. But despite the logistical challenges, 500,000 MT still shipped by rail between China and the EU, so imagine the volume that can be transported if these logistical problems can be solved.
We'll keep eye on the evolution of the silk road and come back with commentary as it unfolds.