Public Indices
XSI
Long-term market
Xeneta Shipping Index (XSI) Public Report: Nov 2019 Turkey Edition
Katherine Barrios
Nov 28, 2019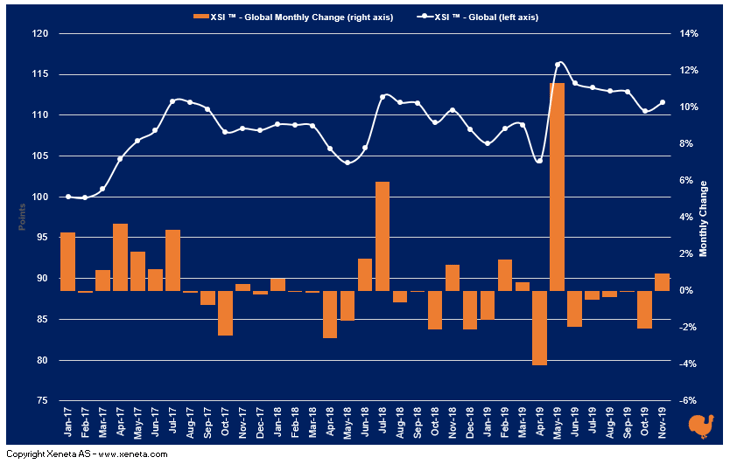 Welcome to the turkey edition of the November 2019 Xeneta Shipping Index public update and commentary on the long-term ocean freight market. Why would we release the report on the holiest of American holidays, Thanksgiving? Well, first off, we have the rest of the world to cover. But most importantly, I know for a fact that after all the bellies are full of turkey and all the trimmings, and you've exhausted conversations with extended family, you'll need an out. There is no better way to help your digestion, and give you an excuse to clear your head of possibly mind-tormenting political or religious conversations with family, than to read this here Xeneta Shipping Index report (Well, maybe football. Maaybee.). You're welcome.
Here is a snippet of how that market has moved so far in November 2019 on the main trade corridors. Gobble. Gobble. Gobble.
You can find an excerpt of the report below. Get the full November 2019 XSI® report (PDF) with all graphs here.
XSI® - Global
The global XSI® climbed by 0.9% in November to 111.54 points, partially offsetting the decline reported last month. While the index remains 4.0% lower than the high of 116.19 reported in May-19, it is up 0.8% year-on-year and has increased by 3.0% since the end of 2018.
In other news, carriers have posted largely positive results for Q3, with the German line Hapag-Lloyd reporting a net profit of $168m. In comparison, a surplus of just $15m was recorded in the same period a year earlier.
Meanwhile, Maersk reported a net profit of $520m due to what it described as "strong operational performance in ocean, higher margins in terminals and solid earnings progress in logistics and services". However, the positive results were tainted by the news that rivals MSC have lured COO Soren Toft away from the Danish line, perhaps to help steer the company to the crown of the world's largest carrier. Oh, my. Get some popcorn after that turkey.
XSI - Europe Imports / Exports
Imports on the European XSI ®climbed by 0.2% in November to 108.87 points. This latest increase has resulted in imports on the index overtaking exports for the first time since Apr-19. Year-on-year imports are up 1.4% and they have increased by 3.8% since the end of last year.
Meanwhile, exports also recorded a marginal increase, rising by 0.6% to 112.17. Since the end of 2018, the benchmark has increased by 1.7% and it is 2.5% higher than the equivalent period of last year.
XSI - Far East Imports / Exports
Far East imports on the XSI ®increased by 1.2% month-on-month to 94.95 points. Compared to the same period of last year, it remains down 16.5% and has fallen by a similar amount (-16.3%) since the end of 2018. Exports also increased in Nov-19, rising by 0.5% to 117.84 points. The increase partially offset last month's fall, but it remains 3.2% lower year-on-year but has risen by 1.5% since the end of 2018.
XSI - US Imports / Exports
US imports on the XSI ®climbed by 1.4% in November to 123.47 points, with the benchmark having increased by 27.3% since April this year. Whether the upward momentum across both imports and exports can be sustained is unclear, particularly with no noticeable trade negotiation developments. Reports have suggested the tit-for-tat measures will contribute to the first full-year decline in volumes on the head haul eastbound transpacific trade since the depths of the global financial crisis in 2009.
Read the full the full November 2019 XSI report (PDF) with all graphs now. Xeneta Shipping Index Public .
MEDIA: Please have a look at the press release here.
No turkeys were hurt in the making of this month's report. Well, at least not by us.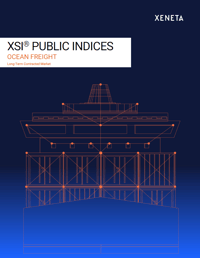 --------
Just Because
Try these out at the dinner table today. Let me know if you get any sad laughs, in the comments below.
Q: What sound does a turkey's phone make?
A: Wing, Wing! Wing, Wing!
Q: What's the most musical part of a turkey?
A: The drumstick.
Q: Why can't you take a turkey to church?
A: They use fowl language.
My Family asked me to stop telling Thanksgiving jokes.
I told them I couldn't stop cold turkey!
Happy Thanksgiving!