IMO 2020
Public Indices
XSI
Long-term market
Xeneta Shipping Index (XSI) Public Report: Dec 2019 Xmas Edition
Katherine Barrios
Dec 23, 2019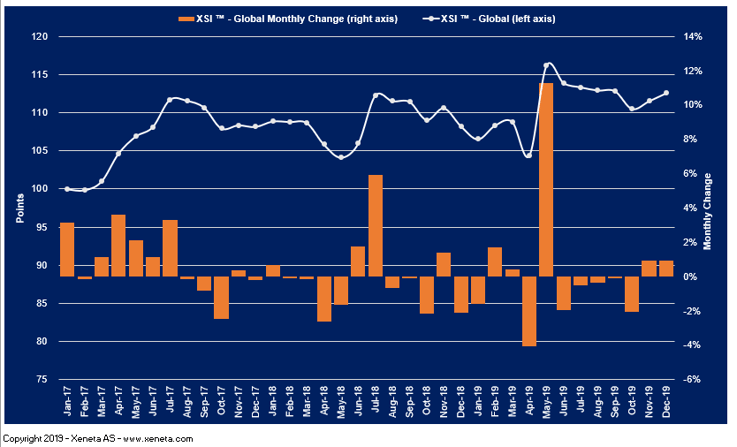 Welcome to the Christmas edition of the December 2019 Xeneta Shipping Index public update and commentary on the long-term ocean freight market. Just in time for Christmas dinner, alas, we bring you the last Xeneta Shipping Index report of the year 2019. Merry Christmas! As the new low sulphur regulation looms, carriers and shippers are rambling.
Here is a snippet of how that market has moved so far in December 2019 on the main trade corridors. Ho. Ho. Ho.
You can find an excerpt of the report below. Get the full December 2019 XSI® report (PDF) with all graphs here.
XSI® - Global
The global XSI® continued to trend upwards in December, increasing by 0.9% to 112.58 points. While the month-on-month increase is modest, it compares to a decline of 2.1% reported in Dec-18. Furthermore, the benchmark is now up 4.0% year-on-year.
As the new low Sulphur regulation looms closer, carriers are facing increasing criticism from shippers due to the lack of transparency in regard to their surcharge calculations. Somewhat bewilderingly, there is a large spread between surcharges, even between alliance members, causing skepticism about the true nature of the charges being imposed.
Xeneta reports that early negotiations from shippers and freight forwarders reveal different tactics. Some shippers report agreeing on fixed rates with baked-in IMO 2020 charges for Q1 2020, with these rates actually coming in at a lower level than pre-IMO contracted rates negotiated earlier in 2019. Others have opted for a flexible approach, agreeing on quarterly bunker adjustments, with a 'wait, watch and see' approach, while a further group have adopted a mix of both strategies.
A clear picture of where the long-term market is going to move will most probably be identified within the next two months. A large number of shippers are right now agreeing new 12-month contracts which will include IMO 2020. These contracts are slated to kick in at the beginning of the year.
XSI - Europe Imports / Exports
Imports on the European XSI ® increased by 1.7% in December to 115.15, having increased by a similar percentage last month. With the imports index at an all-time high, year-on-year, the benchmark is up 5.2% with much of this increase attributed to gains made back in July.
European exports also developed positively in December, rising by 2.0% to 114.39 points. As a result, the index has regained ground it lost in October when it fell by 2.3% and the benchmark now stands 3.7% higher than the equivalent period of 2018.
XSI - Far East Imports / Exports
Far East imports on the XSI® increased by 3.8% month-on-month in December to 98.60. While this represents an improvement compared to the long-term downward trend, the index remains 13.1% below the level of 113.40 reported in Dec-18. Meanwhile, Far East exports rose by just 0.6% to 118.59 points, with the benchmark up 2.1% year-on-year.
XSI - US Imports / Exports
US imports on the XSI® continued to reach new highs, with the benchmark up 1.3% month-on-month to 125.02. The positive trend has been maintained since May this year, resulting in the index being up 23.1% compared to Dec-18.
US exports on the XSI® remained mostly unchanged, falling by just 0.1% in December to 95.90. Despite the decline the index is still 9.5% higher than the same period of 2018. Whereas imports have shown some positive momentum, exports have failed to show any clear direction, remaining largely unchanged since Aug-19.
Read the full the full December 2019 XSI report (PDF) with all graphs now. Xeneta Shipping Index Public .
MEDIA: Please have a look at the press release here.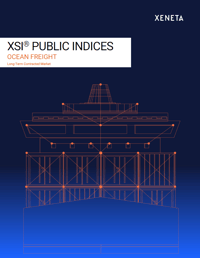 --------
Happy Holidays!