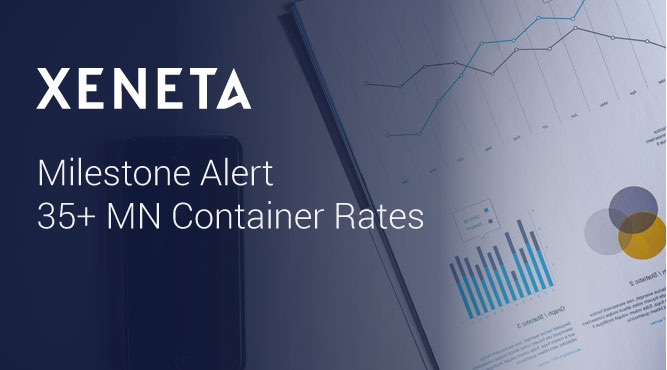 Summer is upon us and 2017's shipping rates market is still on the up and up. Another thing that is on the up is the total amount of container shipping rates in Xeneta.
I am pleased to announce that we have reached another data milestone. As of today, the Xeneta platform has 35+MN rate data points. We are adding over 2MN rates a month from global shippers and freight forwarders to the platform. This includes both spot and long-term rates.
With the disparate standards in rate sheets across the industry adding 2MN rates a month continuously is a tough job. After we collect the rate sheets from our customers our data team must cleanse, analyze and import the rates into our platform. The rest is done by our software built with the latest technology and security protocols to anonymously and accurately present where market rates stands instantly for over 160,000 port-port pairs. Thanks to our dedicated team of Xenetians for this great achievement.
I know I say this each time we reach a data milestone, but it's worth repeating.
Both Thomas (my co-founder) and myself started Xeneta with the single mission to create an equal playing ground for procuring ocean freight for all stakeholders in the shipping container market.
It's a collective effort and the breadth and density of our database is testament that the shipping industry has embraced openness, fairness and the data-for-all motto. Most importantly, the shipping industry does truly believe that technology enables better business, efficiency and higher margins. Look at all the different digitization initiatives major players in the industry have recently launched. Impressive.
How Can You Use the Xeneta Data?
Our rate data is meant to arm with insight and intelligence to compare your rates to the current market rates, and ultimately, your peers. This way you know if you and/or your sourcing team are doing a good job in negotiations and where you can improve immediately. This is called benchmarking and we believe that if you can't measure your rates and your efforts against a neutral data source, you are operating in the dark unable to react to industry's volatile movements.
Seeing is Believing - Join our Webinar
On Wednesday, July 5th, I will be hosting a live webinar where I will be presenting the Xeneta platform, review the Q2 shipping rates and give an outlook for Q3 2017.
If you have never seen Xeneta in action, I stress you join and learn how Xeneta can help you get an upperhand on the volatile shipping market with rate data available on demand and in real time.