We are happy to announce the release of Xeneta's Air API (complementing our Ocean API) to encourage data-led, efficient freight management for Shippers, Freight Forwarders, and Logistics Service Providers. With the API, companies can integrate Xeneta data into their analytics, tender, finance, quoting or pricing systems to analyze alongside other data sources for deeper market intelligence within a single platform.
API: What & Why Now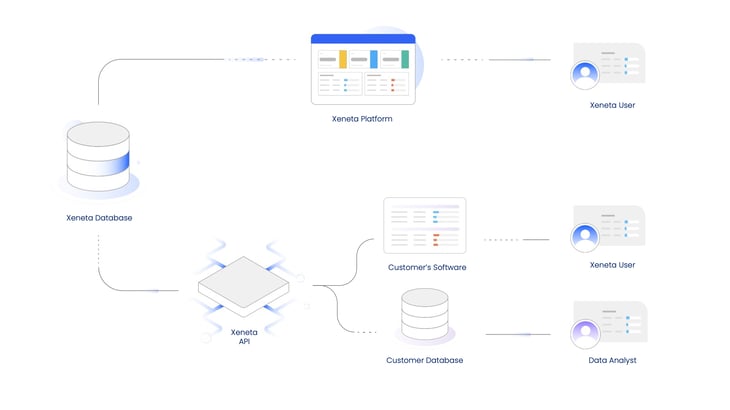 The ocean and air freight markets are more competitive than ever, and those with the most accurate view of their market position will continue to come out on top. Building this overview is dependent upon having teams that continuously benchmark and analyze their freight strategy. The challenge is, making use of data at every junction is optimal, but it isn't always efficient.
With the Xeneta API, teams can pull the precise market data they need while working on tenders, negotiations, budgeting and pricing strategies, without being overwhelmed by a confusing format or irrelevant numbers. When the data is integrated into in-house Rate Management Systems (RMS) or Power BI, users can avoid jumping from one solution to another or manually pulling and uploading data.
Xeneta customers like Zencargo cite the Ocean API as a key tool in keeping their teams up to speed on real-time market movements. According to Catia Fernandes, Head of Far East - UK at Zencargo, "Xeneta's ocean freight rate API supports Zencargo's vision of combining world-class freight forwarding services with pioneering technology to transform supply chains. Internally it helps us understand the latest developments and impact on our ocean procurement performance while offering competitive and innovative pricing models to our customers."
As volatility in the freight market is here to stay, speed, efficiency and internal alignment will be the "make or break" for the companies that, using API to receive instant, real-time rates in a no brainer. According to Xeneta's VP of R&D, Zakhar Shapurau, "Xeneta has seen the ocean & air freight markets continue to move in favor of fast, informed decisions, so now was the perfect time to release this integration option to our customers. We know the need for API integration will continue to grow exponentially in the coming years."
Learn more about the Xeneta API
The Xeneta API is available now to all Xeneta customers. Contact your Customer Success Manager to learn how you can trial the API for free.
If you are not a Xeneta customer yet and would like to see how we can improve your ocean & air freight performance, request a free demo below.
If you have any questions, please send them to info@xeneta.com.