How Do You Know If Your Ocean Freight Rate Is Competitive?
Thomas Sørbø
Jun 21, 2017
Asking what is a good ocean freight rate may seem a no-brainer if you're a shipper. It's all about the lowest rate. Right? But what if you ask the same question to a carrier? It's doubtful they'll respond the same.
Explaining what a 'good rate' is can be difficult. In today's environment, ocean freight movements and trade lane patterns are far more complex than they used to be. To achieve mutual profitability, both the shipper and carrier need to understand that changes are necessary.
Ocean freight is basically a commodity. Similar to grain, crude oil, and other raw materials, ocean freight rates rise and fall based on supply and demand. Specifically for ocean freight, it is cargo volume against available capacity.
A classic example is the demise of Hanjin Shipping. Shock waves were felt across the containerized world. The bankruptcy allowed the other liners the opportunity to increase ocean freight rates. In fact, per Xeneta's database, ocean freight rates between Asia and North America went up nearly (40 percent) in the weeks after Hanjin filed for bankruptcy. In the Pacific, between Asia and the US, rates went up by as much as (50 percent).
According to Robbert van Trooijen, the Asia-Pacific chief of Maersk Line, in an interview with Bloomberg, ocean freight rates doubled from a record low recorded in March 2016. "It's been a decisive year for container shipping, not just because of the financial climate, but also because of the M&A activities and the regrettable bankruptcy of Hanjin. We see fewer orders for ships."
Currently, spot markets are at levels they were about two years ago. Carriers have been able to push through rate increases across the board.In addition, shippers and OTIs (ocean transportation intermediary) are having challenges securing space on vessels moving freight along different trade lanes.
This could all be attributed to the reduction in shipping capacity. For example, carriers reduced capacity between 33-43% on the westbound Asia-Europe trade.
Related reading: What Are ISPS Charges?
Good Ocean Freight Rate is Subjective
Based on the supply and demand observation, a good ocean freight rate may therefore be subjective whether you are a shipper or an OTI.
Under circumstances of reduced supply and increased demand, if you as a shipper receive a good rate that is in fact too good to be true, then the shipper should be prepared to handle the consequences that may arise such as:
Shipping lines going bankrupt due to the continued downward trend of freight rates
The possibility of containers being rolled over or shut out because that carrier has other higher-paying cargo which they will prefer to carry naturally
To stay solvent by interim cost reduction carriers will introduce measures such as slow steaming or canceling voyages.
So, if a rate that's initially 'good' for a shipper may not be so good in the long term.
From our benchmarking exercises we have found that for an OTI, the freight rate really doesn't matter because they work on the basis of a freight "margin" so whether the rates go up or down, they generally try to maintain that "margin" based on the work they do for the shipper.
So the question remains – what is a 'good' rate?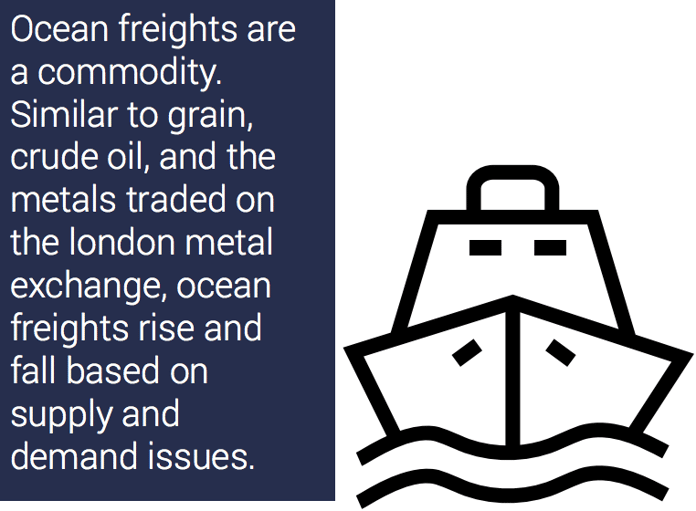 Can Prolonged Low Rates Affect Services?
The shipper needs to realize that prolonged low rates will cause a carrier to lose money which may eventually end up in the carrier winding down their services.
If this happens, capacity is reduced which in turn reduces supply. As a result, demand increases as do shipping rates that may thus price the shipper's products out of their intended markets.
While many companies ship large volumes of TEU's globally, the effect of this volume is often diluted by the need to ship a wide array of products over an equally large number of shipping lanes and ocean carriers.
This weakens the shipper's ability to negotiate competitive rates as well as making it difficult to know if the rates paid are in line with their competition.
In many cases, smaller and medium-sized shippers may receive more competitive rates than the larger ones. Additionally, small and medium-sized shippers may also be able to take advantage of the spot market quicker, but the downside is that they may also have some challenges securing the space.
We have also seen that in our recent articles titled: Big volume shipping no longer means big value rates
There have been some worrisome indicators that the container business is now considered a zero-sum game where ocean freight rates and sailing times are considered battlegrounds in the fight for freight rate supremacy.
But as shippers and carriers work together in order to expand just-in-time deliveries, perhaps the next concept adopted by the logistics world should be that of benchmarking, where ocean freight rates are compared and rated over trade lanes and time periods.
But such comparison and benchmarking should be done within the guidelines and regulatory framework so that it doesn't end up as a collusion between the carriers.
Ocean Freight Benchmarking: It's All Relative
Benchmarking enables a shipper to accurately answer the most important questions asked in the shipping business: "Am I paying the right freight rate? Is my rate competitive?"
Ocean freight benchmarking is most useful for both shippers and carriers; carriers often need independent verification that the rates requested by the shippers do in fact exist in order for the negotiations to be finalized, while shippers need independent verification that the rates they accept on their many smaller lanes parallel those reported by larger volume shippers on those same lanes.
Benchmarking provides the information necessary to answer the question of what is a 'good' ocean freight rate.
A good ocean freight rate should be one that is sustainable in the long run for both the carrier and the freight forwarder in the interest of maintaining the services of the shipping lines involved.