This week's blog will focus on exploring the rate development of tank containers on the US Gulf to North Europe trade lane. Unlike dry containers, tank containers exhibit different patterns and behaviors, and the front and backhauls are often distinct. Understanding the unique characteristics of tank container rates and their trade lane dynamics is crucial for companies operating in the chemical and food industries, for example, which rely heavily on tank containers for transportation.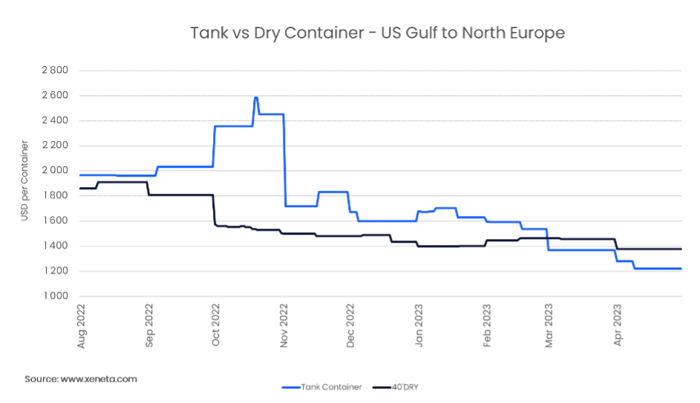 During August 2022, long-term freight rates for tank containers were slightly higher than those of dry containers, with a spread of USD 100 per container. However, by the beginning of September 2022, the spread had doubled, and the freight rates for tank containers began to increase in increments. By mid-October 2022, the spread reached a peak of 1,045 USD as the rate for dry containers continued to decline while that of tank containers continued to rise.
In 2022, a significant development in tank container rates was the sharp decline in early November, followed by volatility on a month-to-month basis until the end of the year. As for the first four months of 2023, the tank container trade from the US Gulf to North Europe has experienced a general decrease in rates.
As of early March 2023, the rate for tank containers dropped below that of dry containers, resulting in a new spread of 100 USD, which increased to 160 USD in April. Between October 2022 and April 2023, tank container rates experienced a decline of 1,364 USD, representing a total decrease of 53%.
To sum up, the rates for tank containers on this trade route are expected to stabilize at a level just below USD 1,000 per container after a volatile 2022 where rates tripled from January to a fourth-quarter peak. If the most recent trend is any indication, rates should normalize in the coming months. However, it's important to note that geopolitical events and Europe's energy security agenda may introduce volatility to this trade. So, while the trend may be stabilizing, it's important to remain vigilant.
Want to learn more?
Are you seeking clarity amid the choppy waters of the container shipping market? Discover the ease with which you can gain the insights and intelligence necessary to ensure your team and business remain agile in the face of fluctuating market conditions.
Know instantly how your air and ocean freight rates compare against the market and your peers, justify your transportation costs, prepare for your tender period and report on your success with one powerful easy-to-use platform. Get a demo now!