Long term rates from Japan to Northern Europe are starting to come down having jumped up in the immediate aftermath of the closure of Russian airspace for many airlines. The average rate for a long term contract signed in the past three months stood at USD 7.1 per kg on 14 June. Excluding April and May, when rates shot up to USD 8.1 per kg, this is the highest rates have been in over a year.
In contrast to the normal discount, shippers can get for higher volume loads, on 14 June the average long term rate for cargoes of 1 000kg or more was USD 8.3 per kg, USD 1.2 per kilo more expensive than loads of between 500 and 1 000 kg, and on par with the cost per kg of a load of less than 45 kg.
Long Term Air Freight Rates Out Of Japan
Rates are coming down as carriers and shippers alike adjust to the closure of Russian airspace, and market fundamentals are once again given the overhand in determining rates. Cargo demand has fallen from the start of the year, more so than capacity, even taking into account the capacity reductions following the closure of air space.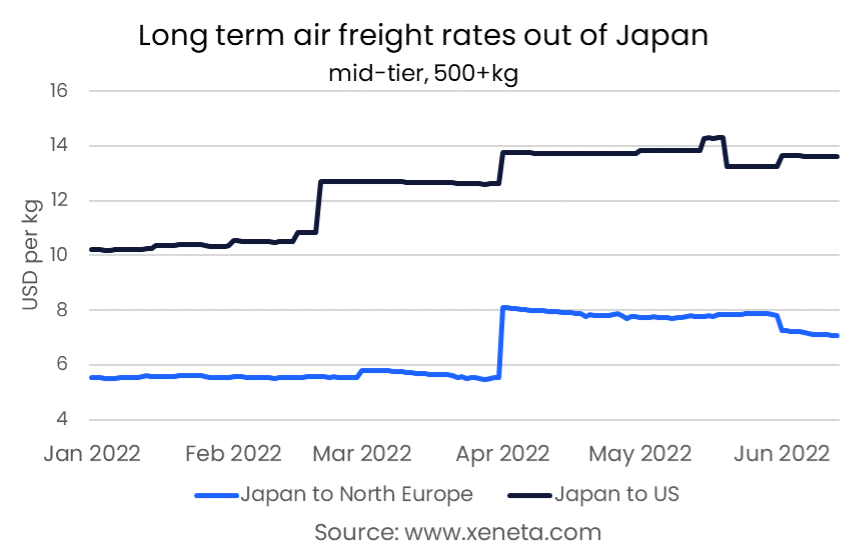 Comparing May with February shows a 3 percentage point drop in the dynamic load factor between Japan and Europe, leaving it at a still high 89%. Both capacity and cargo volumes were considerably down in May compared to February.
Japan to Northern Europe was one of the trades most heavily impacted by the closure of Russian airspace. Looking on the other hand at freight rates between Japan and the US, there was a much smaller increase in freight rates. This trade was not completely unaffected by the Russian sanctions as many airlines had to reconsider all routes in and out of Japan, but had more alternative routes than Japan to Northern Europe does.
Between Japan and the US, the average long term freight rate for mid-tier 500+kg cargoes rose from USD 12.6 per kg at the end of March to USD 13.8 on 1 April, and after peaking briefly above USD 14 per kg, it now averages USD 13.6 per kg. The dynamic load factor on this trade is higher than that between Japan and Europe at 93%, partly explaining why rates here have remained flat in June, compared to a softening in rates to Northern Europe.
Compared to last year, cargo demand between Japan and Northern Europe has dropped considerably (-17% in volume and 29% in tonnes), whereas demand to North America has held up better, down measured in weight, but up when measured in volume.
This divergence in cargo demand between North America and Europe will come as no surprise to anyone who has followed the global freight markets in recent years.
Want to Learn More?
Sign up today for our upcoming monthly State of the Market Webinar for ocean and air freight rates to learn how rates will be affected if we are heading towards a global recession.
If you have any questions, please send them to info@xeneta.com.