Reefer rates on the eastbound transpacific trade are holding up better than their dry counterparts, increasing the attractiveness of reefer containers to carriers.
During the peak of spot market rates, a round trip with an empty reefer container from the Far East to the US West Coast earned less than a round trip with a loaded dry container going east and then an empty container going west. The shortage of space at that time led to frustration for the shippers, who were looking to export out of the US West Coast but could not find a carrier willing to take their box.

However, roundtrip with reefer containers is a more profitable choice now than a dry container. In addition, carriers are scrambling for any volume they can get and are not rejecting any containers.
Read more below in Xeneta's weekly container freight update.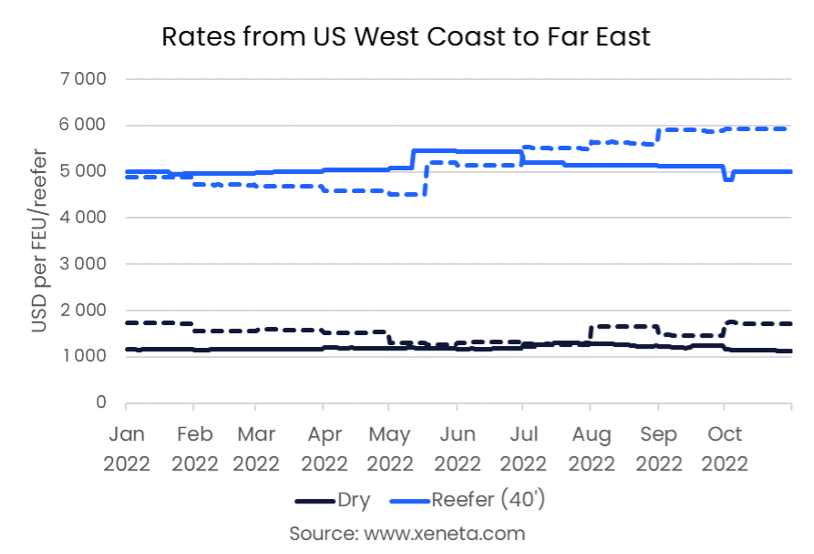 Spot rates for a 40' reefer container from the US West Coast to the Far East had fallen to USD 5 000 per container, down by just USD 450 compared to the peak of these rates when they reached USD 5450 per FEU in May 2022, leaving plenty of room for them to fall further. Rates for a standard FEU now stand at USD 1 100 on the spot market.
In contrast to long-term rates on the major trades out of the Far East, now starting to fall, spot rates for reefer containers from the US West Coast to the Far East have continued to increase, hitting USD 5 900 per container on 31 October. This is their highest level yet and also results in the largest spread between spot and long-term rates.

Shippers dealing with reefer containers have a higher preference for long-term contracts due to the nature of the goods being transported and the guarantees that long-term contracts offer. This has especially been the case over the past years, due to capacity constraints and problems with securing space on board.

However, with carriers now hoovering up all the capacity they can, reefer shippers, just like other shippers, can expect fewer problems in getting containers onboard, which are contracted on the spot market.

This may lead to reefer shippers looking at the higher spread in long and short rates and being willing to move more volumes on the spot market, at least in the short term, while rates are still falling.
Note:
The 'Weekly Container Rates Update' blog analysis is derived directly from the Xeneta platform. In some instances, it may diverge from the public rates available on the XSI ®-C (Xeneta Shipping Index by Compass, xsi.xeneta.com. Both indices are based on the same Xeneta data set and data quality procedures; however, they differ in their aggregation methodologies.
Want to learn more?
Sign up today for our upcoming monthly State of the Market Webinar to stay on top of the latest market developments and learn how changing market conditions might affect your contract negotiations.
PS: Missed the LIVE session? Sign up to get the full webinar recording.