In the early days of June, short term rates on the main trade lane from China to the US West Coast fell below the benchmark freight rate for long term contracts.

Everyone eyeing the US West Coast these days seems to focus on the labor negotiations between the International Longshore and Warehouse Union (ILWU) and the Pacific Maritime Association (PMA) employer group. The current ILWU-PMA contract between 22,000 port workers and employers expires on July 1.
Read more on Xeneta's latest weekly container rate update.
Container Freight Rates, China To US West Coast
US West coast shippers have long endured logistic troubles as overloaded terminals have obstructed the free flow of cargo through the system. Terminal automation (more or less of it) is the central pain point to resolve this time around. Beyond that, record throughput at terminals and record freight rates for ocean shipping has long been the main challenge. Let's have a look back at the past year.

Since end-June 2021, short term rates have climbed 46.5%, from USD 5 304 per FEU to USD 7 768, where they sit now.
During the same period, long term rates have rocketed 159.9%, from USD 3 070 to USD 7 981 by end-June 2022.

The narrowing gap between the short and long term rates illustrates how US West Coast shippers have managed the risk that global supply chains are so full of right now.

The gap stood at USD 2 233 one year ago, moving up to a peak just short of USD 4 000 per FEU three months later. By October 1, 2021, long term rates rose sharply, bringing the gap down to USD 750. Then months of plateauing movements followed. Since April 1, 2022, a combination of slowly declining short term rates and another significant jump in long term rates have pushed the difference into negative territory. By June 21, 2022, long term rates sit 2.7% above short term rates.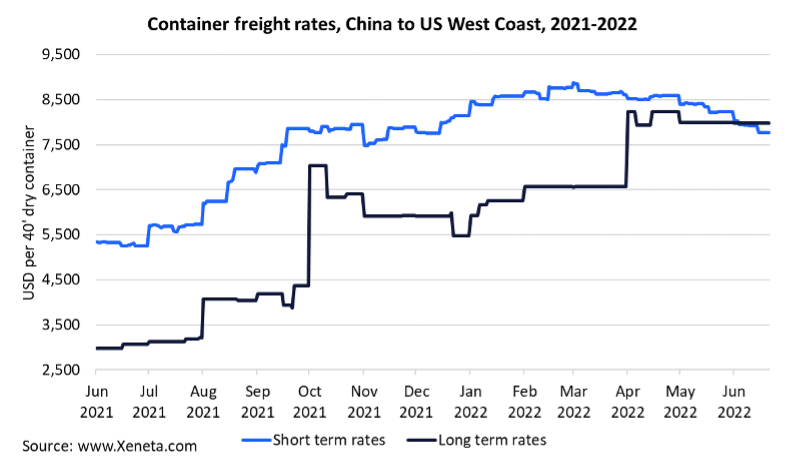 On the face of it, short term rates are on a steady and declining trend since the peak in early March, a trend that also seems to have paused the rise in long term rates.

While we await the signing of a new contract between ILWU and PMA, other aspects are also important when forecasting where rates are heading.

Can US retail sales keep up, despite the inflationary headwinds? Is any money left in consumer pockets for spending in the second half of 2022? When will congestion around all the largest US container ports begin to ease? And when will strained onshore supply chains catch a break? Follow Xeneta and stay up to date.
Note:
The Weekly Container Rates blog analysis is derived directly from the Xeneta platform, and in some instances, it may diverge from the public rates available on the XSI ®-C (Xeneta Shipping Index by Compass, xsi.xeneta.com. Both indices are based on the same Xeneta data set and data quality procedures, however, they differ in their aggregation methodologies.
Want to learn more?
Schedule a personalized demo of the Xeneta platform and learn how on-demand freight rate and market insight data will help you navigate through the current climate and identify potential savings in your freight spend.