The Greats of Shipping Business Journalism
Katherine Barrios
Dec 29, 2017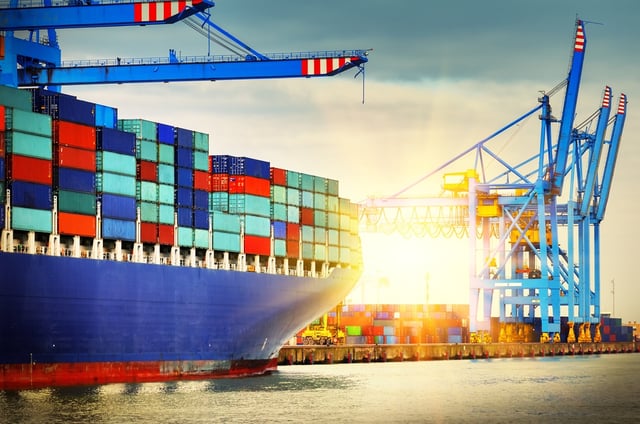 Throughout 2017, we've had the pleasure to speak to and collaborate with some of the best shipping journalists. We've also shared some of our favorite reads via our social media channels, offering up some excellent sources and resources for shipping and supply chain news around the world. But behind every great article, there is an even better journalist who puts it all together. Not only do these journalists comb for the latest information, but they put it together in a way that makes it both entertaining and informative which is not always an easy task. As the year comes to a close, we'd like to pay homage to some of the trade news outlets and journalists and offer you a little more insight into the minds behind the shipping news.
---
Many of these journalists use Twitter to deliver quick insights on logistics and shipping events as they happen. So, I highly recommend that you follow and add all of these brilliant journalists to your feed. I made it easy for you. Just click on their names below and it will lead you to their Twitter page. Otherwise, you'll get a link to their publication.


The Loadstar
The Loadstar (@theloadstar) is an essential source for news for both logistics and supply chain management and offers some in-depth insights and analysis of the industry. With a focus on independent and high-quality journalism, they bring a lot to the table for their readers and one of our top reads.
Gavin van Marle: Gavin is an editor for The Loadstar and has won the prestigious Seahorse Journalist of the Year in both 2009 and 2011, as well as Supply Chain Journalist of the Year 2010 and 2014.
Mike Wackett: Mike has experience on both sides of the industry. The award-winning journalist was once a ship broker as well as a managing director of a short sea feeder line.
The Journal of Commerce
The JOC (@JOC_Updates) is one of the most vaunted news sources on the internet. Widely trusted and well researched, the JOC offers a lot of great information from around the world. Of the JOC we have a few contributors who have helped us get our rates and story out throughout the year.
Peter Tirschwell: Peter is a senior content officer and most importantly a prominent thought-leader in maritime transportation with more than 20 years as journalist and business leader at The Journal of Commerce.
Greg Knowler: Greg is an experienced writer and editor with 25 years in journalism, Greg Knowler serves as senior editor for Asia for the JOC.
Robert Ward: A more or less recent addition to the JOC roster, Robert has an outstanding track record when it comes employers ranging from Lloyd's List to the Washington Post. Ward is a self confessed "Brazilianophile" who currently spends a portion of each year living in Brazil immersed in the country's history, people and culture.
Mark Szakonyi: Executive Editor at JOC.com. Mark is based in Washington, D.C., covers railroads, U.S. transportation and trade policy, sourcing and ocean shipping.

American Shipper
American Shipper (@AmericanShipper) magazine was first published under that name in May 1974. It serves the information needs of shippers, carriers and third parties involved in international transportation and executives who are managing international logistics and supply chains. This is a key outlet for our customers and our employees internally. Their in-depth analysis and reports are educational and insightful focusing not only on transportation topics, but technology and innovation in the industry.
Ben Meyer: Starting as a research assistant at ComPair data, Ben has worked his way into becoming the managing editor for American Shipper. Ben is responsible for all content that gets posted on AS as well as contributing his own works.
Eric Johnson: Eric began his journalism career in 1998 and became a reporter for the Long Beach Press-Telegram in October 2003. He joined American Shipper as associate editor in August 2005.
Chris Dupin: Now writing for American Shipper, Chris has started his journalism roots in New Jersey and has since then come up through the ranks of the JOC and other major publications.
Lloyd's List
Lloyd's List (@lloydslist) is one of the world's oldest continuously running journals, having provided weekly shipping news in London as early as 1734. Their award-winning journalists have unrivaled access to industry leaders and power brokers combining content into a single channel via the Lloyd's List website.
Mike King - Mike, Asia, supply-chain, and ocean freight specialist won this year's Seahorse's annual freight, maritime, and transport journalism award for News Journalist of the Year and was runner-up in the Features Journalist of the Year category for an article on Transformational Logistics. He was also shortlisted in the Supply Chain Journalist of the Year category, an award he won last year.
Will Waters - Will has been one of the editors of Lloyd's List and Lloyd's Loading List since June 2014. Throughout his time at Lloyd's, he has been covering international freight transport and logistics; international trade; globalisation; supply chain management; sourcing strategies; e-commerce/e-retail fulfilment; EU legislation; automation of manufacturing processes; digitalisation and international transport.
And There Are More
As we mentioned in our Best Supply Chain Blogs article, there are a lot of useful news sources and with that, a number of great journalists and educators who keep the news flowing. From Shipping Freight and Resource ,which is an excellent source of educational materials for shipping professionals, to Ian Lewis from TradeWinds covering weekly industry happenings to more in-depth liner shipping features. The list goes on:
10xocean Solutions: Specializes in supply chain optimization and is well versed in working with both shippers and freight forwarders. The 10x team is comprised of Chas Deller, Joe Quartarolo, Capt Singh, and Skip Dokken.
Shipping and Freight Resource: Hariesh's passion for education and training inspired him to write a multi-award winning educational blog about Shipping and Freight. The blog assists millions of people worldwide to enhance their shipping and freight knowledge. It provides valuable information, advice, insight relating to the industry and inspires productive discussions.
Sam Chambers: Managing Splash 24/7s Asian Shipping News, Sam has worked and written for a number of the heavy hitters in the news industry including: The Economist, The New York Times and the International Herald Tribune.
Paul Page: Not only are journalists important but the editors who help to screen out excess information making the articles clear and concise. To that end, Paul, editor of the Wall Street Journal Logistics Report certainly merits a mention in our list.
While events are continually unfolding around the world, it's up to the journalists, their skills and dedications to bring the heart of the information to us. The information that we use to stay on top of the latest technology and industry trends and make informed decisions in boardrooms, operation headquarters, and all fields of supply chains.
So for all those we've mentioned, and for the many others who have also taken up the call, we thank you. Not only is the information necessary and the insights precious, but the composition is what brings life back to our arguably antiquated and boring industry.
And thank you, reader, for following our blog and appreciating the difference between good journalism and a simple report.
We wish you a great 2018!
January 2018 Webinar | Get 2018 Shipping Insights
Stay on top of the ocean freight rate market and get an analysis on historical rates as well as insight into the 2018 ocean freight market. Register now!