How Smart Containers & Smarter Data Makes A Smarter Industry
Katherine Barrios
Sep 07, 2016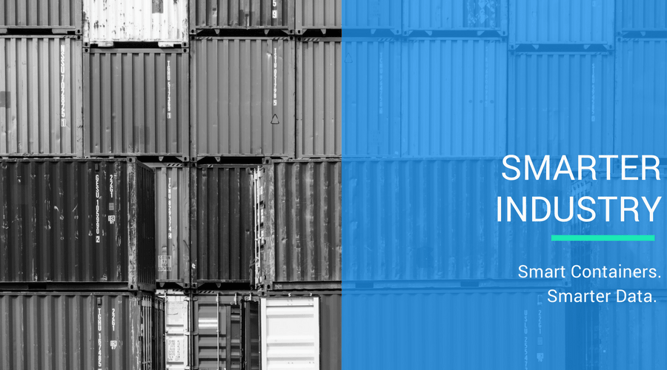 It doesn't take much to see and experience the rapid advancement of technology in the world. Personal technologies are getting smaller, smarter, and overall more efficient but that's not to say that technological advancement is stopping at consumer level. Far from it. Technology for the freight industry is getting a rather serious overhaul, encompassing many different levels of the industry.
Almost all trade publications are writing about the impact it can have on our business. So, let this blog post serve as a reminder.
While some of these changes might be slow to start, we're approaching a precipice, a tipping point, in which the rate of technological growth of the future will begin to accelerate. A report recently released by a research and advisory firm that focuses on emerging technologies, Lux Research, highlights a number of the technological changes that the freight industry is undergoing currently.


Smart Containers
Containers have always been the crux of the ocean freight industry, the cornerstone for the operation. Yet from their creation, we've yet to see many, if any, changes to the basic steel box. Recently a number of innovators and startups are changing the way we look at containers. Staxxon and Holland, for example are taking it a step further and reexamining the container itself. They are looking at a collapsible container which, when emptied, can be collapsed to save space in the event of an empty return. That's pretty neat, if you ask me.
The Internet of Things
This is, perhaps, one of the most reported and most important advancements for the freight industry. The internet of things (IoT) is allowing for a veritable network created not from computers as we know them, but of things, like containers, pallets, and equipment. Imbedded with an array of sensors and tracking technology such as GPS and RFID chips, "things" allow manufacturers, carriers, and shippers to monitor temperature, vibration, losses and location of their cargo more accurately. In our recent article and infographic, we can see the sheer possibilities created by the IoT and why it's becoming much more popular throughout the industry.
Better Data: Smarter Moves
While the physical technology is progressing by leaps and bounds, so too is the information available for logistics. With better tracking and more information with each container, logistics decision makers are able to get a clearer view of their supply chain, from front to back. This level of transparency not only means a higher degree of customer service, but also allows for optimization of the supply chain, cutting away nasty snarls, tangles, and snares that would otherwise slow the operation down.
More Computing Power Means More Control
3PLs, carriers, shipping marketplaces, logistics technology companies are all taking advantage of better computing processes, offering shippers a wide array of digital tools which allows them a wide degree of control over their supply chain. Food Logistics, an online news source for logistics within the food industry, lists some of the more influential companies.
"Companies like iContainers, Freight Filter, CargoSphere and Freightos integrate data and automate freight booking via cloud-based systems. Companies like ShipBob, Flexport and Shipwise are creating logistics dashboards that gather shipping data across modes to help users get quotes, arrange pickup, insure the freight and track packages. Shipster and Shyp offer pickup and packaging. Getting accurate freight quotes, booking the shipment, establishing contracts, and initiating the process can be complex and time-consuming without an integrated provider. Transporteca and VeriTread LLC specialize in specific geographic and heavy haul rates, while Xeneta lets people compare rates. Online retailers can use Shippo and ShipHawk plug-ins to help buyers calculate shipping costs and methods, based on the items in their baskets and current freight rates," according to Food Logistics.
While the freight industry has been rather slow to change it's ways, change is coming. As the new technology begins to take hold, we'll soon see a complete overhaul in the way companies view logistics and freight management.
It's Not All Roses For Everyone
Though I am a technology lover and feel that tech can help all industries advance greatly, I do realize that all don't agree that tech will disrupt or change our industry. Many feel that it is just an enabler and that human service is what makes the difference. While I don't disagree, I do feel that our human powers alone can't make the definite improvements and changes. Coupled with tech, we can for sure change the industry to something much better. We just need an open mind.