We are excited to introduce a significant overhaul of improvements to our ocean ports geo-hierarchy, which will provide even better benchmarks. The Xeneta geographic hierarchy is the way Xeneta organizes ports across the world into regional groupings based mainly on ports' price similarity, proximity, size, and the carriers' shipping routes. The Xeneta geo-hierarchy consists of multiple regional levels and is one of the core pillars used to organize the data behind Xeneta.
We are constantly working on improving our geo-hierarchy as we gain more understanding of the market through our data, but also to adjust to market changes.
We have analyzed price correlations using the millions of price points in our database and explored shipping routes of different carriers, in order to provide the best quality benchmarks.
With this update we have:
Deactivated ports with a significant decrease or complete loss of container traffic in recent years.
Activated new ports, where we have collected relevant amounts of rates.
Merged ports to consolidate data better and provide a good quality benchmark.
Re-shuffled ports within the Xeneta geo-hierarchy structure, where the rates better correlated with other ports.
Introduced completely new structures to some of the more "exotic" regions for more accuracy.
Change Log of Regional Updates

Click on the regions below to take you directly to the related update.

Africa
We are slightly changing the names of the highest-level regions of Africa (e.g. East Africa –> Eastern Africa), so that there is no more confusion between South Africa "also-known-as" part of Africa, and "South Africa," the country. Otherwise, the structure of Africa on the highest-level remains the same.
Eastern Africa
We are splitting the ports of Eastern Africa into two regions – Main and Sub – so that we have a more precise benchmark for both the regions' biggest ports and out ports.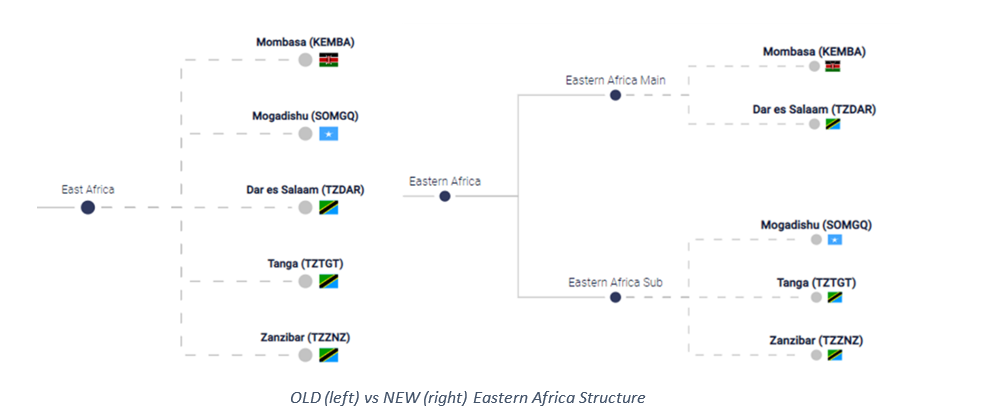 Indian Ocean Islands
Indian Ocean Islands region also becomes more granular – we are creating an IOI Main region for the larger ports in the area, and splitting the ports of Seychelles and Comoros Islands into a separate group as they are smaller and generally more expensive ports. We are also merging Mahe (SCMAW) into Port Victoria (SCPOV), as they are pointing to the same port.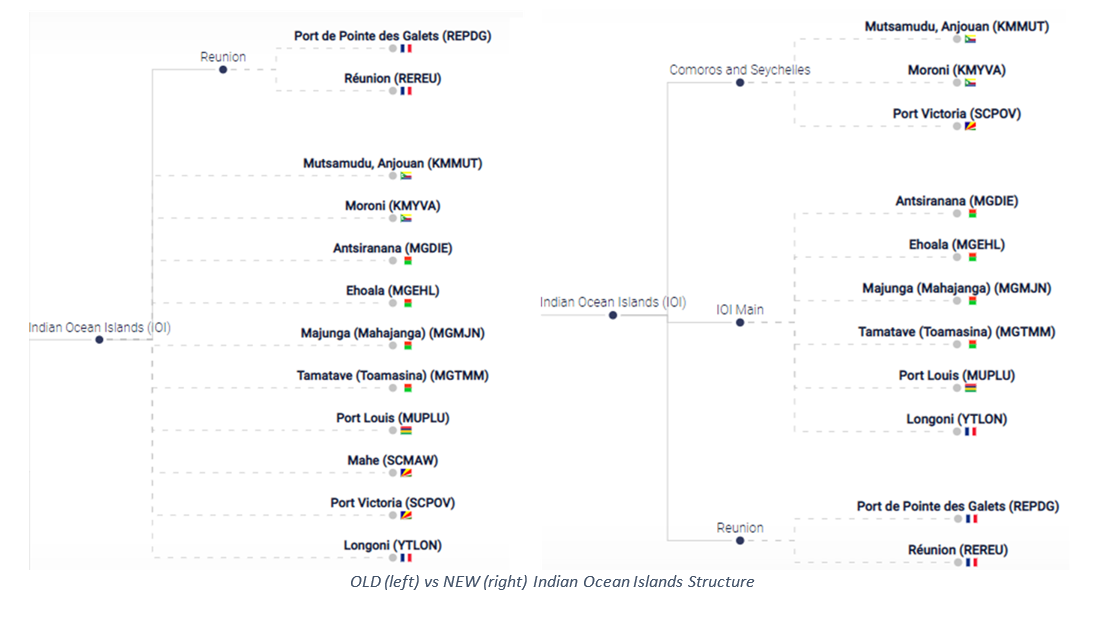 Northern Africa Mediterranean


Libya
First, we are renaming Libyan Arab Jamahiriya region to simply Libya, as it is the official name of the country. In Libya, we are deactivating the small location of Marsa Brega (LYLMQ) and are dissolving West Libya region. Our findings showed that none of the Libyan ports stands out from the others, pricewise or otherwise, so they are all placed under the same region now.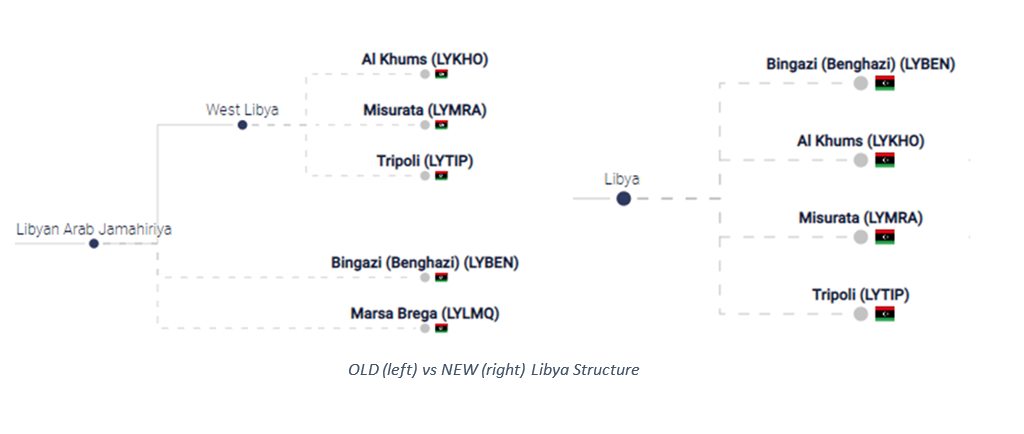 Morocco
We are merging Tangier (MATNG) into Tanger Med (MAPTM), as the new port of Tanger Med overtook the cargo handling function from the old port of Tangier. We are also deactivating port Jorf Lasfar (MAJFL) in Morocco.
In addition, we create new Morocco Main sub-region for the ports of Tanger Med and Casablanca, as the port of Agadir has weaker correlation with these two ports, mainly due to its location and size.


Tunisia
We are merging port of Rades/Tunis (TNRDS) into Tunis (TNTUN), as they point to the same port. In addition, we are moving Bizerte (TNBIZ) to the same region as port of Tunis (TNTUN), as they show a very strong price correlation, despite the difference in size. We are also renaming the region that now contains these two ports to Northern Tunisia in order to be more specific.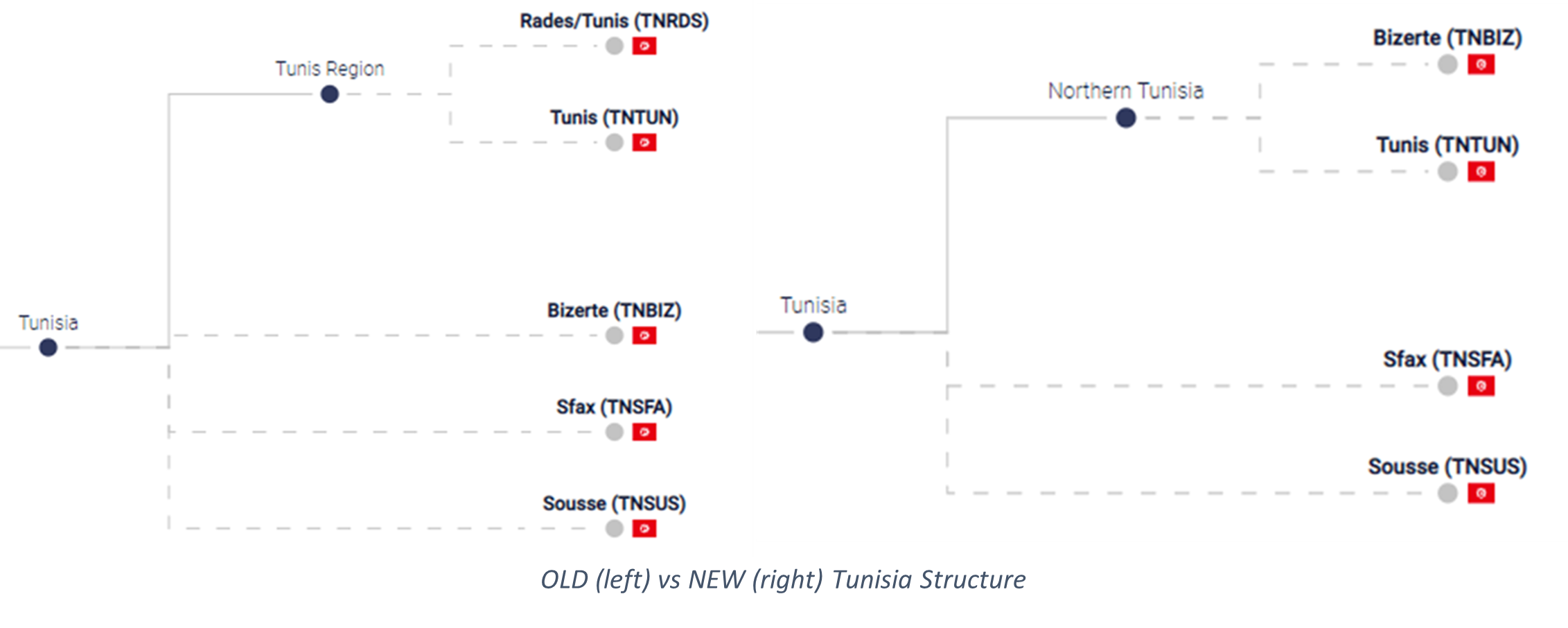 Southern Africa
We are moving the port of East London (ZAELS) up to Southern Africa (1 region up), as this small port is generally more expensive than the other ports in South Africa (ZA) region. We are also renaming Port Elizabeth to its new official name: Gqeberha (Port Elizabeth).
Western Africa
The region of Western Africa is now completely restructured. Previously, Western Africa was split into two regions – Gulf of Guinea and North-Western Africa, - which in turn contained in total 19 sub-regions based on different countries.
The goal for the new structure is to better align the ports in regions that reflect similar pricing rather than geographical proximity, as well as streamlining the existing cascade of regions into a slimmer and more accurate structure.
In the new structure, we will have 5 regions directly under Western Africa, with two of them also having a couple of sub-regions each.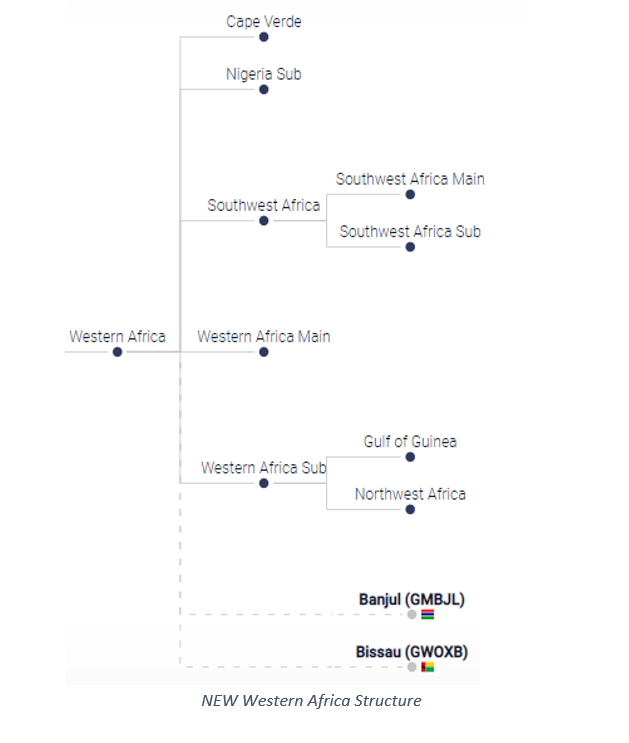 As you see, the total number of regions has been drastically reduced, but the new regions are "smarter" than the old ones and reflect similar pricing rather than geographical proximity.
There is also a couple of small changes in Western Africa: we deactivated port of Luba (GQLUB), and merged port of Lagos (NGLOS) into Tincan/Lagos (NGTIN).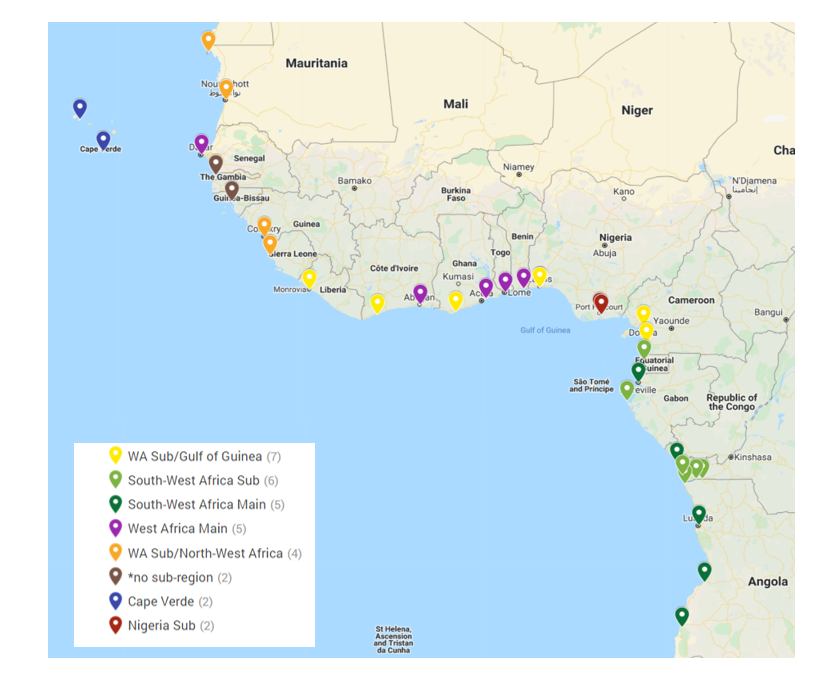 Americas

As both North and Latin America regions were revised rather recently, there are only a few changes that we are introducing with this update.



North America
Under the Canada East Coast region, we are creating Canada East Coast Sub sub-region. It will contain the ports of Saint-John, NB and Saint John's, NL, and will help us provide a better insight into the out ports of the East Coast of Canada.


As for the US, we are merging Newark, NJ (USEWR) port into New York, NY (USNYC). Newark and New York are not only part of the same port authority, but they are also used interchangeably in RFQs and rate sheets. We have also found that the rate levels are the same and therefore decided to merge these two locations to make it more convenient. We are renaming the "combined" port to New York City/Newark, NY&NJ (USNYC) and dissolving the New York Ports region that previously contained the two ports.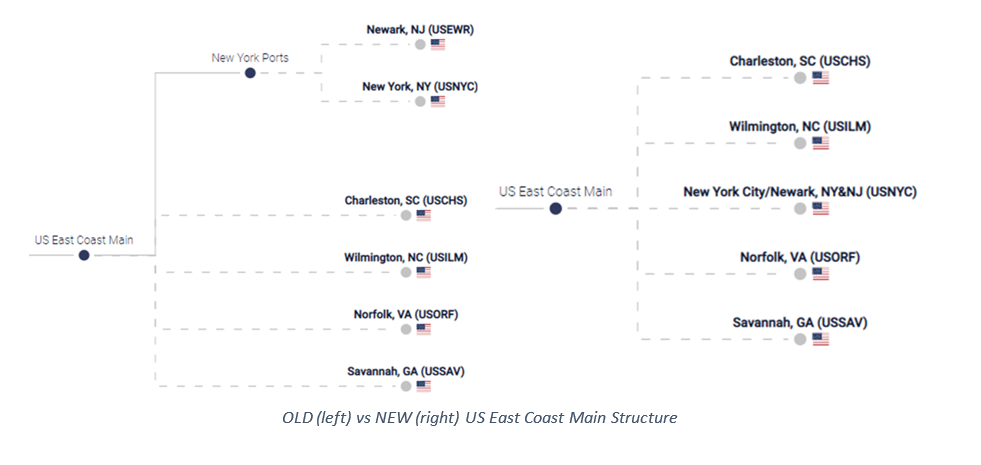 In addition, we are making some changes in the structure of ports of Florida ports. We are moving Tampa, FL (USTPA) from Florida State to US Gulf Coast, as the ports shows stronger correlation with the latter region. We are also deactivating Winter Haven, FL (USGIF), which effectively dissolves the Florida State region. However, we keep Florida East Coast region as is, but it is now placed directly under North America.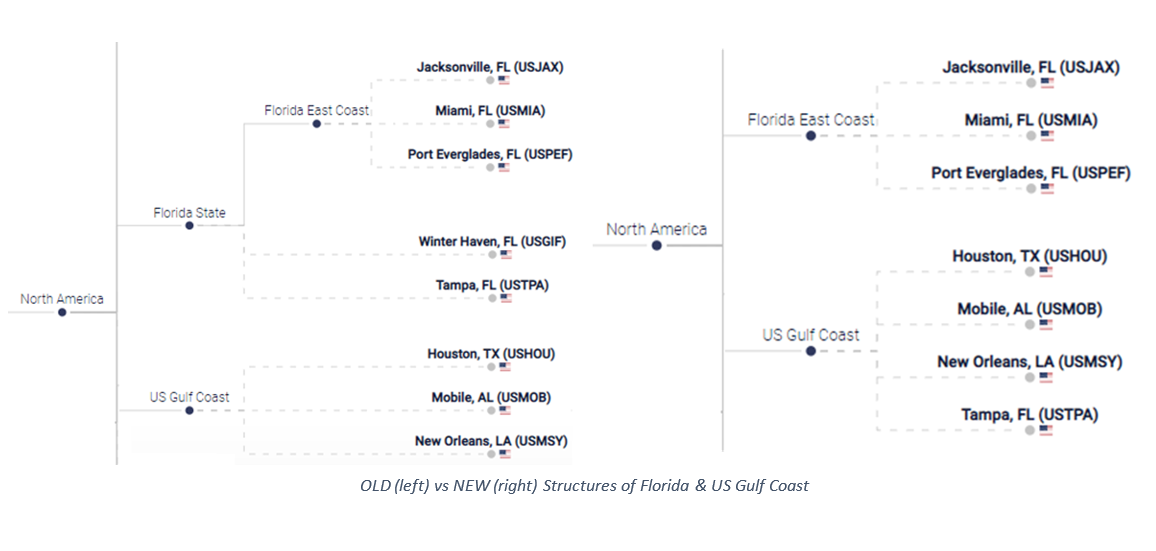 Latin America
There are a few changes we are making in Latin America: we are renaming Itaqui (BRIQI) to Porto do Itaqui (São Luís) for a little bit more clarity, and merge Haina (DOINA) into Rio Haina (DOHAI) as they refer to the same location. We are also moving port of Vitoria (BRVIX), which is now located in Southern Brazil Sub, to Northern Brazil Sub, as it show stronger correlation with the latter region.

We are also changing the structure of Mexican ports: we are moving Progreso (MXPGO) from Mexico East Coast up to Central America East Coast, and Guyamas (MXGYM) and Mazatlan (MXMZT) from Mexico West Coast up to Central America West Coast. This way, Mexico East Coast and Mexico West Coast regions will now only contain the biggest Mexican ports at each respective coast.
Asia
Far East
Far East ports play a major role in global trade. In this update, we aim to "clean up" some of the main regions in the Far East to make sure that they only contain the major ports in respective areas. Thus, we are moving Lianyungang and Yantai from China East Main region to China East Sub, Chiba and Kawasaki from Japan Main to Japan Sub, and Gusan and Ulsan from Korea Main to Korea Sub.
As you see from the figures below, we make sure that China East Main, Japan Main, and Korea Main regions now contain only the biggest ports in the respective countries, which are also some of the largest ports in the world.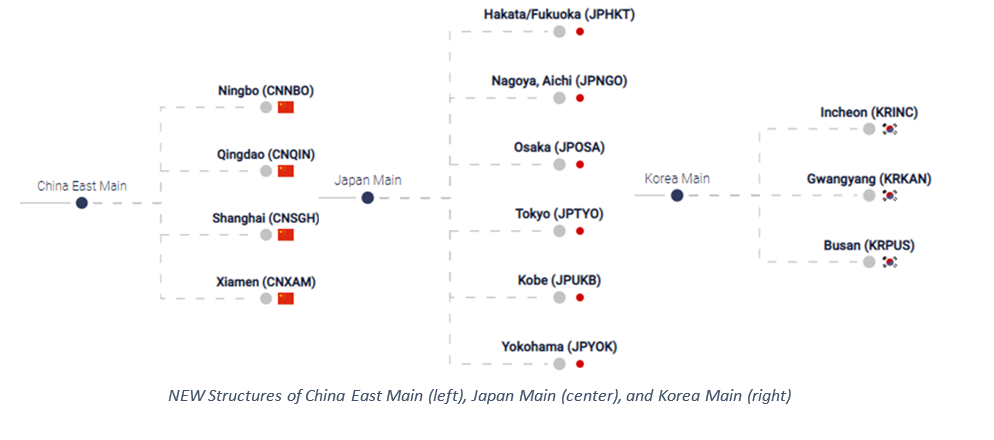 South-East Asia
Indonesia
We are combining all the ports that are referring to Jakarta under Jakarta, Java (IDJKT), and dissolve Jakarta Area region. We are also moving Panjang (IDPNJ) and Pontianak, Kalimantan (IDPNK) from Indonesia Main to Indonesia Sub, where they would be a better fit. In Indonesia Sub, we are merging Ujung Pandang, Sulawesi (IDUPG) port into Makassar (IDMAK) port.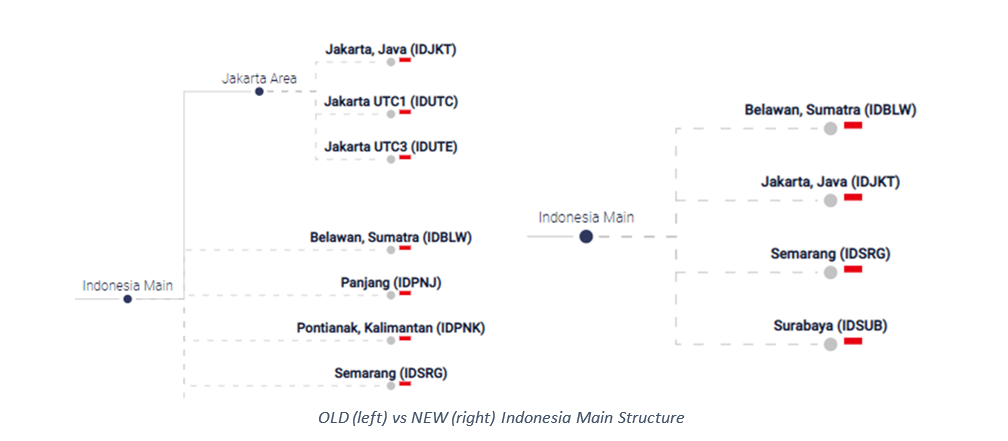 Malaysia
Similar to what we've done with Jakarta, we are merging Northport/Pt Klang (MYLPK) into Port Klang (MYPKG), and dissolve Port Klang Area region. We are also merge port of Johor Bahru (MYJHB) into Pasir Gudang, Johor (MYPGU), as they point to the same port.
We are moving some ports around as we found that they have stronger correlation to other regions. Thus, Pasir Gudang, Johor (MYPGU) is moved from Malaysia Sub to Malaysia Main; and Kota Kinabalu, Sabah (MYBKI) and Labuan, Sabah (MYLBU) are moved from Malaysia Main to Malaysia Sub.
We are also moving Singapore from Malaysia Main directly under South East Asia Main, as it is the largest port in the area and one of the largest in the world, and, obviously, is not a part of Malaysia either.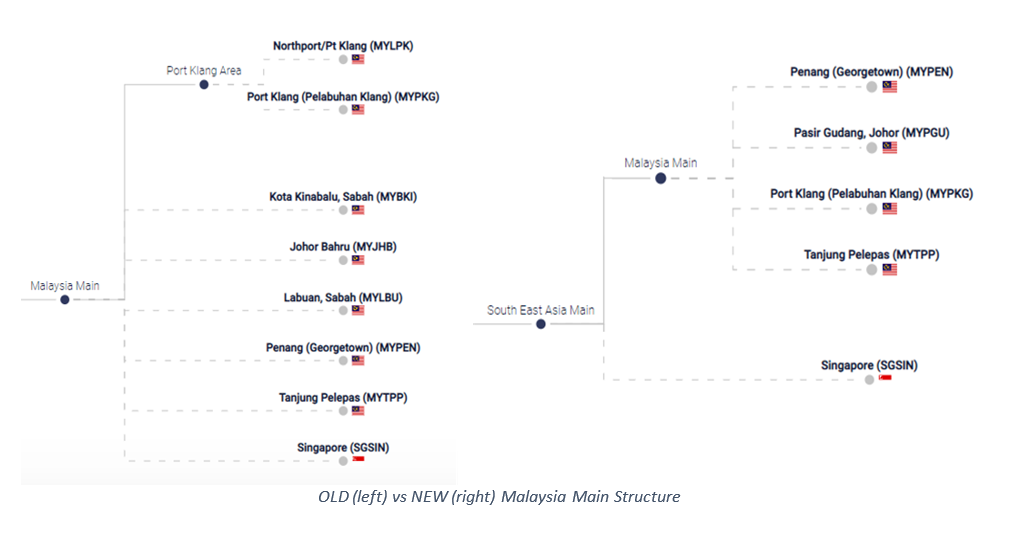 Thailand
We combined all Bangkok terminals – Bangkok Modern Terminals/Bangkok (THBMT), Siam Bangkok Port (THSBP), Klong Toey (THKTL), - under Bangkok (THBKK).


Vietnam
We moved Vung Tau (VNVUT) from Vietnam Sub to Vietnam Main.

Philippines
We created a new Manila Area region under Philippines Main and moved Manila (PHMNL), Manila North Harbor (PHMNN), and Manila South Harbor (PHMNS) into the newly created region. Even though all three Manila terminals are technically a part of the port of Manila, they are actually distinctive in both, who operates them, and their names/port codes. We have kept them separate for now, but under one sub-region to give an overview of all Manila locations at once.

IPAK
We are introducing a number of changes to IPAK region to make our benchmarks for these locations more precise. We split out India South Coast and Sri Lanka ports out of IPAK East Coast into a new, separate region. Similarly, ports of Bangladesh are moved and will now placed directly under IPAK, together with Male (MVMLE). We also added more granularity to India Inland region, that will now contain 5 sub-regions.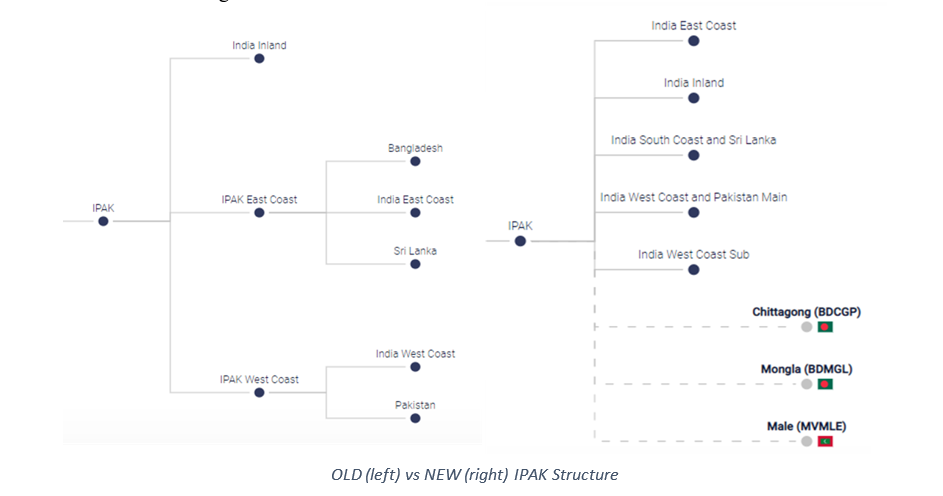 Europe
Europe Atlantic
We agree that seeing Portuguese or Spanish ports under Northern Europe might seem rather unnatural. Therefore, we are creating a new Europe Atlantic region, which will now be the third region in Europe, after Northern Europe and Mediterranean.
New Europe Atlantic region consists of the westernmost ports of Europe located on the Atlantic Ocean shore in France, Spain, and Portugal; starting from the English Channel/La Manche in the north, up to the Gibraltar Strait in the south.
The ports in the newly created region are split into the Main and Sub sub-regions based on their price correlation and size. We are also moving the Canary Islands region from Mediterranean to the new Europe Atlantic Region, but its structure remains unchanged.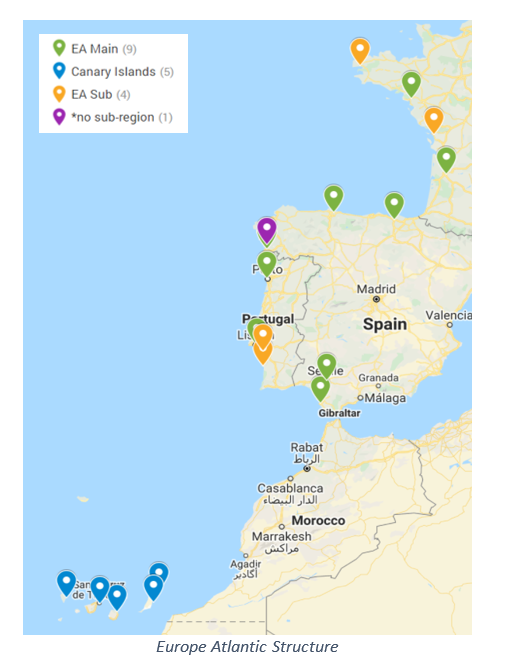 Northern Europe
United Kingdom
Considering Brexit and the service and pricing changes connected to it, we are creating a new United Kingdom region under Northern Europe, which now contains all the UK ports split into Main and Sub sub-regions. In addition, the UK Sub region is further split into two sub-regions: Scotland and Northern Island, and England.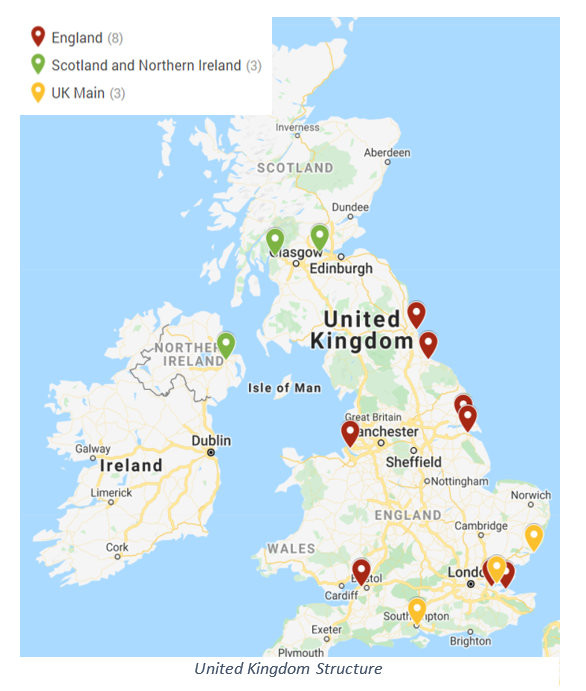 North Europe Main & North Europe Sub
As mentioned before UK Main is now a part of the new United Kingdom region, so it is removed from North Europe Main. In addition to this, we are adding Wilhelmshavn (DEWVN) to the North Europe Main region.
North Europe Sub region gets much smaller with the update: as explained earlier, we are moving a lot of ports from under North Europe Sub to the new Europe Atlantic and United Kingdom regions.
We are also adding a new sub-region for Ireland here, and merging Dunkirk (FRIRK) to Dunkerque (FRDKK) as they refer to the same port.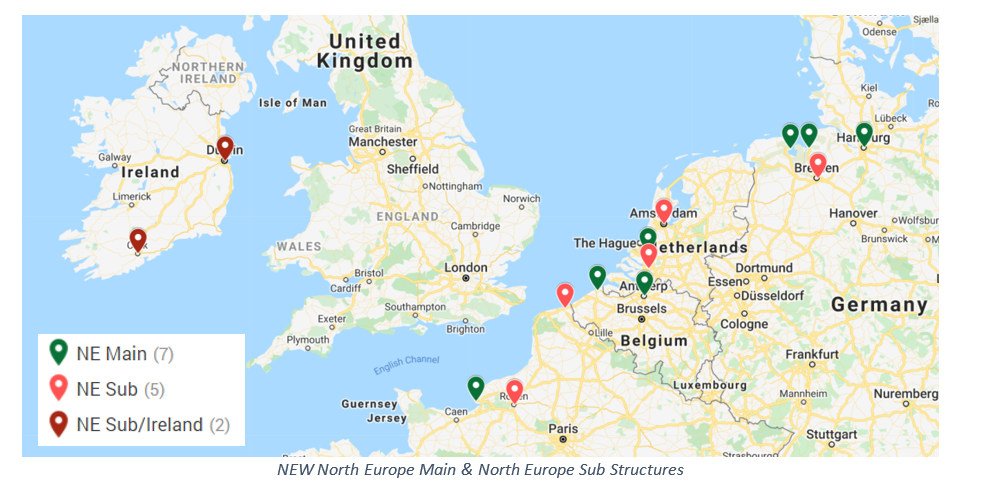 Scandinavia
We do not make any structural changes in Scandinavia, except for moving Thorshavn and Tromsø – the two ports that are consistently much higher priced than all the other ports in the region – from Scandinavia to directly under Northern Europe.
Baltic
We are "rebranding" the current Baltic region to North-Eastern Europe, so that the name gives a better indication of what's inside the region. In addition, we also rename Baltic Main region to Baltic States, to be more precise here as well.
We also make the structure of the region more granular: from Finnish ports that are now directly under Baltic, we create a Finland Sub region; and Saint Petersburg and Ust Luuga port will now be placed under a new region called Russia Baltic.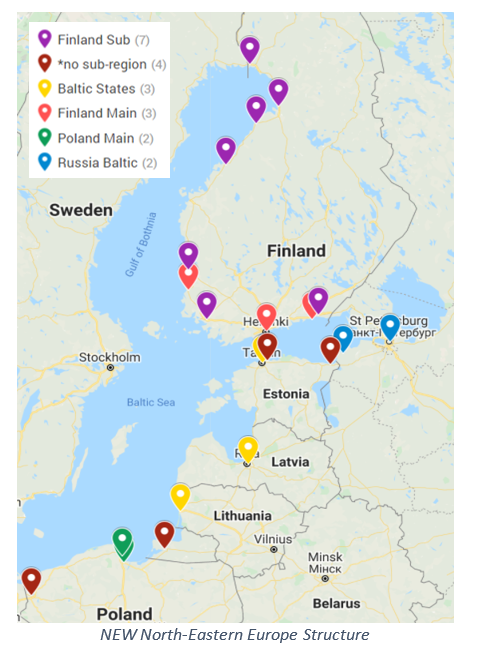 Russia North West
We deactivate Arkhangelsk (RUARH) port as it hardly involved in international trade and is mainly serving local and naval Russian ships. As a result, the Russia North West region that contained the port is also dissolved.


Mediterranean
We are moving Melilla (ESMLN) and Palma (ESPMI) from West Mediterranean Sub and Malta (MTDIS) from Mediterranean Main directly under Mediterranean.
We are also re-shuffling the Turkish ports between some of the Mediterranean regions: while Black Sea region remains unchanged, we are moving Aliaga (TRALI) to Aegean Sea/Sea of Marmara region, and Gebze (TRGEB), Gemlik (TRGEM), and Haydarpasa (TRHAY) to Inner Med from Aegean Sea. We are also creating a new Turkey Sub sub-region under Inner Mediterranean for bigger ports in the area.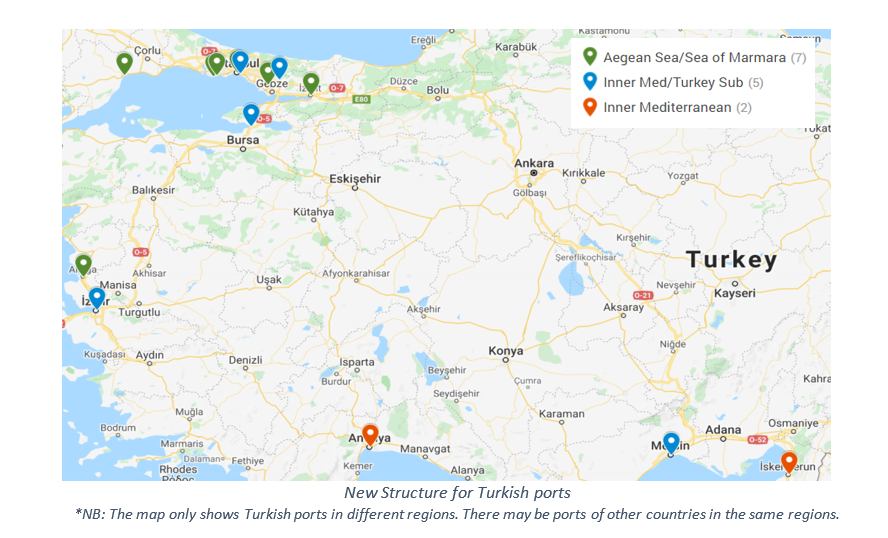 Middle East
Red Sea / Gulf of Aden
In the old structure for Red Sea / Gulf of Aden region, we have the ports of Yemen and West Coast of Saudi Arabia split into the separate regions, while the rest of the ports are simply placed directly under Red Sea / Gulf of Aden region. With the new structure, we aim to separate out a group of main ports, which will be representative of the price levels for Red Sea area.
Persian Gulf / Gulf of Oman
The old structure of Persian Gulf / Gulf of Oman region was based on separate countries. The new structure moves away from geographical or political borders and focuses more on similar rate levels and price correlations.
Mainly due to the country's location, the ports of Oman stand-out from the other ports in the area, therefore we decided to keep the region of Oman. However, we are merging all the ports that refer to the port of Muscat/Qaboos into one, that can now be found under Muscat/Qaboos (OMMCT).
Similarly, UAE are a somewhat special country, so we decided to keep it separate as well. However, we are moving away from East Coast/West Coast sub-regions we used to have in the UAE structure, to the more precise Main/Sub structure.
As for the rest of the ports, they are now split between two regions – Persian Gulf Main and Persian Gulf Sub, based mainly on ports' rate proximity and size.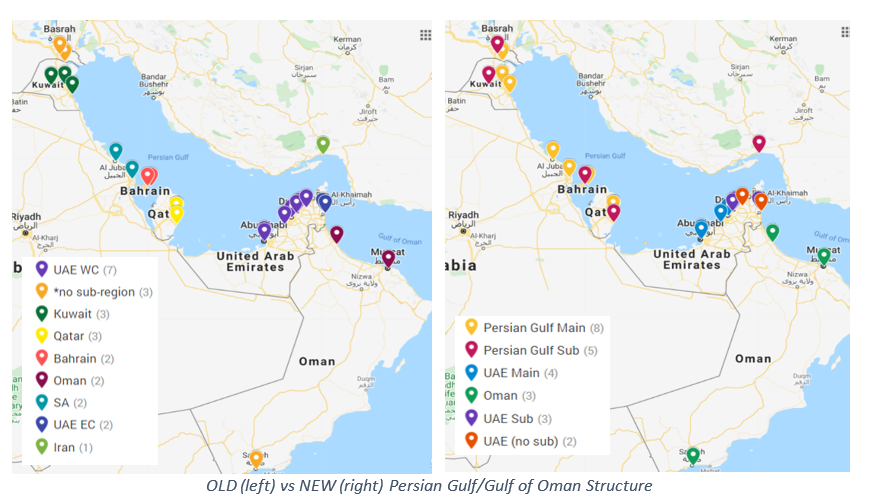 Oceania
Australia and New Zealand
In the new structure, we are moving on from the West Coast/East Coast logic that we used to have in Australia. In contrast, Australian ports will now be split into Australia Main and Tasmania sub-regions.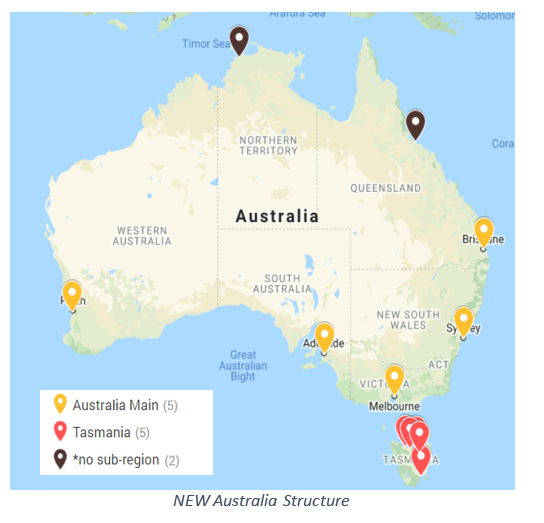 We are also adding more granularity to New Zealand, splitting all the ports between the New Zealand Main and New Zealand Sub sub-regions.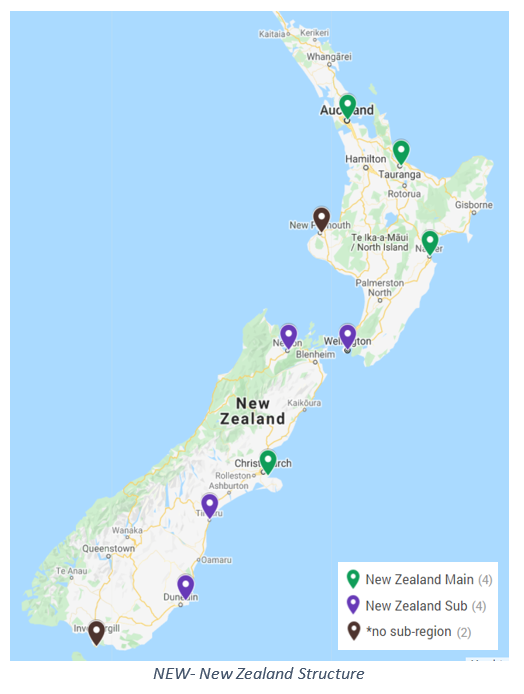 Important to mention here that Australia Main and New Zealand Main will be put under a new region called Australia and New Zealand Main, for those who want a better overview of the major ports in the whole region rather than each country separately.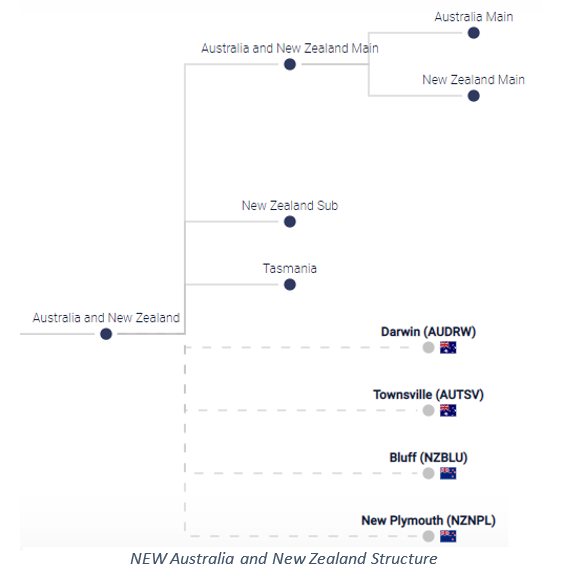 As you can also see, some of the smaller, remote ports of both Australia and New Zealand will be placed directly under Australia and New Zealand region with no sub-region.


Current Xeneta Customers
Check out the changes for yourself. Browse through our whole geo-hierarchy structure using our Geo-Hierarchy Explorer.
If you have any questions or want to learn more this product update, please contact your customer success manager.


Not yet a customer?
The ocean and air freight market is in complete flux. Do you want to learn more how Xeneta can give you instant visibility into ocean and air freight rates? Contact us and see Xeneta in action.



Author


Tetiana Voron
Sr. Data Analyst & Data Quality Lead
Xeneta