In the Xeneta platform, every port is part of a region contained by a broader region. The Xeneta geo-hierarchy consists of multiple regional levels, which begin on the port-level and expands to larger levels. We have been working on the South American ports structure and are excited to share the changes we are introducing to improve the structure of ports in both coasts of that region.
The goal for the new structure is to alter the grouping of ports in the region to align them further in regards to placement, port-size and rate proximity. On both coasts of South America, we have decided to introduce a Main / Sub structure similar to what is already in place in Asia and Europe as this further reflects real-world freight routes.
For customers, this means that when they go up in the geo-hierarchy in South America, they will get a more accurate aggregation of rates in a region where there is less rate density.
For example: The port of Callao in Peru (PECLL) illustrates the change we are doing in the geo-hierarchy. Previously, it would have been grouped with ports like the port of Paita (PEPAI). Looking at the size, rate correlation and location of Callao, we have identified that it is better to group Callao with ports that have more similar rates like the port of Guayaquil (ECGYE) in Ecuador. This means that the port of Callao in the new hierarchy is under the category of Main ports of South America West Coast. This also lets us group ports with more comparable rates like the port of Paita and the port of Esmeraldas together in South America West Coast Sub.
[CLICK TO ENLARGE]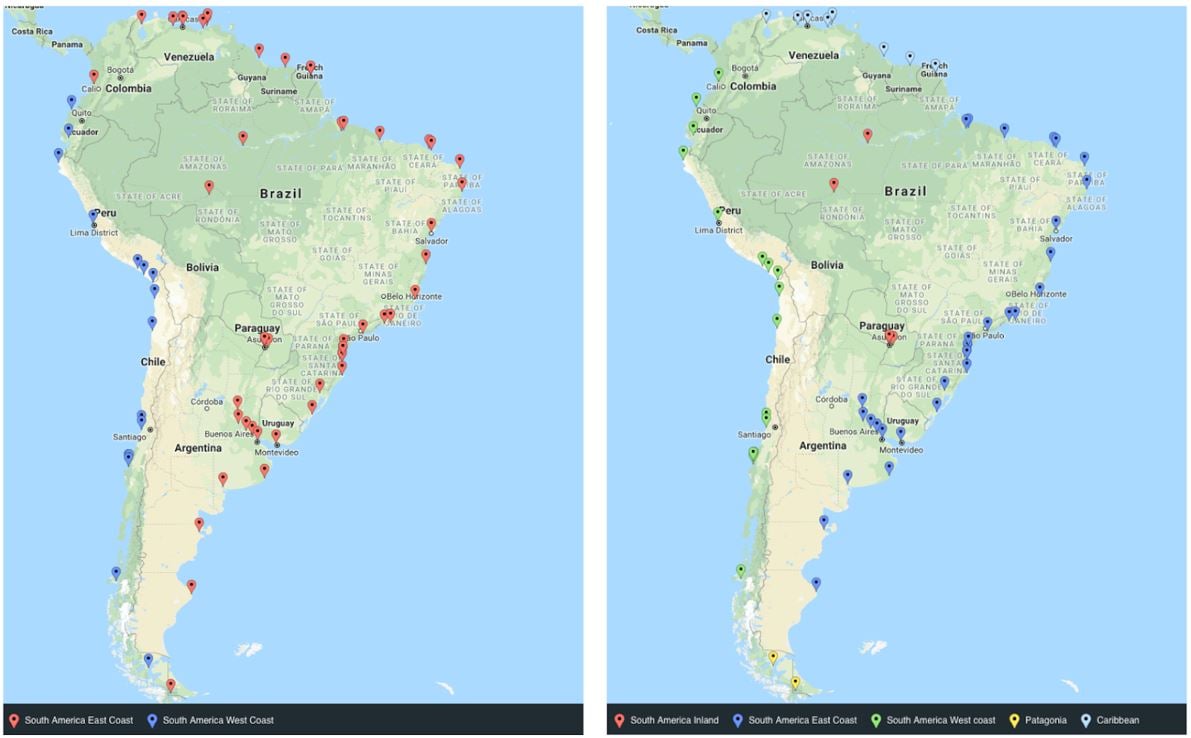 Left-side image: Old geo-hierarchy with two main regions.
Right-side image: New geo-hierarchy with 2 additional regions and Venezuela and the Guianas as a part of the Caribbean geo-hierarchy.
Additional Changes
We have also moved all ports located in Venezuela, Guyana, Suriname and French Guiana to be a part of the Central American and Caribbean geo-hierarchy as we found this to better align with location and rate levels.
We have also created two new regions in addition to South America East and West Coast; South America Inland, with sub-regions Amazonia and Paraguay, and Patagonia as we found that rates for ports located further from the Main coastal ports were correlated more than rates for Main ports or smaller ports located along the coasts.
Detailed Change List
Previous structure:
Two level 3 regions - South America East Coast and South America West Coast
Nine level 4 regions - one for each country in South America
Two level 5 regions - for instance Northern Brazil, Southern Brazil, Chile Main
New structure:
Four level 3 regions, two which are new; South America Inland and Patagonia
Six level 4 regions for instance South America East Coast Main, South America West Coast Sub, Amazonia
Nine level 5 regions like Northern Brazil Main, Guianas Sub, Peru Sub
By focusing on ports' rate proximity, location and size we have grouped ports on both South America coasts into Main / Sub ports. We have also added several new regions such as South America Inland and Patagonia so we can further reflect freights movement in the world.
*Region levels refer to the size of a geographic area and their position in the hierarchy. Level-1 regions are Latin America or Asia for example, South America is a level-2 region and all regions talked about in this piece are level-3 or lower. Ports usually have a level-3 or level-4 region as their closest region, e.g. Santos (port-level) -> South America East Coast Main (level-4) -> South America East Coast (level-3) -> South America (level-2) -> Latin America (level-1).