As we commence the first day of the 2022 Xeneta Customer Summit, we are excited to launch our Carbon Emissions Index (CEI) for the container shipping market in partnership with Marine Benchmark.
The CEI is the first-of-its-kind dataset that provides Xeneta customers with insight into the carbon emissions of carriers—tracking how they develop over time and compare to each other on 13 main global trade lanes.
Thanks to the way in which the emissions data is collected and aggregated by Xeneta and Marine Benchmark, the CEI is the only factual, timely, independent reference point that doesn't rely on or include carrier input. Want to see what's behind the CEI data?
Make the planet a bit greener and your ESG goals a lot stronger
Sustainability has become a key pillar for most industries, particularly as stricter regulations are being implemented to reduce emissions. Big shippers with CO2 targets are already choosing carriers who are not only reliable but also working actively to reduce their emissions.
This push within the ocean freight industry is a big reason why we invested in the development of this solution. Our customers, primarily shippers and forwarders, have been asking for ways in which they can better control and impact the sustainability of their freight buying and selling processes, and this level of fact-based transparency is a huge step in doing so.
Based on actual cargo load from confirmed sailings, the CEI offers the most transparent picture of carbon emissions available, helping you prioritize sustainability when tendering or reviewing suppliers and, ultimately, meet your ESG goals.
Ahead of the launch, the CEI was tested by members of Xeneta's customer portfolio, including leading global and Fortune 500 companies. One early adopter said, "What I've seen [in the CEI] allows me to give green carriers credit for tender. I think Xeneta can have a positive impact on the world with this data—the conversations with stakeholders about the data will lift this forward."
Understanding the Index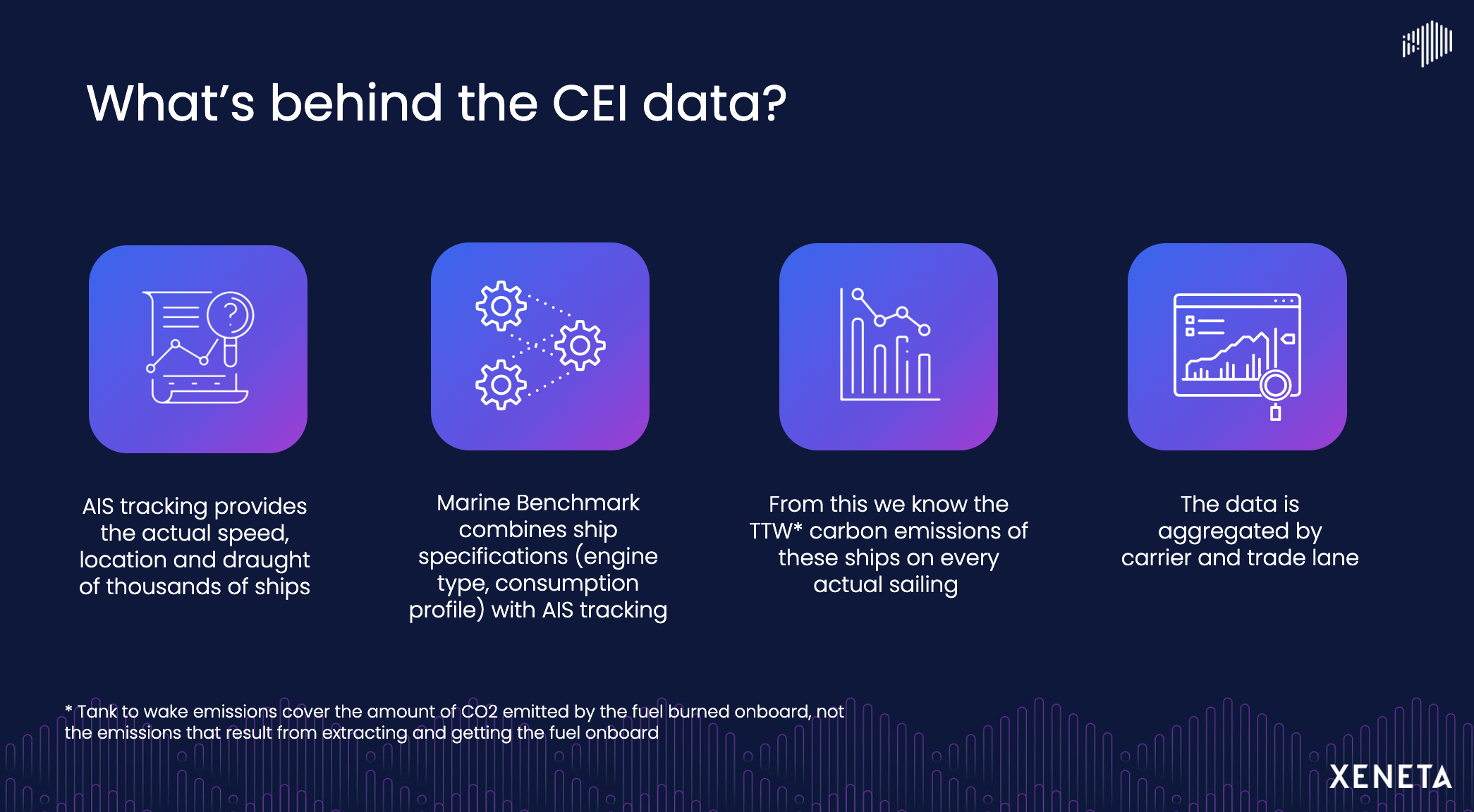 The data within the CEI is based on vessel information from a carrier's actual sailings—sourced through AIS tracking utilized by the independent analytics firm and Xeneta partner Marine Benchmark.
The data includes changes in speed, cargo load, time steaming and congestion shown by time spent at anchorages and is updated quarterly (less than two weeks after quarter close) with no input from carriers.
"Transparency is the key to unlocking enhanced value, business performance and trust in the ocean freight segment – and environmental standards are a key part of that," commented Xeneta CEO and Co-founder Patrik Berglund.
"This unique data set supports what Xeneta has already achieved in the rates arena, shining a spotlight of truth on carrier carbon emissions and assisting our customers as they push towards more sustainable freight buying and selling processes."
Ready to see the CEI in action?
It's time to do better for your customers and the planet. Take the first step toward a more sustainable supply chain by signing up for a demo of the CEI below.
Note: The CEI index is not meant to be used as a carbon accounting tool.