Since mid March 2017, the industry has been perplexed by the high rates and tight capacity on the Europe-Asia route. We have been monitoring the situation in our shipping rates index and have also received numerous feedback from our customers on the unusual high-rates challenge on this route. We do expect this peak in eastbound rates to begin to drop in the very near future. However, most interestingly, we notice from our shipping index that currently Europe-Asia rates have surpassed the Asia-Europe rates.
Eastbound Rates Beating Out Westbound Rates


As of this week, the eastbound spot rates are higher than the westbound rates (+17%) for a 40 foot container, which is unusual as the route has normally been stable and less volatile when compared to its westbound counterpart. That trend started from the end of March where eastbound rates ticked up significantly above the westbound rates.
On March 1, we noticed the beginning of the spike in the Xeneta index for the North Europe main ports - China main ports market average price. Since then, the rates, as we all know, have continued to rise on that route.
[CLICK TO ENLARGE]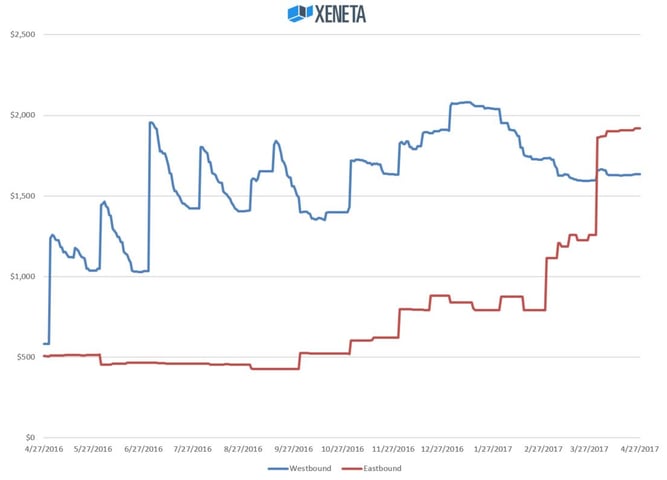 Data source: Xeneta Index
40 foot container | Spot market average rates
Europe - Asia Shipping Rates Climbing Strong


If we look back 12 months, the North Europe main ports-China main ports spot rate was at a market average price of USD 507 on April 27, 2016 for a 40 foot container. If we fast forward to (April 27, 2017), the same container type on that route is shipping at a market average price of USD 1919, +279% in 12 months.
As the new alliances continue to settle or struggle with settling, vessels complete their turnaround to the westbound routes, we do expect for the eastbound rates to normalize very soon, as well as the reported capacity crunches. Our sources are reporting that eastbound rates will begin to drop sooner than later. But, as we always say, the market remains unpredictable and we must remain cautious. We will come back with more information on the possible drop in rates on this route in the coming weeks.
One thing is for sure, 2017 is so far still looking much stronger than 2016. With such unusual happenings like this reversal of rate levels on these routes it is still anyone's game.
Make sure to have a look at our Q1 2017 container rates review and get an analysis on the ocean freight market rates so far. GET THE WEBINAR NOW!.