This week, we head Down Under to continue our series 'No two trades are alike' and demonstrate the importance of understanding the granular detail of supply chains.
This latest insight will focus on Australia and New Zealand (AUS/NZ) and uncover the contrasting rate developments when shipping goods on the backhaul to China and Southeast Asia (SEA).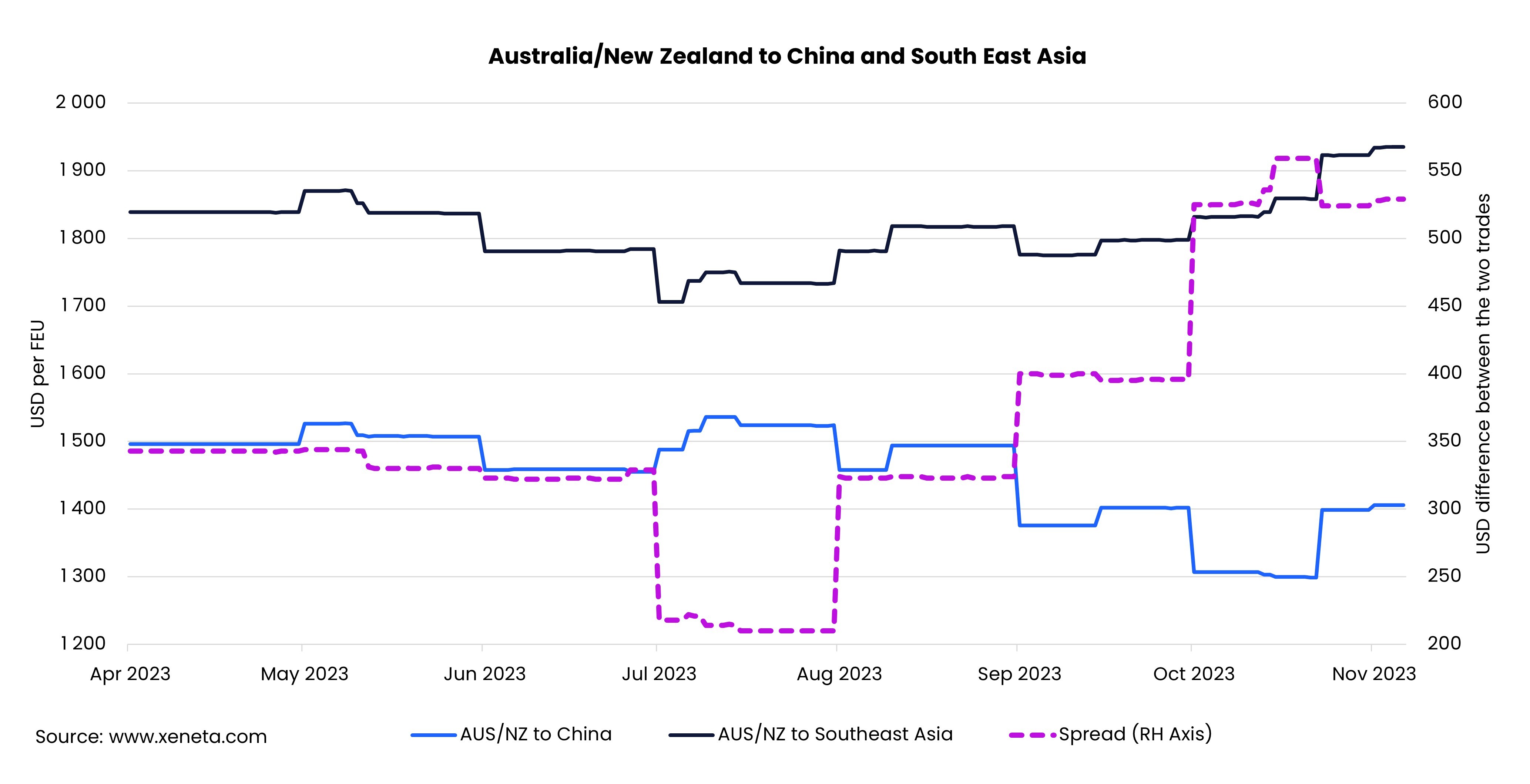 Since September, freight rates to China and SEA have moved in opposite directions – and July wasn't smooth sailing either. But what could lie at the heart of conflicting fortunes for rates coming from the same region?
In early November 2023, the spot rate spread between AUS/NZ to China and AUS/NZ to SEA was USD 529 per FEU. This was slightly down from where it was in the second half of October, but still hovering around an all-time high level.
During the Covid years, the spread was volatile, fluctuating between USD 100 and USD 470 per FEU. But it was not until October 2023 that the industry experienced a spread above USD 500 per FEU.
For several years the rates from AUS/NZ to China and SEA seemed to be synchronised, but then something changed.
First, in July 2023, rates from AUS/NZ to China increased while rates to SEA began to fall, bringing the spread down to an average of USD 213. By early August, order appeared to be restored when rates headed in the opposite direction and returned to parity.
Since September however, the disconnect between these two seemingly similar trades has resurfaced and is now almost altogether severed. Rates for containerized goods moving from AUS/NZ to SEA continued to increase while rates for containerized goods heading towards China embarked on a volatile downward trend.
What's happening?
As the title of this series suggests, 'No two trades are alike', so what is going on Down Under?
If you were to read the first page of a book on geopolitics in global logistics, you would probably find a section on how diplomatic relations can impact trade between nations, and therefore also ocean freight rates.
Australia's trade relationship with China encountered some obstacles during the Covid years, which resulted in restrictions on Australian imports.
Even though these restrictions gradually began to be lifted in 2022, back then Australia needed to look for alternative trade partners, or build better relationships with existing ones. To illustrate the seriousness of these restrictions, during 2019 and 2020, China was Australia and New Zealand's biggest trading partner by some margin, if measured by data tracking of containerized goods.
This then changed dramatically, and by the beginning of 2021, SEA became Australia and New Zealand's number one trading partner.
For the full year of 2021, AUS/NZ exports to China fell by 27%, while they jumped by 35% into SEA.
However, more recently the tables have turned yet again, with AUS/NZ exports to China in the first nine months of 2023 growing by 20% year-on-year to reach 460 000 TEU. This is contrasted by trade with SEA growing by only 4% in the same period (source: CTS).
The balance of trade with China and SEA was upset during the Covid years and the impact is continuing to this day through pendulum-like swings in AUS/NZ trade relationship with these regions.
Politics at play
Trying to single out one sole reason for change on any trade lane is a fruitless task due to the myriad of complex factors at play. But the development of trade partnerships between nations is often a good place to start looking.
During 2023, political moves to improve relationships with both China and SEA have been afoot. Firstly, on 21 August, an amendment to the ASEAN-Australia-New Zealand Free Trade Area was signed, deepening the economic ties between these regions.
Then, as recently as 4 November, Australia Prime Minister Albanese visited China – the first visit by any Australian leader in seven years – as he sought to use trade as a way to anchor and stabilise ties between the nations.
We should also look towards the fronthaul trades between these two regions where China to AUS/NZ spot rate has increased since mid 2023 while SEA to AUS/NZ has gone sideways. Demand was also up on the fronthaul on both trades.
With this in mind, we may suspect there is a degree of smart capacity management taking place by carriers which impacts both the fronthaul and backhaul between AUS/NZ and China and SEA.
As we repeatedly make clear, 'No two trades are alike' and who knows how long the pendulum will keep swinging before trade between AUS/NZ and China and SEA returns to its synchronicity. Will we see rates continue to move in opposite directions or will the remainder of 2023 see a closing of the spread between China and SEA?
Only time will tell, but the development of rates in this region is certainly one to keep an eye on, and the best way to do that is through Xeneta's data benchmarking and intelligence platform.
Want to learn more?
Contact us to learn how Xeneta can help you prepare for this upcoming tender season and supplier/buyer negotiations. Gain the upper hand with actionable real-time ocean and air freight rate and capacity data.