With General Rate Increases (GRIs) driving spot rates up, carriers are coming into tender season with more negotiating power. However, Xeneta data shows that shippers who set sharp tender target rates add 2-15% points improvement on their tender performance versus the market.
Here are our top five tips for how shippers can set relevant and accurate targets to increase the long-term success of their procurement strategy.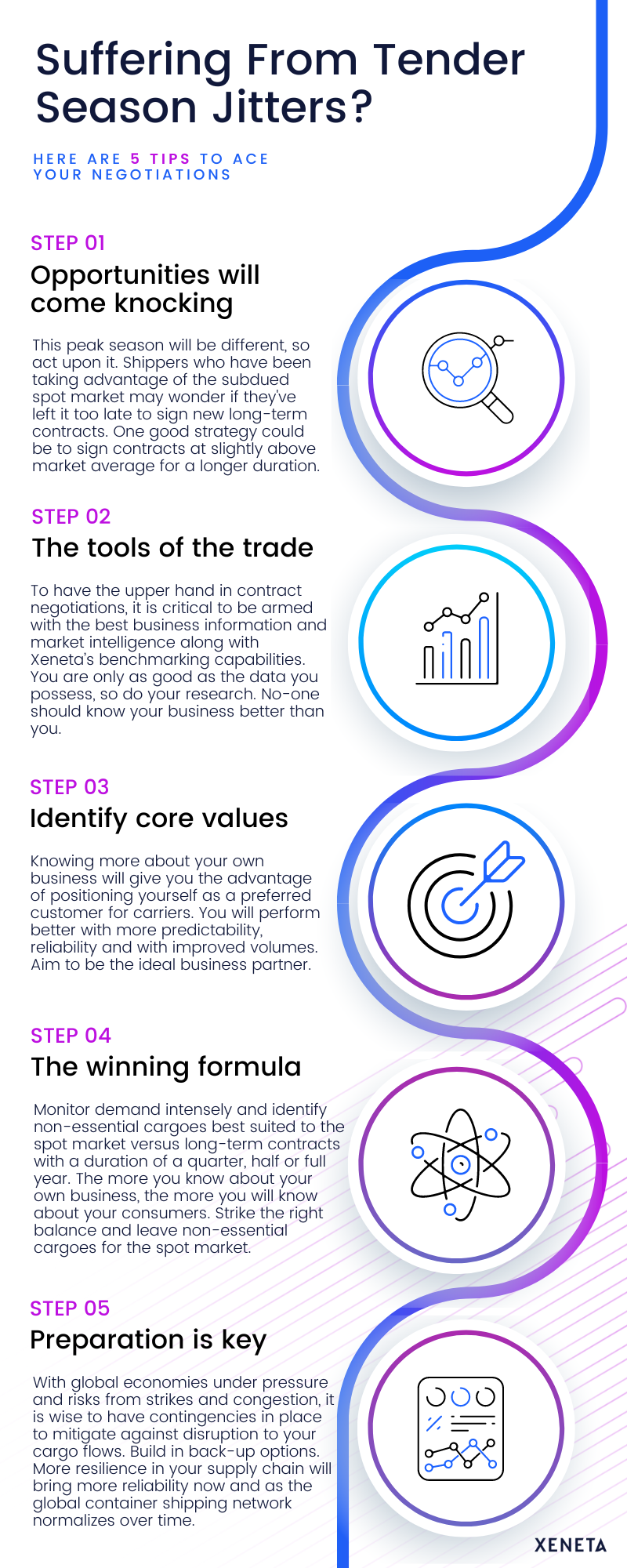 This peak season will be different, so act upon it.
Changes in the global supply chain have been ongoing over previous weeks, months and years, but be alert to swings in your consumer demand and transportation needs this peak season. It will be different. Shippers need to be vigilant and prepared to act.
For the first time this year, we're seeing spot rates move ahead of long-term rates across major trades thanks to carrier GRIs. In peak season and Europe's tender period, shippers who have been taking advantage of the subdued spot market may wonder if they've left it too late to sign new long-term contracts. It may be a good strategy to set targets for long-term contracts at slightly above market average, but for a longer duration, to lock in good rates before the market swings higher.
Monitor your own demands, as you will need to be on top of your own business needs and capacities going into this tender season.
Having full visibility into your supply chain allows you to take a holistic, data-driven approach to freight procurement and tendering.
The more you know about your own business, the more you will know about your consumers. Armed with all that information about your own business, combined with the market intelligence and benchmarking abilities that we offer at Xeneta, you will be very well placed going into contract negotiations for the coming months, quarters and even years ahead.
Knowing more about your own business also gives you the advantage of positioning yourself as a preferred customer for carriers.
That knowledge will help you perform with more predictability and reliability, with higher volumes, and will enable you to leverage your business towards your preferred carriers.
Strike the right balance between spot and long-term contracts when tendering is necessary. Identify your non-essential cargoes and leave those to the spot market versus long-term deals with a duration of a quarter, half or full year. Seek flexibility to tip the scales in your favor.
Finally, even the best-laid plans built on the strongest foundations can be shaken by factors outside of your sphere of influence.
As global economies remain under pressure thanks to high inflation and low consumer demand, this year has also seen a continuous stream of disruptions such as industrial action and strikes, Panama Canal congestion, and capacity management in the form of blanked sailings. These factors will test your management strategies and resilience.
It is wise to build in contingencies to your models and plans, so have a Plan B ready for when the next port or terminal is hit by strike action, like the recent dock workers' strikes in Canada. Preparation can mitigate cargo flows being disrupted. Aim to strengthen resilience in your supply chain if possible and to find more reliability.
Taking these recommended steps should ease your voyage across some choppy seas as the global network of container shipping normalizes over the year - well, the coming year, at least.
Want to learn more?
Stay on top of the market with our monthly webinars. Learn how current market disruptions are affecting freight rates and discover how accurate real-time rate data can help you strategically procure and sell freight, even in a volatile market.