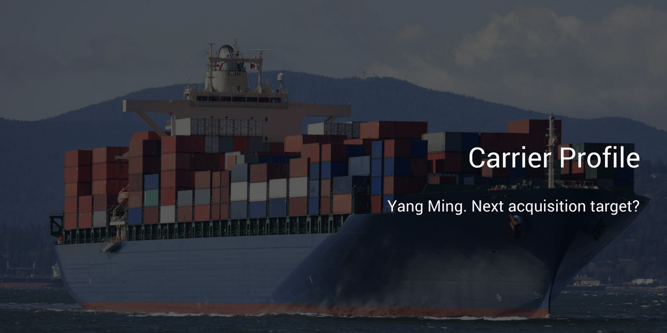 Rumors of "who's next" constantly swirl within the battered ocean freight market. Whether it's another bankruptcy or acquisition, fallout within the market continues as it works to right the ship. Increasingly, the focus is on Taiwan's Yang Ming. Can it continue as is, will it need propped up financially or will it be allowed to collapse? Many questions surround this carrier. Below we continue our carrier profile series.
Debt-Burdened


Since the Hanjin collapse, Yang Ming has assumed the title of the most debt-burdened container line in the industry. Even though the Taiwanese government holds a 33% stake in the company, it has been suggested that Yang Ming would benefit from a government-led restructuring.
Yang Ming and Evergreen, Taiwan's second ocean freight carrier have borrowed heavily over the past few years to buy a number of mega-vessels. But this along with slowing trade and other issues resulted in Taiwan's government to approve a $1.9 billion relief package for both Evergreen and Yang Ming which includes a credit line with preferential interest rates.
In addition, Yang Ming is undergoing numerous cost savings measures such cutting the salaries of first line managers by 30% while executives' pay reduced by 50%. There are also new guidelines implemented to achieve nimble operations and more stringent cost controls.

Acquisition Target?
Calls for the two Taiwanese carriers to merge have grown louder. Evergreen and Yang Ming have quietly slipped in global rankings as the market consolidates. Yang Ming appears to have slipped from 8th to 9th with 580,000 TEU of capacity while Evergreen has fallen to 7th from 5th. Combined, the two carriers would be almost as large as COSCO.
However, Yang Ming's chairman told JOC, "Would Evergreen merge with Yang Ming? I don't think it's possible because, don't forget, Yang Ming has one third of its share owned by government. Are you going to buy a company owned by the government?" Separately he said that the carrier would remain small and independent.

Outlook | THE Alliance
As Yang Ming cuts costs, it is preparing for its participation in The Alliance, set to begin in April. The Alliance partners plan to deploy a fleet of more than 240 ships in the Asia/Europe, North Atlantic and Trans-Pacific trade lanes including the Middle East and the Arabian Gulf/Red Sea. The service network is expected to cover more than 24 ports in Asia including ten Chinese and five Japanese ports, 20 ports in the US and Canada, six North European and 13 Mediterranean ports, six ports in the Middle East and six ports in Central America/Caribbean.
Yang Ming will be the smallest carrier in the group. According to industry analysts, to be a genuine global liner company in today's container shipping environment, a company needs to have at least twice the capacity Yang Ming controls.
It may eventually be in Yang Ming's best interest to focus on intra-Asia trade. The company's debt continues to increase with a combined $407 million in its first three quarters in its current financial reporting period. Yang Ming may be force to come to terms with its situation sooner than later in an ocean freight market that still remains in turmoil.
Shipping Rates May Be on the Rise | Have the Upper Hand
Find out how to stay ahead of the market to make sure your shipping prices are competitive and cargo flow uninterrupted. Get the data and intelligence you need to have informed negotations and discussions with your suppliers.
Download our webinar, where we review shipping rates for the main global routes and you'll get answers to questions like:
What should you be on the lookout for during your 2017 ocean freight negotiations?

What was the price activity like for the spot market in Q4 2016 for Asia-N.Europe and Asia - North America West Coast and how are long-term rates behaving?

Should shippers continue to wait out contract negotiations or is it getting risky?