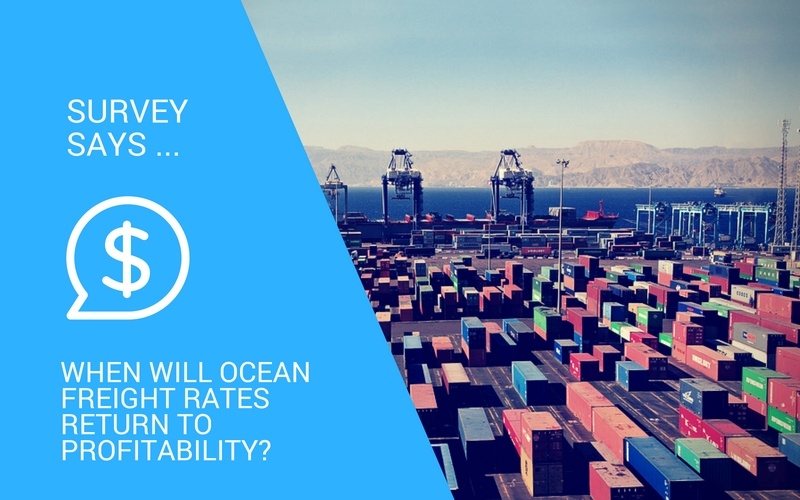 In last week's survey, we asked the social media community when they expect the ocean freight market to return to profitability. It seems to be the same news each quarter of late; ocean carriers continue to report dismal earnings. Many analysts wonder when the industry will, if ever, return to profitability. We thought it would be interesting to see what professionals in the industry thought via our social media channels.
The response was interesting ranging from one to nine years but the greatest response, 58%, was in four-nine years. It seems not all hope is lost, but there is little confidence there will be a short-term rally.

Magical Balance Between Quality Service & Cost Needed


Various measures have been taken by the carriers such as mergers and acquisitions; implementing capacity-management programs and scraping an estimated 1,000 ships with a combined capacity to haul 52 million metric tons of cargo this year. Still, it doesn't seem to be enough.
Fauad Shariff, founder of CoLoadX, commented "Capacity cuts are one way to get there, but until world trade volumes start hitting 5% CAGR, nothing changes."
Meanwhile, Antonio Mojica, an executive with Puerto Rico Importing, cautioned in one LinkedIn discussion group, "Once the ocean carriers understand that the most cost-effective way to preserve the industry is not lowering costs. [Carriers should] create competition based on quality of service in a stable range of costs."
Indeed, Chris Welsh, Secretary General of the Global Shippers' Forum, has argued that shippers continue to experience poor quality of service and disruption to their supply chains through the bunching of vessels, voided sailings and other delays. "The onus is on the shipping industry to demonstrate that the bigger ships and alliance business model is the best response to the economic and financial challenges faced by carriers but also adds value to customers," Mr. Welch said at the International Cargo Handling Coordination Association earlier this year.


Dire Results Call for Drastic Measures


For some carriers, drastic measures may be in order to achieve profitability. Having just recently fired its CEO, the largest carrier, Maersk, reported a 90% decline in net profits in its second quarter earnings. "If you look at the general market, the rates are at an all-time low so the shipping market is challenged ... but when we look at ourselves, we also have the lowest cost per shipped box that we've ever had so we are adapting to these environments.
But, in general, shipping markets and specifically container markets are uncertain going forward." Trond Westlie, chief financial officer of Maersk Group, told CNBC. As a result of uncertainty, it is rumored the company is considering further measures, splitting the company into two companies, energy and transport, as the company performs a strategic review due mostly to falling oil and shipping prices.
With even the largest ocean carrier struggling, improved conditions can not arrive quickly enough.
When do you think the ocean freight market will return to profitability? Continue the conversation, leave your comment below.


Stay Informed with Shipping Prices in Real Time


Learn how the Xeneta platform can help you stay on top of the shipping market prices in real time and on demand. Download our webinar to learn how Xeneta can help you benchmark your ocean freight rates and get intelligent data to optimize your logistics and supply chain management.