Company
Freight Forwarding
Freight Industry
Xeneta Introduces Expert NVO Commercial Team
Thomas Sørbø
Dec 05, 2017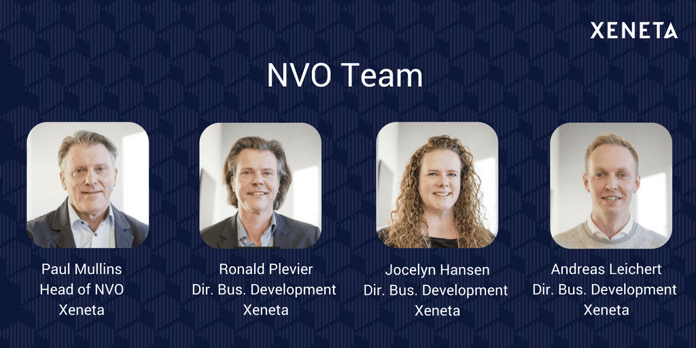 I am happy to share the news that we have fortified our NVO offering introducing a first-rate NVO Commercial team. We are pleased to bring on board shipping industry experts Paul Mullins, Ronald Plevier and Jocelyn Hansen to join Andreas Leichert, our resident freight forwarding Director of Business Development.
The team, led by Paul Mullins (shipping, NVO, supply chain, logistics and sales leadership veteran) previously with INTTRA, Agility and DHL, is tasked with scaling our NVO business and drive awareness of Xeneta within the freight forwarding ecosystem. The team's deep industry experience from various companies in the field is an immense benefit to Xeneta as we aggressively push forward to deliver our freight rate intelligence platform to all related stakeholders in the market.
Ronald Plevier and Jocelyn Hansen, both joining Xeneta as Directors of Business Development NVO, bring each 15+ years of industry experience from companies such as INTTRA, the ocean shipping industry electronic transaction platform, as well as various other transport management, forwarding, warehouse and cross dock IT software companies.
In the past year, we have made enormous strides in the freight forwarding arena where we now count some of the world's largest NVOs as customers. Thanks to the hard work done so far by Andreas Leichert, Director of Business Development NVO at Xeneta. Together with the incoming team, I have no doubt that we will continue knocking down doors and gaining ground in the industry.
A big welcome to the new team and I wish them great success as we continue our journey together in this exciting industry.