With the recent influx of negative headlines and the economic outlook anticipating an imminent stock market collapse, Xeneta customers were recently asked this week how they expect this to impact their freight in a customer-exclusive webinar. Changes to volume are to be expected due to seasonality, a drop in availability of exports and most recently, inflation's impact on consumer demand – but can the combination of these factors sustain the looming chance of recession?

Xeneta VP of Strategic Accounts Michael Braun and CPO, Erik Devetak asked our customers, and you'll find the results below. The implication of this considering how much GDP is connected to the customer consensus could mean recession alone.
Key Highlights | Xeneta Customers Say
54% of customers anticipate a decrease in volume in the coming months consistent with recession predictions

30% of customers believe their forecasted allocation to be too high, showing a reduction in demand

44% of customers no longer feel confident in the stability of long-term contracts



Additionally, over half of the customers were impartial to the security provided by long-term contracts.

When asked about their confidence in long-term contracts:
22%

of Xeneta customers said they were more likely to allocate lower volumes only to cheaper contracts

22%

preferred to move allocation to the spot market as soon as it's lower than long-term.
This adds pressure to the remaining 57% of customers who admitted to staying committed to previously contracted allocation even if volumes are lower than expected. A pandemic-imposed shift, a modern contract structure is emerging with more shipper autonomy and less power to the age-old long-term contract at a fixed rate.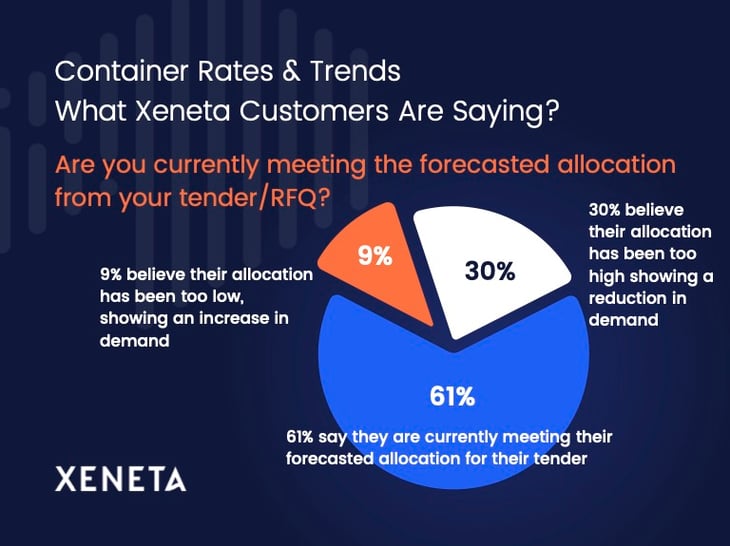 Michael and Erik engaged customers further, asking:

How many customers felt they were currently meeting their forecasted allocation/RFQ?
61%

of Xeneta customers believed they were just about meeting their forecasted allocation from the tender season.

31%

of customers implied they have already seen a decrease in consumption impact demand as their allocation has been too high.




Notable market movements for the quarter like the easing of lockdowns in Shanghai, elevated pricing on supply, slowing demand, omicron lockdowns and the ongoing war in Ukraine continue to impact the supply chain and further complicate recession predictions and decreased volumes at the same prices but the consensus of decreasing volume and a willingness to break contracts and negotiate lower on the spot market could be the perfect storm for the market.





Want To Learn More?
Xeneta customers get access to monthly market commentary during the Ocean Freight Market Pulse Webinars. Learn more about the Xeneta platform and how to become a customer now.