What happened in the ocean freight market this past month? Charter rates are in freefall—carriers are trying to limit potential damage by holding off on new bookings as demand evaporates. How can shippers leverage this transition of power in negotiations?
Tune in to the latest episode of our leading monthly 'State of the Market' webinar for ocean freight with Peter Sand, Chief Analyst at Xeneta, and Emily Stausbøll, Market Analyst at Xeneta, to get an understanding of where the market currently sits, and how you can work towards bringing all your tenders to reasonable targets.
Note: Xeneta customers are invited to join the upcoming exclusive customer session. To learn more, please visit your 'Xeneta Customer Hub.'
State of The Market | Where Are We Now?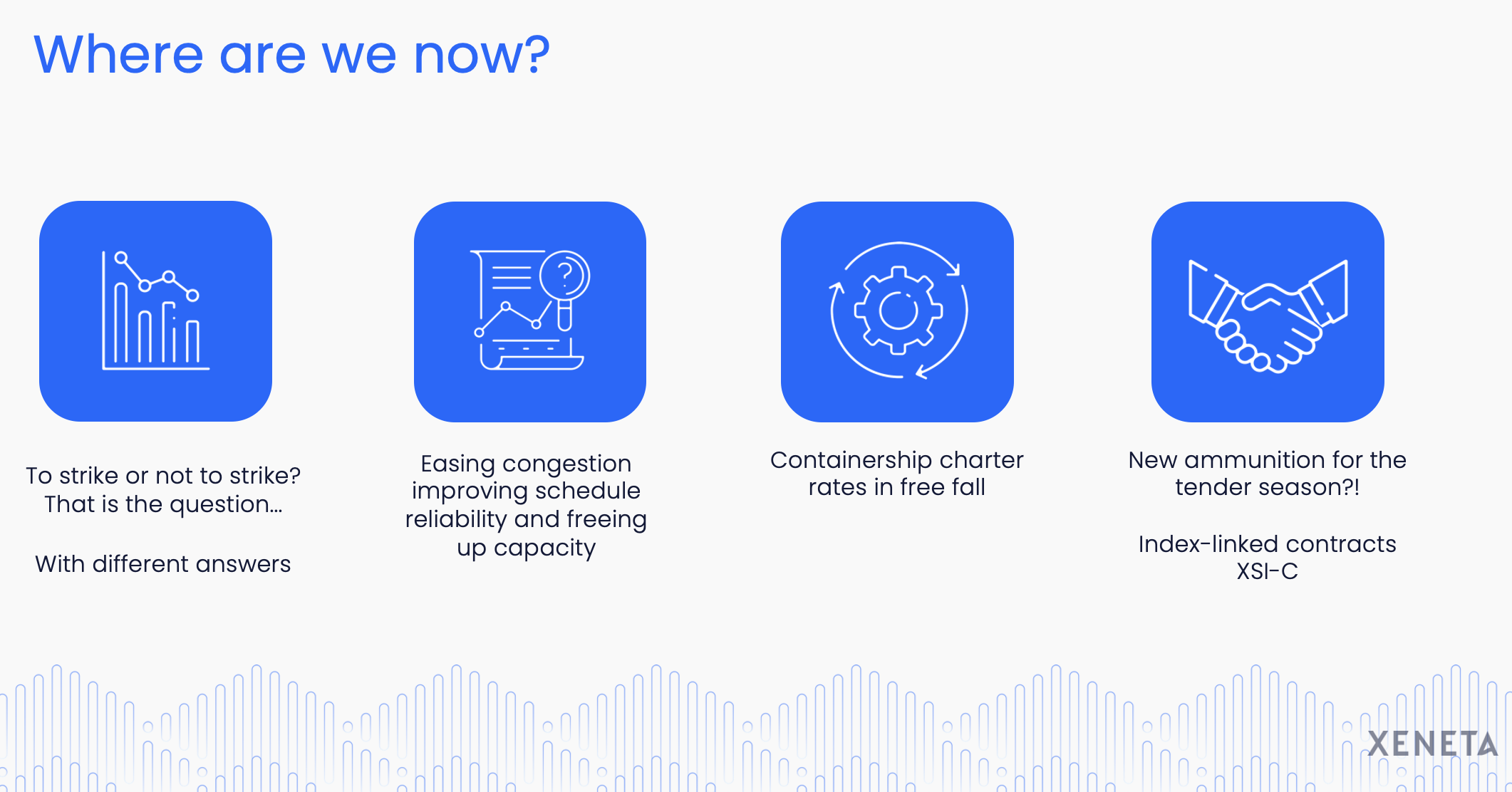 To strike or not to strike?...
In the UK, Felixstowe was on strike last month and is on strike again. Peter Sand, Xeneta's Chief Analyst, expects rolling strikes in the UK until the situation between the members of the union and the employers at the ports is settled.

With strikes over in Germany, congestion still remains the topic of concern in the larger part of Europe. However, congestion is slowly improving in other North Europe ports as demand and capacity calling at the ports fall.

If we move across the pond to the US, there are also different answers to the strike issue. A couple of weeks ago, closer to the strike date, the unions and the railways reached an agreement. The government stepped in, negotiated the deal to avoid any further consequences of more strikes and agreed on a peace deal.

However, the West Coast negotiations are still dragging since they started five months ago. We have yet to hear any substantial progress on main topics, which we expect to control the larger part of the discussions.

We are yet to see whether the government will choose to step in here or not, as more strikes will are bound to have huge implications for the overall US economy.
Index-linked contracts can be new ammunition this tender season.


Everything is connected in the global supply chains. So when speaking of easing congestion on the US West Coast, many headlines might have suggested normalization of congestion. However, even though the congestion is significantly down from this year's peak, it is still double compared to the pre-pandemic levels.

The US West Coast labor negotiations continue to be a threat and might worsen congestion on the US East Coast while freeing up capacity. But this is just a teaser to what comes in a short while as the containership charter rates are in freefall.

Xeneta experts suggest considering index-linked contracts as an opportunity this tender season, especially in volatile times like these, where even the market seems less volatile right now; you may face an upside risk in the near future depending on if you're a shipper, carrier or freight forwarder.

For example, from the Far East to the South America East Coast and West Coast, we could see spot freight rates falling, going sharply up again and now falling again. We also saw long-term contract rates being signed at lower levels, then higher levels, and most likely again at lower levels soon.

Hence, in order to manage such risks of fixing a rate at fixed volumes, it might be beneficial to introduce a little bit more complexity into the new contracts, including a renegotiation clause, if needed.
Port Congestion in UK/Continent And US East Coast
Containership Charter Rates In Free Fall
"It definitely shows a shift in demand for the tonnage, and that's ahead of all the huge amount of deliveries expected in 2023 and 2024. Again, is there really that need for tonnage at the moment? It seems the answer to that is NO," said Emily Stausbøll, Xeneta Market Analyst, while talking about the freefalling charter rates and how carriers are trying to limit potential damage by holding off on new bookings as demand evaporates.
Xeneta Platform Deep Dive
Focusing on one of the key trade lanes out there where you can also see great coverage on the net platform from Japan, Korea, and main ports to China, you can see a flat development in the spot rates in the Xeneta platform.
"Intra-Asian is the one market that beats the global trend right now and tends to state some sort of a comeback in terms of volumes right now," said Peter Sand, Xeneta Chief Analyst while reviewing the container freight rate movements on this trade.
North Europe Main to US East Coast Main
Key Webinar Takeaways:
What effects (if any) will peak season have on your supply chain and rates?

How sharply can we expect spot rates to fall?

What impacts do recent FMC legal cases have on relationships with carriers?

Container rates movements on major trade corridors
Learn More
Watch the full webinar on-demand to start your journey toward data, not gut, -driven decisions, that empower your ocean freight procurement.
Note: Xeneta customers are invited to join the upcoming exclusive customer session. To learn more, please visit your 'Xeneta Customer Hub.'