We return with the newest installment of the Xeneta and Marine Benchmark Carbon Emission Index (CEI), focusing on trade from the Mediterranean to the Far East. In the second quarter, Ocean Network Express (ONE) led the pack with a score of 64.4 points, surpassing the trade lane average by 35.8 index points. It's essential for environmentally conscious shippers to be aware of this data, as not knowing might cause them to miss the chance to prioritize the carriers with the lowest carbon emissions when assigning their cargo allotments.
Q2'23 CEI Carrier Ranking
Mediterranean - Far East
| | | |
| --- | --- | --- |
| RANKING | CARRIER | CEI SCORE |
| 1 | ONE | 64.4 |
| 2 | Yang Ming | 78.8 |
| 3 | HMM | 80.8 |
| 11 | ZIM | 168.2 |
In the recent quarter, ONE surpassed other carriers in the Med-Far East trade route, primarily owing to two elements. The foremost factor is their reduced speed, averaging at a lane-low of 12.3 knots. Additionally, with an average vessel age of 4.2 years, ONE's fleet in this route is 2.5 years younger than the average, standing as the secondary contributing factor to their good performance.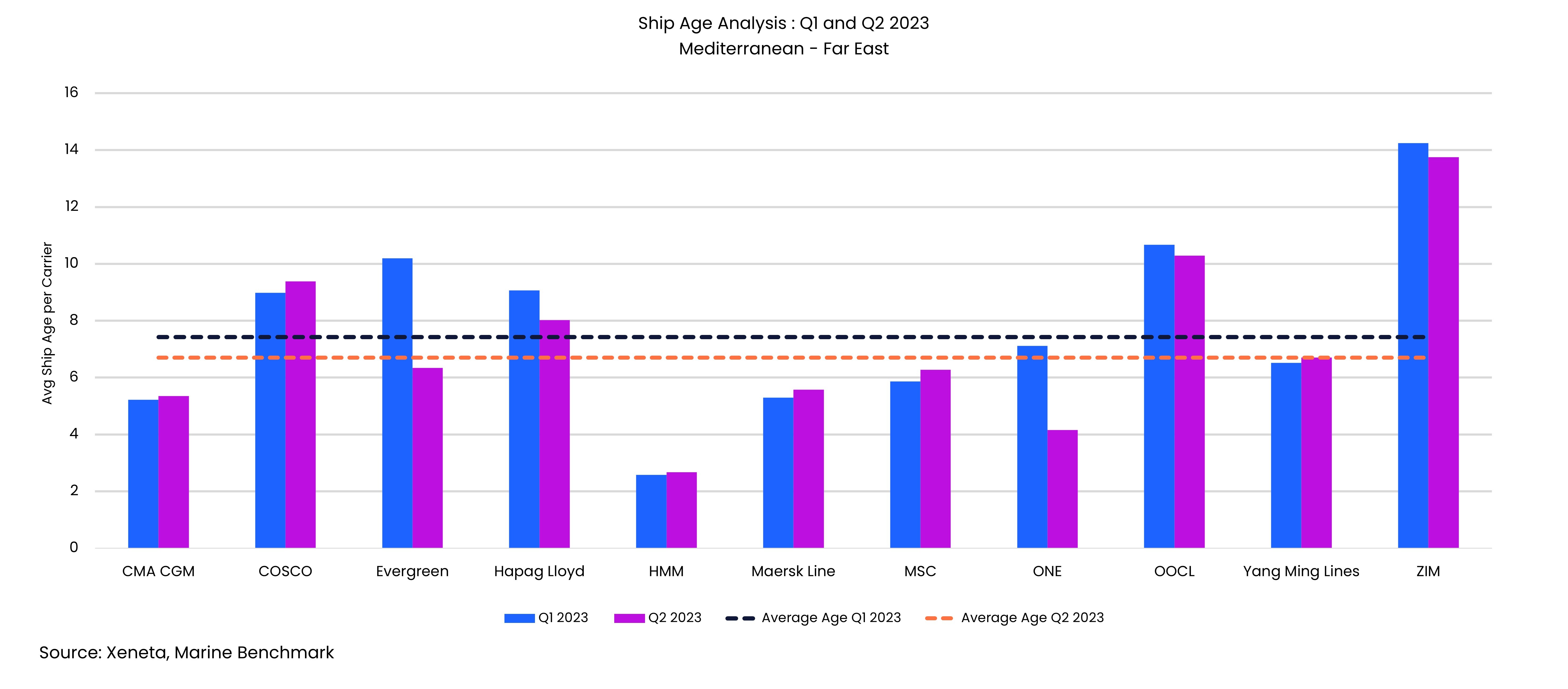 In Q2, the +2m TEU per year backhaul lane saw its CEI score go up by 2.8 points. But there's some good news too. The trade lane did better in a few main areas. For one, the average ship size grew by 3% to a record 15,600 TEUs. Also, ships on this lane got a bit newer, dropping from an average age of 7.4 years in Q1 2023 to 6.7 years in Q2 2023.
The average CEI score went up because some carriers didn't do as well. For example, in Q2, ZIM's CEI score was 168.2, which is 68% higher than the usual score for that trade route. ZIM uses different ships than other carriers. Their ships can hold 4,400 TEU, while most ships on this route can hold 15,600 TEU. Also, ZIM's ships are older, at 13.8 years, which is 7.1 years more than the average age of ships on this route.
In our industry, we must keep a close eye on the elements influencing carriers' overall performance and what this means for the industry's environmental goals. Continue to follow the CEI for ongoing updates on both the encouraging progress and the hurdles in the sector.
Get an honest view of carrier emissions
Stay one step ahead of your competitors by making well-informed and sustainable choices when selecting shipping carriers. Xeneta and Marine Benchmark offer an independent and trustworthy Carbon Emissions Index (CEI) data, ensuring accuracy without any guesswork. By utilizing AIS tracking of real-time sailings on 48 major trade routes worldwide, with coverage expanding further in the near future, you can rely on up-to-date information. Don't settle for outdated and unreliable data. Schedule a demo of the CEI today and begin making intelligent shipping decisions.