Which Freight Service Will Be The Most Profitable in 10 Years?
Katherine Barrios
Jul 19, 2016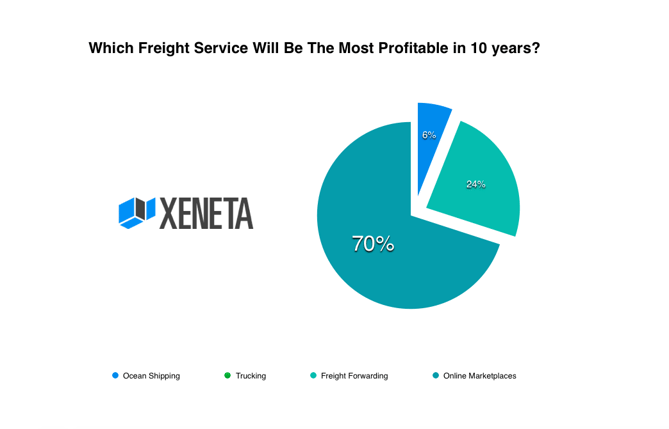 In our latest Twitter survey, we asked what freight services will be the most profitable in ten years. The results were interesting with trucking receiving no votes and ocean shipping receiving only 6%. Meanwhile, 24% of the respondents were upbeat for freight forwarding as that market undergoes strategic changes but it was online marketplaces that received the most positive response with 70% of the total vote.


Industry in Slight Disarray
Capacity, rates and a seemingly lackluster global demand has pushed freight providers into a corner. Mergers and acquisitions, bankruptcies, new alliances, new offerings, technology enhancements are all in the mix as freight providers fight for profitability.
Financial losses for the global ocean freight market are mounting while trucking profitability varies among geographies and freight forwarders are simply caught in the middle. Meanwhile, online freight marketplaces continue to pop up and disrupt the freight market.
Online Marketplaces & Efficiency
Perhaps it's the efficiency that online marketplaces bring to shippers as a reason for this expectation for profitability. The ocean freight, trucking and freight forwarding markets are all undergoing efficiency upgrades such as improving transparency and visibility but this is already offered in online marketplaces.
Marketplaces have literally transformed how we buy items – the ability to conduct business at any time of the day and in any location whether it's your apartment, the office or vacationing on the beach. In addition, it levels the playing field which means a small business in South America can compete against a Fortune 500 company in Europe.

Quite literally, it's the Amazon effect spilling over to the business-to-business sector. More and more people prefer to conduct business with the same ease as they might order clothing online or purchase a concert ticket.
Again, it seems that the efficiency, ease and transparency that technology or digitization brings to the industry is what most are looking to. Perhaps, 12 months ago I preached more about the need of innovation in the industry.

However, in the past 6 months so much has changed with new tech companies popping up in the space very frequently. Most importantly, I see many traditional companies hiring in digital and tech expertise to take their solid legacy business to the next innovative step. That is great news indeed.