With volatile freight rates at elevated levels and unstable supply chains, the shipping industry will continue to witness skyrocketing spend and budgeting challenges.
To make sense of the chaos, every month Xeneta industry experts host the Ocean Freight Pulse webinar, where they uncover the stories behind industry headlines together with our customers. During this customer-exclusive webinar, we discuss the most pressing problems and notable market movements.
In the latest 2022 edition, Xeneta CEO Patrik Berglund and VP of Strategic Accounts Michael Braun discussed the recent tender season, ongoing market disruptions and their impacts. Here are key insights from our latest 'Ocean Freight Market Pulse' webinar.  
Key Highlights | Xeneta Customers Say
Key components for long-term contracts
68% of Xeneta customers have concluded rate contracts for 2022, while 32% are still in contract negotiation. According to them, below are the few components that they think are valid for long-term contracts –
Dead freight rate clauses

Renegotiation options

Index adjustments

Fixed long-term rates

Floating bunker
What will happen to current contracts if the market changes?
In case the market changes significantly, 71% of Xeneta customers said they would renegotiate existing contracts. On the other hand, 11% of customers said they would break their current contract and research for better options, while the rest 18% would prefer to continue with their existing contract.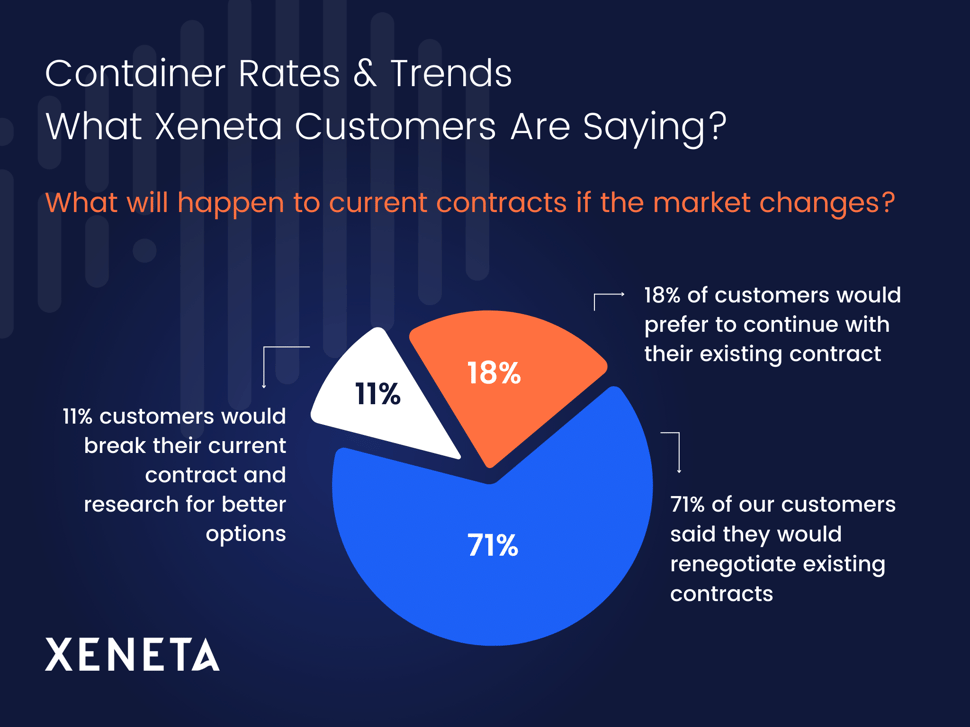 With the lifting of the lockdowns in Shanghai, what outcome do you anticipate?
69% of customers think the backlog of volume overflowing the market will increase rates, and 16% said there would be no change to the rate situation with this. However, 9% of customers said the massive reduction in Chinese production would decrease rates. The remaining 6% of customers believe something else.

Want To Learn More?
Xeneta customers get access to monthly market commentary during the Ocean Freight Market Pulse Webinars. Learn more about the Xeneta platform and how to become a customer now.