In the container shipping world, 2023 is already stacking up to be a very different year from 2022. But, then again, the year has just started, and as we all know too well, this market can change in the blink of an eye.
That is the key message coming from 2023's first customer-exclusive Freight Market Pulse Webinar hosted by Xeneta CEO and Co-Founder Patrik Berglund and Michael Braun, VP, Customer Solutions, featuring special guest and Xeneta resident indexing specialist, Stanley Aizenstark. In 30 minutes they presented their take on a "very different" year and answered various customer questions LIVE.
Key Takeaways
Demand has fallen immensely. We're back to the pre-COVID supply and demand game.

Tables have turned. Shippers are in the driver's seat with carrier profitability weakening

Contract market rate levels dropping to short-term market levels mainly for large volume shippers

Index-linked contracting is becoming increasingly popular to handle volatility in a better way than in the past.
Xeneta Customers Say
Xeneta customers reveal their power in a buyer's market. When asked about the duration of the contract, they would negotiate for 2023:
9% of customers are currently using only the spot market to negotiate

14% of customers are negotiating for 3-6 months, as usual

21% of customers are negotiating for 3-6 months to incorporate the downward trend

23% of customers are negotiating for one year with index-based adjustments

33% of customers are negotiating for one year as usual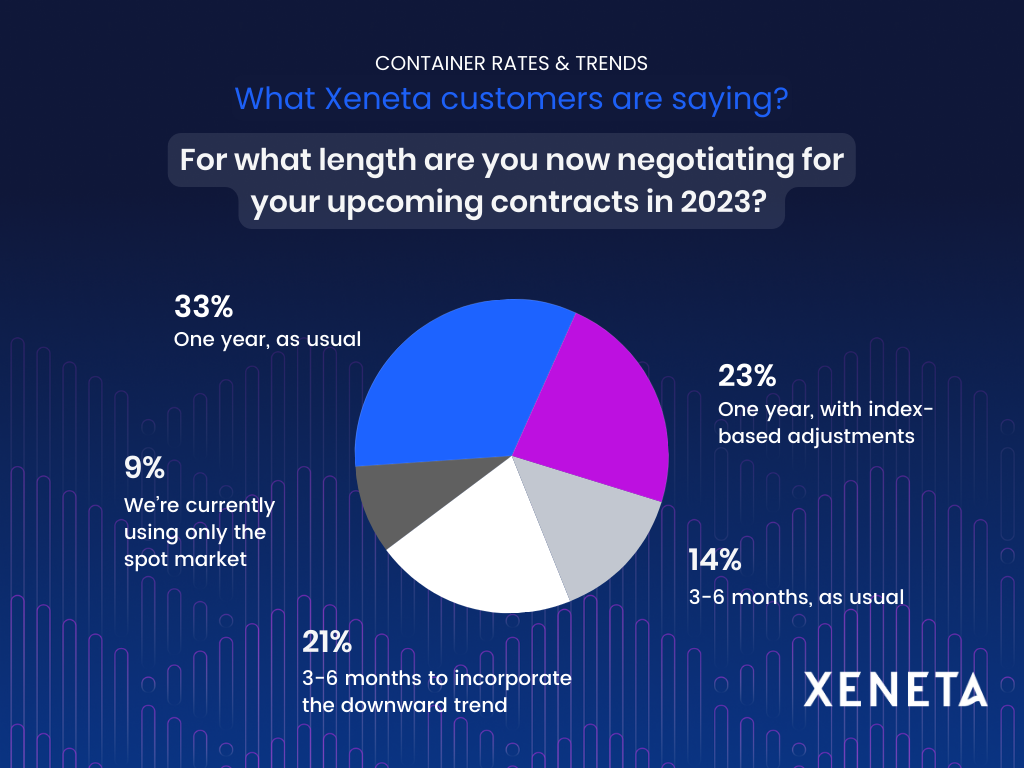 With the given information, when asked if they're considering index-linked contracts in 2023:
4% of customers answered no, but they are planning to incorporate them sometime in 2023

25% of customers are considering fully incorporating index-linked contracts (ILC) with a clearly defined impact on the selection process

32% of customers are considering ILCs but not yet fully; mainly to get a pulse on the market.

39% of customers are not considering ILCs in 2023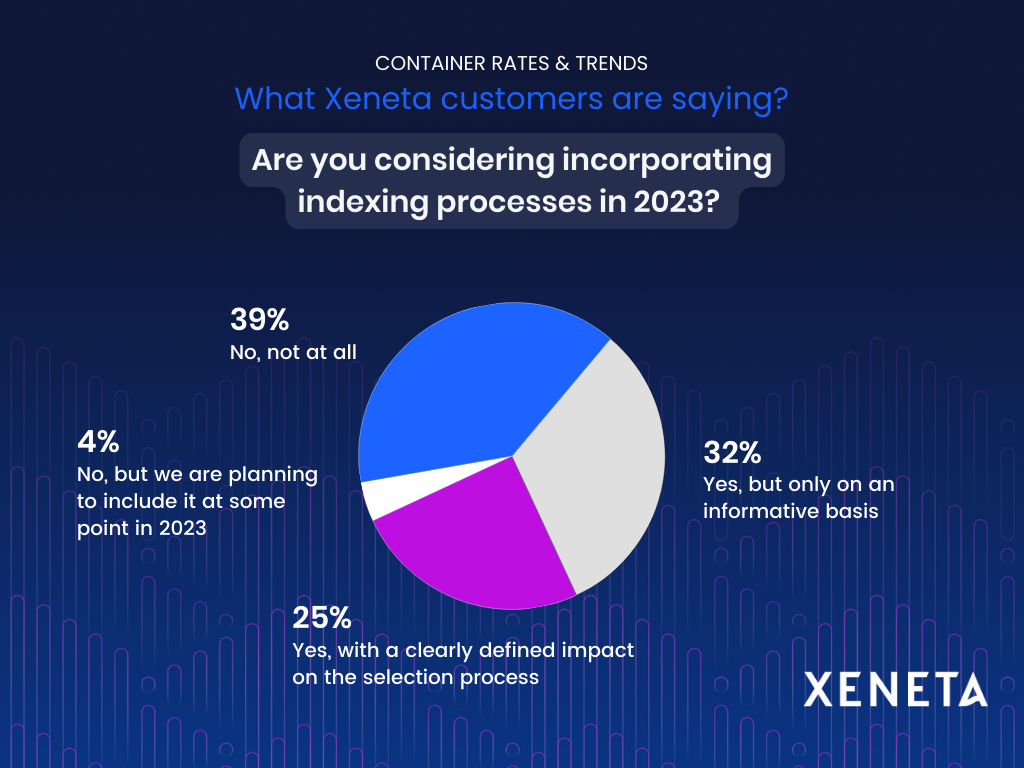 With most customers already using index-linked contracts or considering incorporating them in 2023 – Xeneta resident indexing expert Stanley Aizenstark spoke about their advantages and classifications for the remainder of the webinar.
Xeneta indexing is unique to others as it hedges on the data provided by the Xeneta customer community helping you avoid basis risks. It includes 30 high-quality global trade lanes, only 1 month lag (as opposed to +6 months for some of the legacy indices) for data with over 36 months of consistent deep, daily data and can be customizable from region to region. For dynamic coverage, the XSI® publishes daily.
Want to learn more?
Xeneta customers get access to monthly market commentary during the Ocean Freight Market Pulse Webinars. Learn more about the Xeneta platform and how to become a customer now.