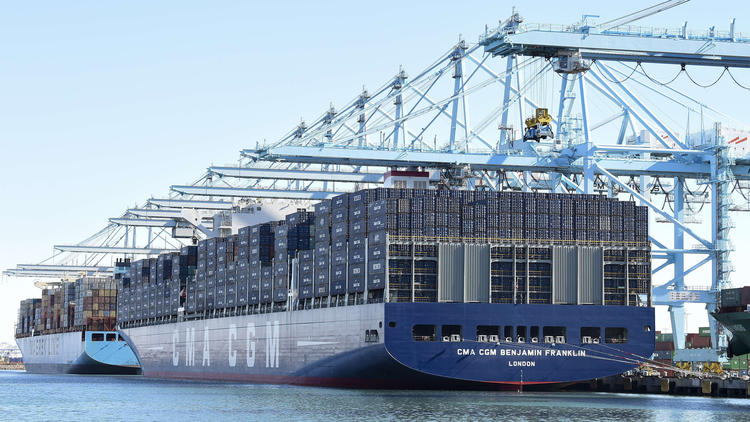 (IMAGE: Robyn Beck / AFP/Getty Images)
Short-term container rates on the China Main ports to North Europe Main ports have slightly dropped since the beginning of the year. However, compared to Spring and Autumn 2018, the industry sees an increase overall. Xeneta reports rates on the up, with February 7, 2019, ticking in at USD1700 market average rate for a 40' box. Also, bunker prices are not as outrageous as before. Cargo from China to the United States has been moving at a record pace, but a slowdown is expected for the main markets. There is also a probability that the cargo volumes will slow as more Megamax ships arrive to possibly dampen the tenuous container availability vs. containers-needed supply-demand balance in the next few months.
Tariffs and Slow Economy
The Los Angeles/Long Beach port is setting all sorts of volume (and port-trucker gridlock) records as containers from China flood into the West Coast, and Maersk swapped two 17,800 TEUs into that lane; replacing two 13,000 TEUs. Maersk most likely moved those ships off the China-North Europe lane because that trade was slow. However, this may not be due to a US economic boom. It's a frantic rush to beat Trump's March 2nd tariff deadline; if a trade deal between the US-China is not reached by that date, tariffs on some 7,500 Chinese goods will increase by 25%, so importers are rushing to beat the deadline.
Trump extended his deadline once already (in Dec 2018), but there is no guarantee it will be extended again. Economists are expecting the US economy to slow down in 2019. Goldman Sachs projected late last year that the US GDP growth would slow to 1.8 percent and 1.6 percent in the third and fourth quarters of 2019.


Mega + Max: Does It, Equal Love?
From the advent of Maersk's Generation-1 Megas, they, MSC, CMA CGM, OOCL, Cosco, CSCL, and United Arab, saw Megas as the most economical way to move cargo. But, now there is plenty of Megas in-service, under construction, delayed, or planned. With Asian, European, and American economic growth slowing, more Megas hunting for cargo could cause rates to plummet on some routes.
This is HMM, who last Sept (2018) placed an order for 12 @ 23,000 TEU, and eight 15,000 TEU vessels for delivery beginning Q1 2020. This conflicts directly with that massive 2016-2017 of MegaMax new-build announcements; many of those ships have been pushed to deliver in 2019-2020, where they will compete with HMM's new-builds for cargo.
This is one of the problems with forecasting rates, as it's challenging to get an accurate count of the Megas. While the carriers and shipyards quickly announce contracts for new vessels, delays, re-negotiations, and construction issues are not so public.
While the upcoming IMO low-sulfur fuel regulations will temporarily take ships out of service as they are retrofitted; the new-builds are IMO-compliant; this is just a temporary respite of capacity until each ship is returned to their respective fleet. The resulting cascading can affect the Latin American and African markets, and it's not sure that slow-steaming and voyage blanking are severe solutions to this potential unbalance of containers vs. cargo.
The cascading issue has already begun as the Ocean Alliance recently announced that six of Cosco's 20,000 TEU Megas would service the Middle East loop starting in April. With the price of crude oil still negatively affecting the economies of the Middle Eastern countries, whether that loop can support the volumes needed by Megas remains to be seen.
Perhaps too much emphasis is spent crunching 'fleet numbers,' i.e., vessels in service, vessels per lane, slow-steaming times, ships scrapped, and the like. All important, to be sure, but the most important number is never really addressed: that of how many boxes need to be moved?
We must also not forget that even though these new ultra-large vessels are called "Megas," the actual number of boxes carried could be lower due to cargo weight and port draughts, as reported by Alphaliner. There isn't a silver-bullet answer to anything as always and everything in the shipping industry.
It's also worth noting that during the US economic recovery 2013-2018, only one mega was scheduled Asia-USWC – and she was pulled quietly after only a few months. Perhaps the best fit on most big-volume lanes is a modern 15,000-17,000 TEU vessel? It remains to be seen.