Indeed, the largest container liner, Maersk, has not been immune to the market challenges but can it afford to defend its position?
For the third quarter, profit declined 43%. The culprit for the steep decline was lower container freight rates and demand. Market trends such as lower rates, oil prices and the mismatched capacity have taken a toll on revenue and profits for the Group. A sharp decline in both financial measures can be noted beginning in 2014.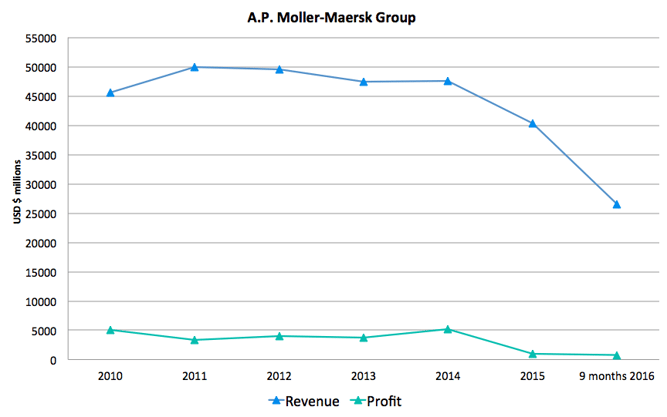 Maersk Reorganizes For a Stronger Position


In the second quarter, Maersk announced it was reorganizing the 112 year old company by splitting it into two independent divisions; an integrated Transport & Logistics division and an Energy division.

The Transport & Logistics division will consist of Maersk Line, APM Terminals, Damco, Svitzer and Maersk Container. The mission of these businesses is to "enable and facilitate global supply chains and provide opportunities for our customers to trade globally".

Among the goals of this new division, include:
Maersk Line – To grow market share organically and through acquisitions
APM Terminals - Focus on cost and utilization
Damco and Maersk Line - Collaborate to deliver new innovative customer solutions supported by significant investments into digital technology
Maersk Container Industry and Maersk Line - Collaborate on technology development and efficient production planning

The goals are ambitious but also needed in an ailing ocean freight market. At the same time, the goals will be costly due to the anticipated investments Maersk plans to make in technology and potential acquisitions. While cash on hand is available for these ventures, the Group will also need to grow its revenue and profits to maintain the necessary balance on its financial ledger.

Profitability within the anticipated Transport & Logistics division has been a struggle with this year potentially going down as one of the worst since the global recession. Efficiency improvements will be needed to fight off the low rates and capacity imbalance.
Click to ENLARGE: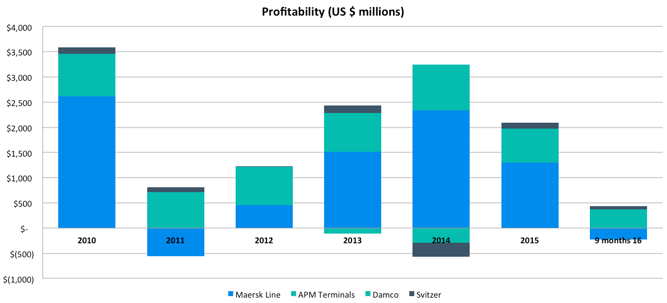 Maersk in a Position to Withstand the Headwind


The outlook is not promising for the overall ocean freight market. 2016 global growth has been revised downward to 3.1% and 3.4% for 2017 by the IMF as economic uncertainty remains across all regions. Consolidation opportunities will exist as a result and Maersk is perhaps one of the few companies that will be able to take advantage. How this will play out remains to be seen. The recent mergers of COSCO – China Shipping Line, Hapag-Lloyd – UASC, CMA-CGM – NOL and the Hanjin bankruptcy have set the stage for what may be an active consolidation period in 2017.

As noted previously, efficiency improvements are a targeted goal for Maersk. The company is already making such changes including:
Testing the use of blockchain to replace paper-based bills of lading
Testing drones to resupply its vessels while enroute
Signed a deal with Big Ocean Data to track its approximately 630 owned and chartered vessels real-time via satellite. Maersk Line will use this information to optimize the performance of its fleet.

The likelihood of any improvement within the ocean freight market seems dim for the time being. However, Maersk will likely be among those providers to withstand the market headwinds. Still, it will need to remain cautious and continue its path towards efficiency investments and to be ready to act on any additional opportunity that might result from the market.
Check out our recent overview on Hapag Lloyd and how its preparing for the future here.
How Were Ocean Freight Rates in Q3 2016? Indications for 2017?


Check out our Webinar to learn more.