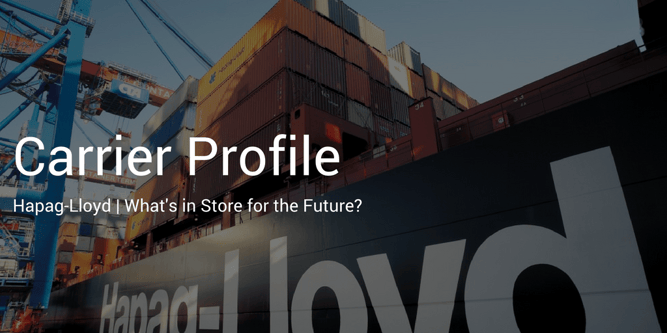 "The container shipping industry is approaching an improved business environment as a range of factors that support a better supply and demand equilibrium start to take hold. The industry is definitely tough at the moment and while we can't say the future is bright we can say there is light at the end of the tunnel." Rolf Habben Jansen, CEO of Hapag-Lloyd said upon releasing its first half 2016 earnings report in August.
Indeed, the company's earnings for first half of 2016 indicated just a slight decline, 0.4%, but otherwise stable volumes compared to the same period for 2015. However, revenue fell by over 19% as average market freight rates decline by 20%. As a result, Hapag-Lloyd's EBIT noted a 39.7 million euro loss for the six month period compared to a 267.7 million profit in 2015.

Bigger to Compete


Consolidation is underway in the ocean freight market as carriers find it increasingly difficult to compete. Earlier this year, Hapag-Lloyd's CEO stated that the company needed to "become bigger to compete" within the market. In 2015, even though Hapag-Lloyd completed its merger with CSAV it quickly lost some of the gains it had made with the acquisition thanks to the changing dynamics of the ocean freight market.
As such, in 2016, Hapag-Lloyd and Dubai-based UASC agreed to merge. The merger is looked upon favorably by many industry analysts. Among the benefits analysts cite is that UASC will provide Hapag Lloyd access to larger ships and a younger fleet. UASC will contribute six 18,000 TEU vessels and eleven 15,000 TEUs to the merged fleet. The merged fleet will have an average size of 6,600 TEUs and an average age of 6.6 years.
The merged Hapag-Lloyd/UASC will be a major player in THE Alliance that includes K-Line, MOL, NYK Line and OOCL scheduled to be in operation on east-west trades in April 2017.
New Revenue Opportunities


According to the Journal of Commerce, Hapag-Lloyd is considering offering premium services such as first-box-off or voyage-specific-space guarantees to shippers. These types of services were offered a number of years ago but not well-received by shippers but now the thought is that shippers may be more willing to pay for such a service thanks to larger ships and the time it takes to unload them.
In addition, about 5,750 reefers are on order, including 5,000 40-foot and 750 20-foot units. According to the company, it is one of the market leaders in South America for reefer shipping. Shippers with temperature sensitive commodities such as fruits, vegetables, meat and fish and pharmaceuticals will benefit.
Hapag-Lloyd Ready for the Future?


"In the second half of the year, our main focus will be to further improve our cost base and to do whatever we can to get freight rates back to a more sustainable level," Habben Jansen added. "In this difficult competitive environment, it is very important to complete the transaction with UASC as quickly as possible and to start the integration of UASC immediately after the completion of all pre-closing conditions. The integration will bring us annual net synergies of at least USD $400 million, some of which should already take effect next year."
Will it all be enough to weather the stormy ocean freight market? Its presence by lane seems fairly balanced with 56% exposure on east-west and 44% on north-south lanes. In addition, the combined Hapag-Lloyd/UASC will result in the 5th largest carrier and will be among the largest carriers in THE Alliance.
It is also looking to focus more on reefer trade, which is perhaps the one bright light in the container market, with expected 4% growth for 2016 according to market research company, Technavio.
Even though the CEO expects recovery to potentially take place in 12-24 months, a lot can happen in this time period. The IMF expects the global economy to grow 3.4% in 2017 as compared to the anticipated 3.1% for 2016.
What do you think? Has Hapag-Lloyd prepared itself to compete in the ocean freight market for the long term or is more needed? Let us know what you think and leave your comment below.