Carriers blank 55% of all announced capacity in week 5, post Chinese New Year. These high levels of blank sailings ahead of this year's holiday reflect a continued decline in consumer demand in 2023.
The latest data from Xeneta and Sea-Intelligence reveals carriers have blanked more than six times the number of sailings from Asia to the US West Coast corridor leading up to Chinese New Year compared to the same period in 2019.
As capacity management takes the top spot in the list of challenges faced by the ocean freight market in 2023, join Xeneta experts during our upcoming State of the Ocean Freight Market webinar on January 17, 2023, to learn how you can ensure your freight strategy can withstand these turbulent times?
Note: Xeneta customers are invited to join the upcoming exclusive customer session. To learn more, please visit your 'Xeneta Customer Hub.'
Market Developments So far...
Increased blank sailings ahead of the Chinese new year reflect evaporating demand. Carriers are trying to protect their margins amidst low demand and dropping rates. So far, the announced blank sailings for the four weeks following CNY are 68 000 TEU lower than they were in 2019.
But, with plenty of time left for carriers to remove more capacity, this year's total will likely eclipse 2019's number. The downward trend in demand is set to continue in H1 2023, further weakening the ocean freight market.
Global congestion is down, but China is seeing higher congestion levels due to the zero-Covid policy and a potential spike in cases. Carriers are struggling to manage their capacity but have been able to keep spot rates flat or slightly higher for Chinese exports.
"The current levels are about half of the blanked capacity seen around New Year 2022. However, that was due to huge strains on global supply chains, with congestion and a lack of equipment derailing schedules. This year is very different," says Peter Sand, Chief Analyst at Xeneta.
"It's a clear issue of depleted demand – as we can see by the falling ocean freight rates and carriers competing for business."
There is still a lot of uncertainty surrounding the ocean freight market. Xeneta data indicates that the spread between long-term and spot rates will take another three to four months before it disappears. Xeneta analysts warn shippers to look at the bigger picture while negotiating. Even though freight prices are much lower now than last year, there is still room for improvement on many trades.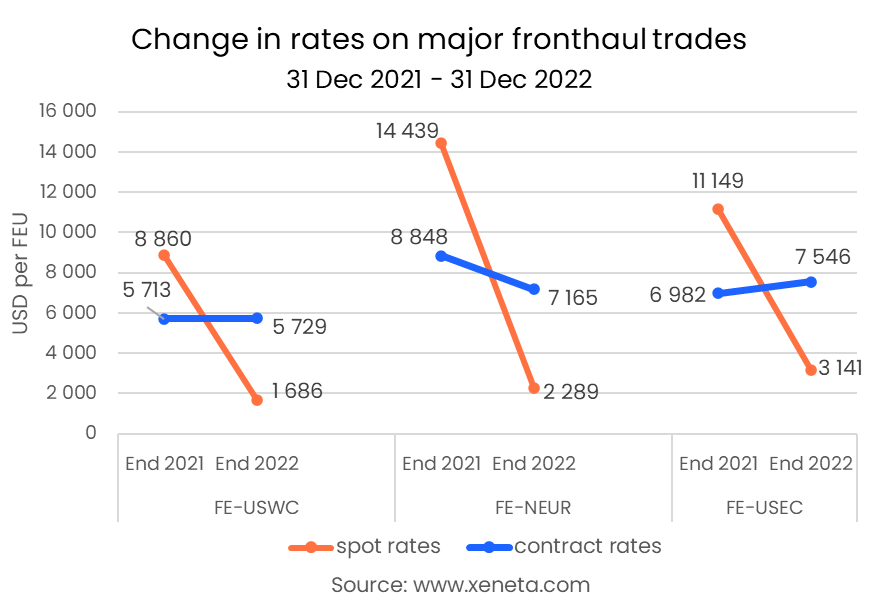 So as the ocean freight market continues to weaken, how will you optimize your supplier relationships and ensure you're getting the best spot or long-term deals on all your trades?
Join us for our monthly flagship webinar, where Xeneta experts will dive into pressing current events, analyze the state of the ocean freight market, and review container rate movements on the main trade corridors. Save Your Seat Now
Key Webinar Takeaways:
Carriers are blanking 55% of all sailings— how can shippers mitigate this?

The potential impacts of Chinese New Year and related domestic travel

Downward trending volumes and expected numbers in 2023

Spot & long-term freight rates on top trade lanes
Meet the Speakers:
Sign Up Now to Change the Way You Buy & Sell Ocean Freight!
Note: Xeneta customers are invited to join the upcoming exclusive customer session. To learn more, please visit your 'Xeneta Customer Hub.'
If you can't attend the live webinar, don't worry. Simply sign up, and we'll send you the recording after the webinar is completed. Please send us any questions you would like to see answered by our experts at info@xeneta.com.