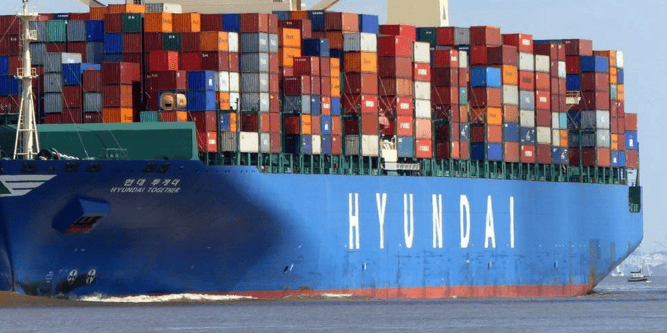 Six months ago, smart money said Hyundai Merchant Marine (HMM) was days away from folding; they'd been booted from the G6 Alliance in July (2016) and the assumption was their failure would help bolster Hanjin's negotiations as they picked up HMM's cargo.
But in recent weeks, as Hanjn moved from bankruptcy to liquidation, Hyundai Merchant Marine revealed its plans for a new US west coast service that will replace both its G6 slots as well as its Hyundai New Start (HNS) launched in September following Hanjin's failure.
Their aggressive approach has been successful: HMM released PIERS data that showed a 53% jump in it's January USWC TEU's, recently achieved an upgraded credit rating of BB (stable), and announced that a South Korean government-backed ship financing firm would invest Won720bn ($630m). This will allow HMM to buy five new container vessels.
The suddenly-buoyant HMM will operate three Asia-USWC links, deploying 19 vessels calling Long Beach, Los Angeles, Oakland, Tacoma, and Vancouver.
But re-arranging alliances is hardly a guarantee of survival; as box supply continues to exceed box demand, one needs to bring value to the equation, and HMM has done this also. Banking on the strength of the US economy versus the EU, HMM developed its own intra-Asian alliance with Heung-A and Sinokor that will feed both its own USWC service as well as the senior partners of the mighty 2M.


Related Information
Aberdeen Exclusive Report | Best-in-Class Shippers Gain Visibility into Container Shipping
How to Gain Transparency into Ocean Freight Rates
3 Questions to Ask When Negotiating Freight Contracts

Additionally, HMM will widen its margins by acquiring more terminal networks. Unlike most carriers (except Maersk and MSC) HMM has the financial strength to pick up the remnants of Hanjin's terminals. Last month HMM agreed to buy Hanjin Pacific Corporation's container terminals in Tokyo and Kaohsiung. They now own four Hanjin facilities – Algeciras, Tokyo, Kaohsiung and a 20% stake in Long Beach, and through their 2M joint venture, access to MSC's box port operating subsidiary, Terminal Investment Ltd (TIL), facilities in Long Beach and Seattle.
In a world where rising steel scrap prices mean more containerships will be scrapped, thus reducing the losses of both carriers and shipowners, HMM instead concentrated on securing revenue-generating Pacific-origin cargo for their USWC and 2M lanes.
As compared to others in the shipping world, HMM seems to be on a positive track in 2017; while cargo continues to flow from Asia into the USWC, shipowner Danaos is deeply in the red, while Textainer, the world's largest container lessor, recently announced losses of US $ 56 million.
Containership owner Rickmers Maritime Trust (RMT) is pleading with its creditors for help to restructure its debts, which in 2016 totaled US $ 180 million. But this is small change compared to Yang Ming Line; where the Taiwanese government has again increased its stake in the carrier; after an upcoming privately placed rights issue, the government will own a reported 36.62%. While Maersk Line delivered a positive free cash flow of $474m," in 2016, they noted that this was down from $1.1bn one year earlier.
Perhaps the new paradigm is small, focused, and well managed, as compared to large alliances that don't have the boxes for all the lanes they strive to serve and mega ships still being deployed. We'll be watching HMM with interest to see how they fare and also how overcapacity will be dealt with.